White House, advocacy groups pledge support for 2.3 million US children who care for wounded veteran parents
by
Caitlin Doornbos 
Stars and Stripes
November 10, 2021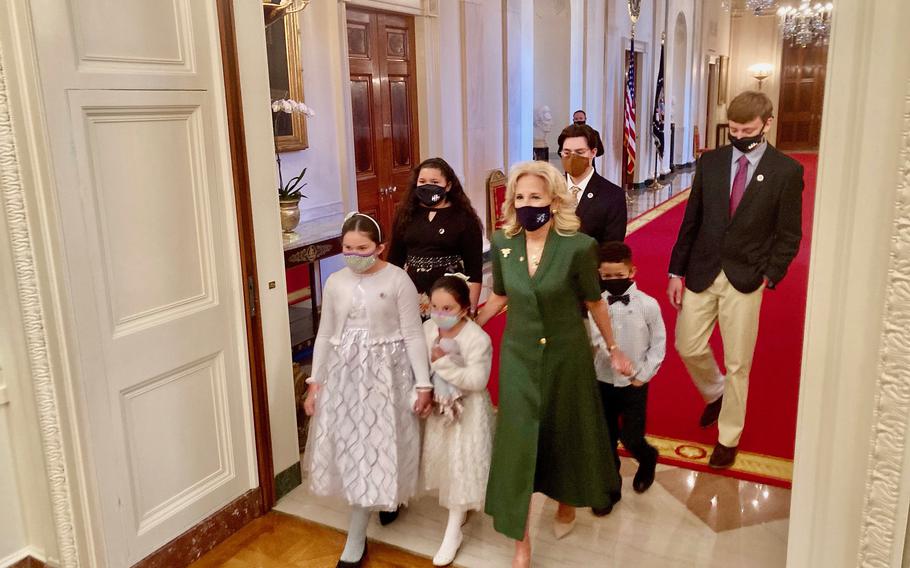 WASHINGTON – Military spouse Sylvia Lopez's five children have special places in their house to hide when their wounded Army veteran father's post-traumatic stress disorder flashbacks become too violent and overwhelming, she said Wednesday at a White House event honoring child caregivers of wounded veteran parents.
Lopez's children each play roles in caring for their father, whose service also left him with chronic skin conditions and traumatic brain injuries, she said. Her oldest takes him to doctor's appointments and her youngest "knows the secret" to caring for her dad's wounds.
"They have to struggle socially because I cannot leave my husband's side and he cannot go to birthday parties, malls or crowded theaters," Lopez said. "As a mother, I often feel guilty and helpless … I cannot give them the attention they need because I also have a husband whose life depends on my care."
Lopez and several others at the White House told First Lady Jill Biden, former Sen. Elizabeth Dole and Defense Secretary Lloyd Austin about the struggles that families of wounded veterans face. On the same day as the event, a new report was released that reveals child caregivers of wounded veterans face tough mental health challenges.
About 2.3 million children care for wounded veteran parents in the U.S., and they are more likely to "experience isolation and have fewer opportunities to interact with their peers and develop friendships" than their noncaregiving peers, according to the report. It also found they "have difficulties expressing emotion and learning in school" and face "stress, burnout and fatigue."
The "Hidden Helpers at the Frontlines of Caregiving" report was commissioned by the Elizabeth Dole Foundation and sponsored by the Wounded Warrior Project, which together with the White House's "Joining Forces" initiative work to support service members, veterans and their families.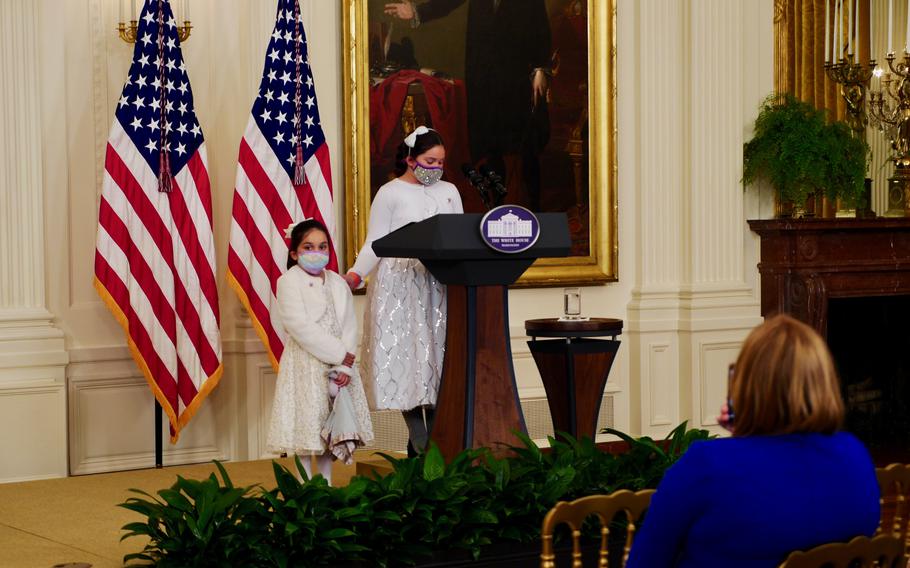 Gabby Rodriguez, 9, also told her story at the event of helping care for her father, a former fleet Marine corpsman. He returned from an Iraq deployment with hearing loss, a traumatic brain injury and post-traumatic stress disorder after surviving two IED explosions.
She spoke about the fear that she experiences when her father has seizures, and how her six-year-old sister asks her father "how's the weather today, which is code for asking about his mood."
"There are so many kids who feel lonely because they think they're the only ones with wounded warrior parents and caregivers," Rodriguez said. "So, I want every other caregiver kid out there to know that there are millions of us. You are not alone."
While the report found child caregivers such as Gabby are at a heightened risk of mental health struggles, it also found they often exhibit high levels of empathy and "a greater sense of community support."
"One caregiving mother told me that she sees her young child caring profoundly for people in a way his peers don't," an unnamed researcher said in the report. "He wants to help strangers struggling to reach something in the grocery store, and she doesn't see other kids his age doing that."
Children can better cope with the stress of caring for injured parents if they are supported in their own appropriate development, though the study found children's lives often instead "become consumed by caregiving needs, which inhibits or accelerates their development."
"From a young age, hidden helpers learn the costs of war," said Biden, whose late stepson Beau served in the Delaware Army National Guard. "[They] see how difficult the road to recovery can be. [They] know the reality of changing bandages and long stays in hospital rooms. [They] get tired of having to be brave."
That's why Biden on Wednesday said the report underscores the need to support the children and families of wounded veterans by developing programs and information campaigns that address their struggles.
"We know that you need a break sometimes, and that you need to be around kids and teachers who understand what you're going through without needing to explain," Biden, a lifelong educator, told the child caregivers at the event.
The study also found child caregivers could benefit from counseling and support programs, but many don't see themselves as facing any more challenges than their peers. Further, some children interviewed in the study reported pushing their own needs aside because "caregiving can take over life at home."
"This can cause some children to avoid seeking out support or to deprioritize their own needs because of the needs of their care recipients," according the report. "Children from military caregiving homes often talked about how they prioritized the health and wellness of their care recipient over their own."
One unnamed parent in the report said the child was "doing everything she can to make my life easier," but the parent felt "sad that she didn't get the same childhood experience" as her peers.
"She thinks about things that she shouldn't have to like doctors, anger problems, why our house is so different than others," the parent said in the report. "She didn't get to be the child I wish she would have gotten to be sometimes."
The report offered four key recommendations to help better meet the needs of military caregiving children: develop intervention programs that focus on peer support and mental health, invest in agencies that help military families, raise awareness about the needs of caregivers – not just those of wounded veterans, and partnering federal agencies and private organizations to reduce barriers to health care.
To help, Wounded Warrior Project CEO Mike Linnington announced at the event that his organization has created a new $1.5 million fund to support child caregivers.
"With this investment, we'll partner with [Hidden Helpers] coalition members to ensure that a network of resources, care, programs and services are available and easily accessible," he said.
Biden encouraged all Americans to support military families in their own ways.
"While we can't shield our caregiver kids from the reality of war or its aftermath, we can recognize the costs that last long after our troops come home and injuries can be felt throughout generations," she said.