Arts program shows veterans how to turn their uniforms into 'healing paper'
by
Bob Batz Jr.
Pittsburgh Post-Gazette
November 7, 2021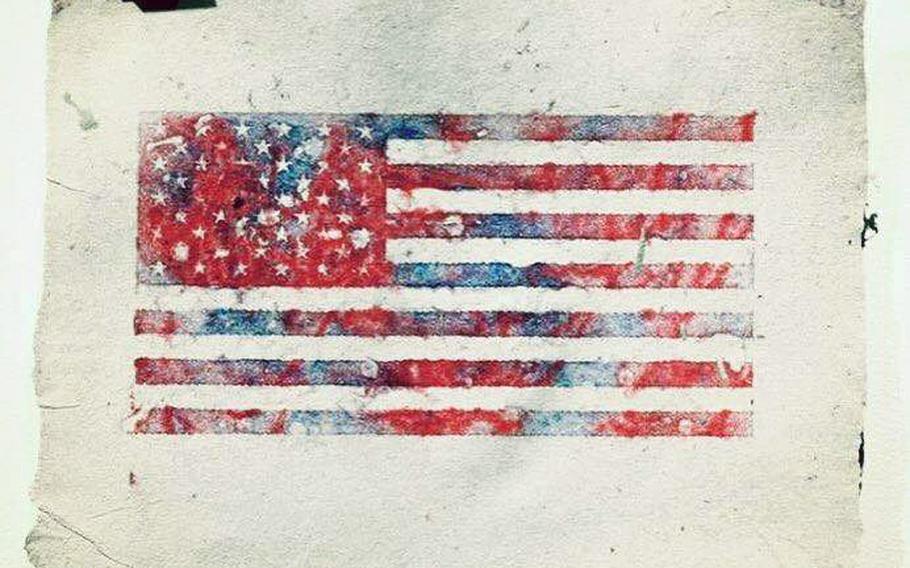 (Tribune News Service) — Sean Monahan's art therapist asked him if he wanted to destroy his Army uniforms. He was intrigued.
The Unity Township, Westmoreland County, veteran really likes Krystal Neal, with whom he does art therapy via the Veterans Affairs Pittsburgh H.J. Heinz campus in Aspinwall.
He started art therapy a couple of years ago as a way of working through emotions and problems associated with his service starting in 2007, and including some time in Afghanistan in 2012, before he medically retired in 2015.
He's not artsy and never has been, but he said that in interpreting the drawings he does for Neal, "she's spot on. ... I don't know how she does it."
COVID-19 kept him from going to the VA, but his healing art therapy continued online. During one session this spring, Neal mentioned an upcoming free program she planned to attend this summer at Touchstone Center for Crafts in Farmington, Fayette County, where veterans would transform uniforms into paper. Monahan's mother and official VA caregiver, Holly Monahan, signed up her son and herself, even though she, too, had no idea what they were getting into.
Monahan had, in the basement, four sets of ACUs — Army combat uniforms.
The Monahans took three of them to Touchstone — one for each of them and one for Neal.
They joined seven other veterans and their caregivers and family members at "Transformations in Paper," a program presented by a traveling nonprofit called Frontline Paper that was started in New Jersey in 2011 by two veteran artists/activists. The point was to connect veterans of all eras and others by — well, the Monahans lived it.
They spent five days in August at Touchstone, starting with by cutting up their uniforms into 1-inch pieces. The scissoring took Neal longer because the uniform he gave her was fireproof. They laughed at that and at the cigarette butts and candy wrappers they found in his pockets.
Each deconstructed uniform was further broken down into a slurry of fibers that, in a painstaking process instructor Nathan Lewis lead using wooden frames and a press, participants transformed into sheets of paper of various sizes. Then they made some of the paper into cards, journals and other artsy items.
Holly Monahan used old-fashioned lead type to print the front of her book with the word "BELIEVE." She learned how to bind it with a curved needle and waxed string so the book will lay flat. While the pages still were wet, she stenciled them with the Army logo and an American flag, pressed on scraps of camouflage print fabric, and put in a photo of her son in that uniform when he enlisted.
"I got a little teary a couple times while doing it," she said. "Not bad tears. But emotional tears."
Monahan titled his book "HOPE," in his own handwriting.
And he felt great when all the participants came together at the end of the workshop to share their creations and more.
"It was a positive experience," said Monahan, who is 33. "It was kind of like putting aside my Army life and making it into my life as it is now."
They took home their books, lots of paper and a souvenir print that noted that that workshop's participants encompassed 60 years of military service, 29.5 years of caregiving, 13 deployments, eight children ... and made 338 sheets of paper.
After allowing their paper and projects to dry under the weight of several Bibles and other books for the recommended three months, the Monahans are ready to use them. Holly Monahan wants to use hers as a gratitude journal. She half jokes about how she now appreciates the high prices on handmade paper projects, but what she's really grateful for is all the sacrifice made by veterans and their caregivers. "I never get tired of seeing or hearing what they have to say."
Her son, who through another program called Project Healing Waters, got hooked on fly fishing, might turn his into a fishing journal, recording his fish and what he used to catch them.
Touchstone will bring back the Frontline Paper workshop in August of 2022, said marketing manager Dean Simpson. Applications will be available beginning Jan. 1. It will once again be offered free for veterans and family members thanks to the generosity of the family of Agnes and James Kinard. Of the Monahans and Neal, he said, "Watching them experience this together was really beautiful."
Meanwhile, Neal said the VA Pittsburgh Healthcare System is preparing to offer papermaking to veterans. She said she recently ordered equipment to pulp complex fibers and has completed training through the Peace Paper Project. "We look forward to incorporating this therapeutic and transformative process as a part of the expressive arts therapies provided by VA Pittsburgh."
(c)2021 the Pittsburgh Post-Gazette
Visit the Pittsburgh Post-Gazette at www.post-gazette.com
Distributed by Tribune Content Agency, LLC.