Niece of WWII hero Robert Mathias: Monument ceremony 'brought us to tears'
by
Teresa McMinn
Cumberland Times-News
November 3, 2021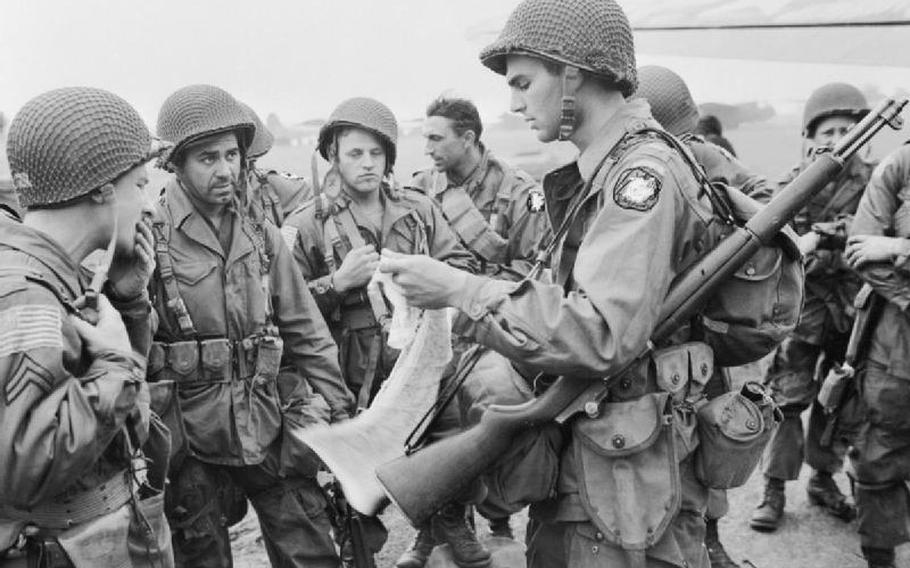 CUMBERLAND, Md. (Tribune News Service) — Paul Overbeck never got to meet his great uncle, WWII D-Day hero Lt. Robert "Bob" Mathias.
But the two share some significantly unique experiences.
Mathias was leader of the second platoon, E Company, 508th Parachute Infantry Regiment, U.S. 82nd Airborne Division, in World War II.
Stephen Ambrose, author of more than 30 books including New York Times bestseller "Band of Brothers," said Mathias "was the first American officer killed by German fire on D-Day" after being hit by a shell burst as he prepared to jump from a C-47 during the invasion of Nazi-held Normandy.
Overbeck joined the Army in 1988 and later trained to be a paratrooper.
Today, he serves in the U.S. Army Reserve.
On Tuesday, Overbeck was at SS. Peter & Paul Roman Catholic Cemetery on Fayette Street where the Cumberland Historic Cemetery Organization hosted a designated and protected monument unveiling ceremony for Mathias.
"I knew the story but I keep finding out more," Overbeck said of learning about Mathias. "There's just a lot to feel. We're here to commemorate his legacy."
Overbeck, of Greensburg, Pa., attended the All Souls Day event with his sister Karen Bass and mother Phyllis Blair.
Blair, a Cumberland native who now lives in St. Mary's County, is Bob Mathias' niece.
Roughly 60 people were at the ceremony, including several relatives of Mathias.
Bob Mathias was passionate about making the world a better and safer place, his niece, Howard County resident Marilyn Mathias, said.
Her dad, Joe Mathias, was the older brother of Bob Mathias.
Her voice trembled as she read a poem her late father had written after Bob Mathias was killed in the war.
"My father clearly admired his brother," Marilyn Mathias said.
Cumberland Historic Cemetery Organization President Ed Taylor Jr. was master of ceremonies.
The all-volunteer organization erects, restores and maintains area monuments and promotes cemetery history.
"It shows a love for Americans that helped build this country," he said of people including military veterans.
Taylor thanked Blair for "pushing the project."
Years ago, Blair contacted Taylor and provided information about Bob Mathias that the cemetery group used for the monument.
Blair said Tuesday's ceremony "brought us to tears."
Cumberland Historic Cemetery Organization Chaplain Rev. Michael Mudge said Bob Mathias was a hero in American history who exhibited courage and leadership as he laid down his life.
Other speakers at the event included Allegany County Commissioners Jake Shade and Dave Caporale, Cumberland Mayor Ray Morriss, City Councilman Eugene Frazier, Allegany County Public Schools Board of Education Vice President Robert Farrell, and Delegate Mike McKay.
Shade, Caporale and Farrell said they were proud of and grateful for the service of veterans, and related stories of their own family members who served in WWII.
Farrell said Bob Mathias' service to country represents "a perfect story" that should be taught to school children.
He also talked of showing respect for American veterans and the national anthem.
"You need to be standing for it," Farrell said.
Morriss thanked Mathias' family members, more than 15 attended, who traveled to be at Tuesday's ceremony.
Frazier thanked the Cumberland Historic Cemetery Organization for its work, and said Bob Mathias paid the ultimate sacrifice so that Americans could enjoy freedoms.
He also read a poem "We Remember," which he wrote for the event to honor veterans including Bob Mathias.
"They sacrificed and gave all they had," Frazier said.
(c)2021 the Cumberland Times News (Cumberland, Md.)
Visit the Cumberland Times News (Cumberland, Md.) at times-news.com
Distributed by Tribune Content Agency, LLC.