'What they have given ... is immeasurable': Aberdeen Proving Ground honors Gold Star families
by
James Whitlow
The Aegis
October 2, 2021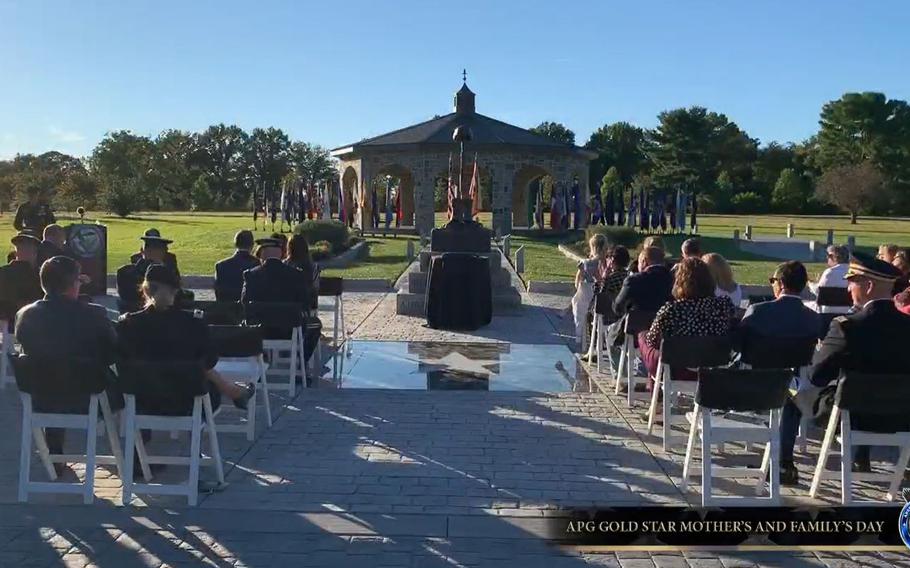 (Tribune News Service) — Aberdeen Proving Ground leadership, local leaders and others gathered Friday at the base's memorial plaza to honor Gold Star families, whose loved ones died in military service, and commemorate a Bel Air native with a memorial stone placed in his honor.
Speaking from a lectern Friday, senior commander at APG Major Gen. Robert Edmonson II thanked Gold Star families, and said APG would always stand by them. While their sacrifices were great, he said he hoped that provided the families some comfort.
"What they have given to this great nation is immeasurable," he said. "We are eternally grateful for their service and for your sacrifice. Thank you for sharing your loved ones with us."
APG maintains a memorial plaza on base, ringed in stones bearing the names of fallen service members. In the plaza's center stands a statue of a battlefield cross — two boots with a rifle between them — as a reminder of war's cost to families.
Edmonson said commemorations like Fridays offer an opportunity to get to know Gold Star families and hear the stories of the fallen. In those stories, he said, can be found greater truths about the nature of service and sacrifice.
"To allow us to see our own service through your lens, the lens of a gold star family, is a true gift," he said.
The concept of the Gold Sstar family is rooted in World War I, where families would fly a flag emblazoned with blue stars equal to the number of family members serving in the armed forces. The families who flew them would stitch a gold star over the blue when service members in their family died, letting others know the costs of the war and the sacrifices made.
While APG leaders paid homage to all gold star families at the afternoon ceremony, they gave special honor to a local man who died in his military service and his widow.
Lt. Dax Conrad died Oct. 16, 2020, as a result of medical complications that arose during training. He was 26-year-old and from Bel Air, graduating from C. Milton Wright High School in 2013 and attending Ohio University, where he joined the ROTC and studied electrical engineering.
Remembered as a funny, smart and devoted, Conrad was husband to Emily Zembas, who was presented the stone bearing his name at the ceremony. Now, it will stay in the plaza, lining the memorial wall, along with many others bearing more names, as a remembrance of his service to the country.
Zembas was also given a lantern inscribed with Conrad's name in commemoration of his sacrifice. It is a time-honored tradition to light candles in honor of those who have died, and the lantern serves as a reminder of the love and illumination she shared with her husband.
(c)2021 The Aegis (Bel Air, Md.)
Visit The Aegis (Bel Air, Md.) at www.baltimoresun.com/explore/harford/publications/the-aegis
Distributed by Tribune Content Agency, LLC.