Police say they're powerless to thwart neighbor's racist noise directed at Navy veterans
by
Chad Garland
Stars and Stripes
October 1, 2021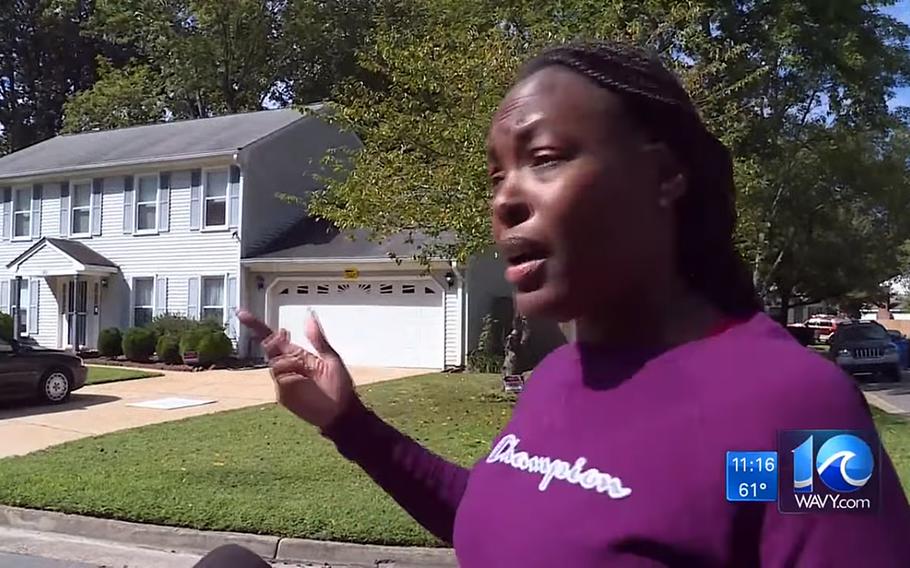 A Black Navy veteran in Virginia who has been subjected to months of racist harassment by a neighbor took to the national airwaves to share her ordeal, which police say they can do little to remedy.
Jannique Martinez and her family moved to Jessamine Court in Virginia Beach five years ago, she told CNN's Don Lemon. Soon afterward, the neighbor began blaring recordings to antagonize other residents, and has now stepped it up by playing monkey noises and racial slurs whenever her family steps out of the house.
Martinez said her youngest son, who is 7, is terrified of the man. In addition to more typical bad-neighbor behavior like yelling at kids who step on his lawn, he has the cul-de-sac's residents under the eye of eight security cameras, she said. 
As soon as she opens her front door, his lights flash or the speakers boom with the racist recordings. The noises were tailored to taunt whichever neighbor triggers the sensors after such innocuous behavior as pulling into their own driveway, she said.
The Virginia Beach Police Department has responded to several calls related to nuisance and loud music on the block, but it "has no authority to intervene," it tweeted this week.
"As appalling and offensive as the neighbors' behaviors are, the city attorney and Virginia magistrates have separately determined that the actions reported thus far did not rise to the level that Virginia law defines as criminal behavior," police said Thursday.
Martinez's only direct interaction with the neighbor over the noise came about a year ago, when she was working from home and her children were starting virtual classes during the pandemic, she said. She asked him to turn down music that was blasting from his open window at 8 a.m.
"His response to me was, 'Well, let me call the police to make sure I'm in good standing with the law to play my music,'" she said on CNN. "I was floored, because how about you just be a neighborly person, a parent, just anything to understand where I'm coming from, and he was adamant that he was doing nothing wrong."
After her repeated complaints about the loud music, he set the sounds that played for her family to include screeching monkeys and skits using the N-word.
"So racist it's disgusting," she told the local NBC station WAVY News last week. "I don't even know how else to explain it."
When she called police to complain about the noise, officers would come and tell him to turn his music down, and he would, she said on CNN.
But when she called about the "escalation" with the racist language and noises, she was told the department could do nothing and she was advised to go to a local magistrate.
When she did, she "felt dismissed," she told Lemon, adding that "he said that it was a figure of speech or freedom of speech or 'a phrase.'"
A civil court judge was "a little more compassionate" but told her that if the neighbor did not threaten the family or pose bodily harm, the courts could do nothing about it.
"Leaving the courtroom, I felt deflated," she said. "I just felt like I couldn't protect my kids. I couldn't imagine living like this in my own home. It really broke my heart."
Martinez served in the military for 11 years, and her husband is also a veteran, she told WAVY.
"We fought for this country, but yet there's no one to fight for us," she said.
Several neighborhood residents gathered last week to protest, holding signs that said "love thy neighbor" and "spread love not hate," WAVY reported.
Police pledged to help the family "within the limits of the law."
The Martinezes plan to stand their ground. When asked on CNN if they'd considered moving, Jannique Martinez didn't hesitate: "Absolutely not."