Broken-down mobility scooter propels Navy veteran to TikTok fame, tests limits of generosity
by
Wyatt Olson
Stars and Stripes
September 27, 2021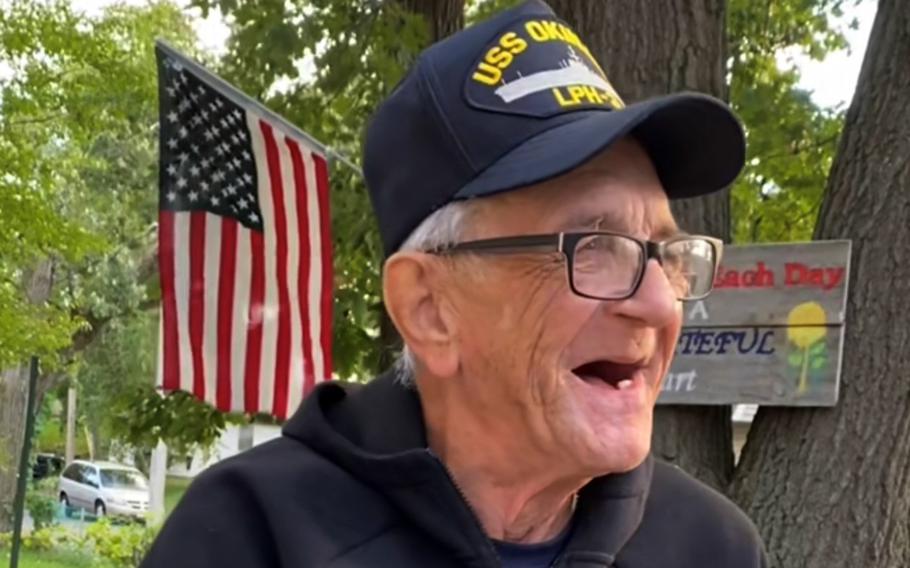 About two weeks ago, Navy veteran Kenny Jary, 79, spent a day mourning the demise of his aged mobility scooter. It had been his only means of getting out and about from his Minnesota home near St. Paul due to his chronic obstructive pulmonary disease.
"I met some beautiful people on this scooter by traveling around — the coffee shop, Veteran's Park," Jary said in one of a series of TikTok videos posted in recent weeks by Amanda Kline, a neighbor and friend of the veteran. The videos have garnered the channel — @PatrioticKenny — more than a million followers and tens of millions of views.
A repairman gave Jary the bad news that his American flag-adorned scooter, which he'd been riding around on since 2003, was beyond repair because parts for such an old model were no longer available.
The viral videos led to an outpouring of generosity by viewers that will not only buy two new scooters for Jary — a portable one and a "fancy" one — but 10 more for other veterans in need of such wheels.
As of Sunday, donors had contributed more than $110,000 to the GoFundMe account "Patriotic Kenny Needs a Ride" – far surpassing the original goal of $5,000.
The flood of donations prompted Jary and Kline to use the extra funds to give 10 free scooters to other veterans in need.
Veterans can be nominated by filling out and submitting a form posted at https://forms.gle/8QFd74PCLJfjBnF87. The deadline is Friday, October 1.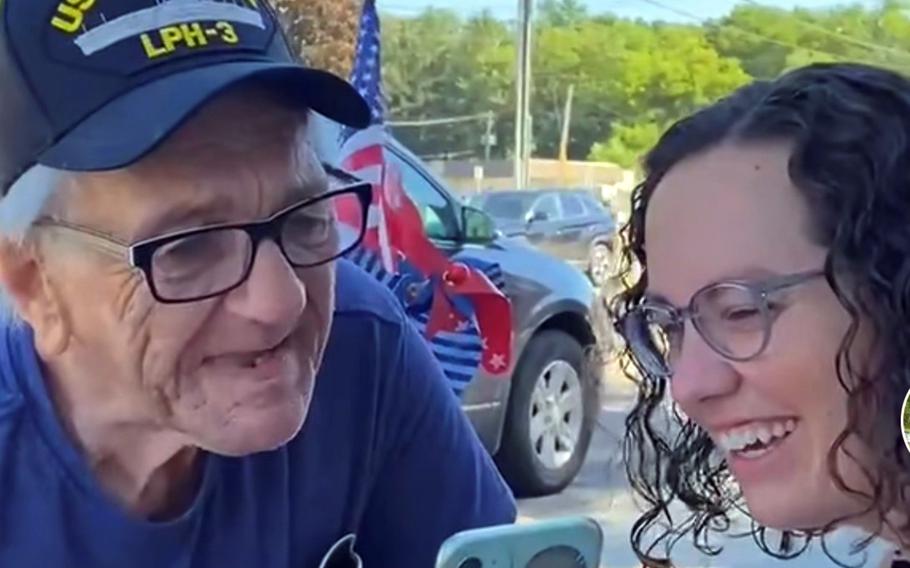 Kline, who makes educational videos for deaf children, had begun posting TikToks of Jary a few months ago. Those early videos show Jary learning American Sign Language to better communicate with a deaf buddy.
"Pictures don't do Kenny justice," Kline told Stars and Stripes in a phone interview Friday. "He needs full video," she said with a laugh.
Kline and others could not get hold of him early this month, but the next day Jary came out of seclusion and sat for a video lamenting the end of his scooter.
Countless viewers messaged her that she should set up a GoFundMe page for a new scooter, which she did. "I thought maybe if we're lucky, we'll get, like, a $100 discount from a company that makes scooters," she said.
But a flurry of donations came in, and Kline posted videos of Jary reacting as she informed him of the ever-increasing amounts.
Wearing a hat bearing the name and logo of the USS Okinawa — the amphibious assault ship he served aboard as a helicopter refueler in the early 1960s — Jary alternates between giddy laughter and tears.
In a video posted Sept. 15 that has been viewed more than 10 million times, Kline tells the veteran that "people who don't know you but love you" had donated $5,000 for a new scooter, and Jary's face fills with astonishment.
"No, you're kidding," he says and begins crying.
"That is so wonderful," he continues. "I'm sorry for being emotional, but I can't help it. That is the nicest gift I've had all my life, and then some." The father of three then quickly added: "Outside of having my kids, you know."
In a video posted Sept. 18, Kline asks him to guess how much donors have contributed. He ventures a guess of $10,000. When she tells him it is nearly five times that much, he breaks down in quiet sobs, then composes himself.
"Forty-five thousand dollars?! That's like winning the lottery!" he says.
Jary told his neighbor that he didn't think it was right for him to simply keep all the leftover donations, and when Kline came up with the idea of using the extra money for other veterans, he enthusiastically agreed, Kline said.
It seems to have been an astute decision.
As of Friday, Jary had received 600 nominations for veterans needing a scooter, Kline said.