Deserving recognition: Kentucky hospice volunteers help honor veterans
by
Christie Netherton
Messenger-Inquirer
September 22, 2021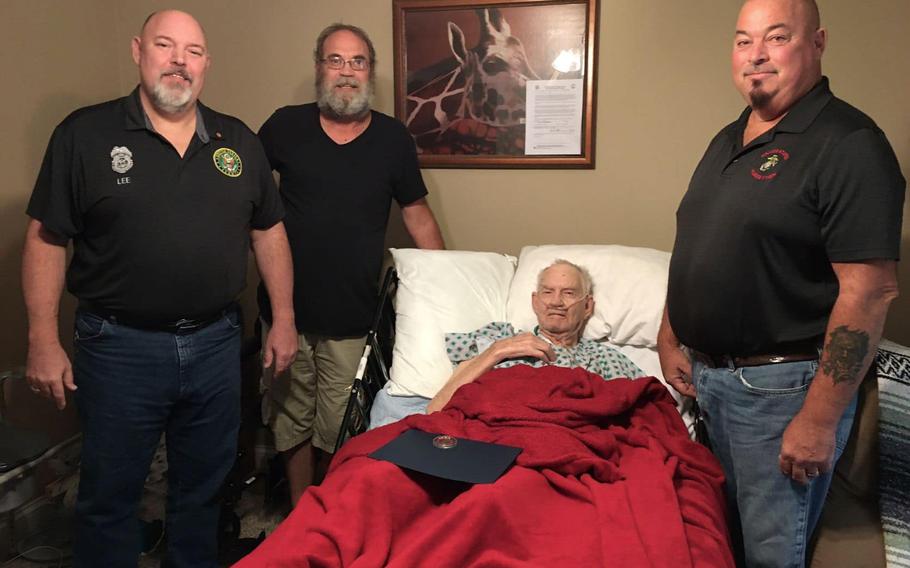 OWENSBORO, Ky. (Tribune News Service) — Hospice and Palliative Care of Western Kentucky volunteers have been working to honor veterans in their care for many years. It's an act that while simple, according to volunteer coordinator Edna Duggins, is also very meaningful for everyone involved, including the volunteers.
Many veterans in the care of hospice during the final stages of their life, according to Duggins, receive a pinning ceremony performed by volunteer veterans at the facility and a certificate of recognition.
"It's very simple, but it's the act of honor that can be very meaningful for the veterans and those of us, as well, who are participating in it," she said. "The veterans are deserving of recognition for their service to the country and their sacrifice. For a lot of them, it might have been a long time since anyone's told them thank you or showed them recognition for their service, and it's just something we feel honored to do for them."
Volunteer and United States Marine veteran Stan Bittman said the ceremony typically involves a reading of the certificate of recognition and a pinning of the American flag on the lapel of the patient's pajamas, followed by a salute.
"I think it's important to recognize the veteran, especially when he's at the final stage of his life, and let him know that his service was appreciated," he said.
Bittman said he got involved with hospice as a volunteer after his wife passed away several years ago while in the care of hospice.
Volunteering to help recognize other veterans in their final stages, he said, is his way of giving back to hospice and other patients the facility serves.
U.S. Army veteran and hospice volunteer Lee Barker also helps perform the recognition ceremonies.
He said it is important to ensure veterans feel appreciated at the end of life.
Barker said his father was also a veteran, having served during the Vietnam War. Upon return, he said his father faced some criticism for his service, which inspired him to volunteer his time honoring other veterans at hospice.
"My father was in Vietnam, and he did several tours, and when he came home, my mother told me when he got off the plane ... someone was spitting on him. ... That has stuck with me. I think our veterans deserve a lot better," he said. "For me, I felt like it was the perfect opportunity to give back."
Sam Fitzgerald, a U.S. Marine veteran and volunteer, said it is important to let veterans know their service is still appreciated and they still have a kinsmanship among other service members, no matter how long ago they served; they are not forgotten.
While some patients are nonresponsive, he said it is still nice to be able to provide that service to them and recognize them in front of their family.
"There was one I remember who was nonresponsive to the family for about three days, and I read the certificate to him and saluted him ... and he actually saluted back," he said. "It's just a thank you for them."
cnetherton@messenger-inquirer.com
(c)2021 the Messenger-Inquirer (Owensboro, Ky.)
Visit the Messenger-Inquirer (Owensboro, Ky.) at www.messenger-inquirer.com
Distributed by Tribune Content Agency, LLC.