More VA health care workers get coronavirus vaccine as deadline approaches to prove status
by
Nikki Wentling 
Stars and Stripes
September 15, 2021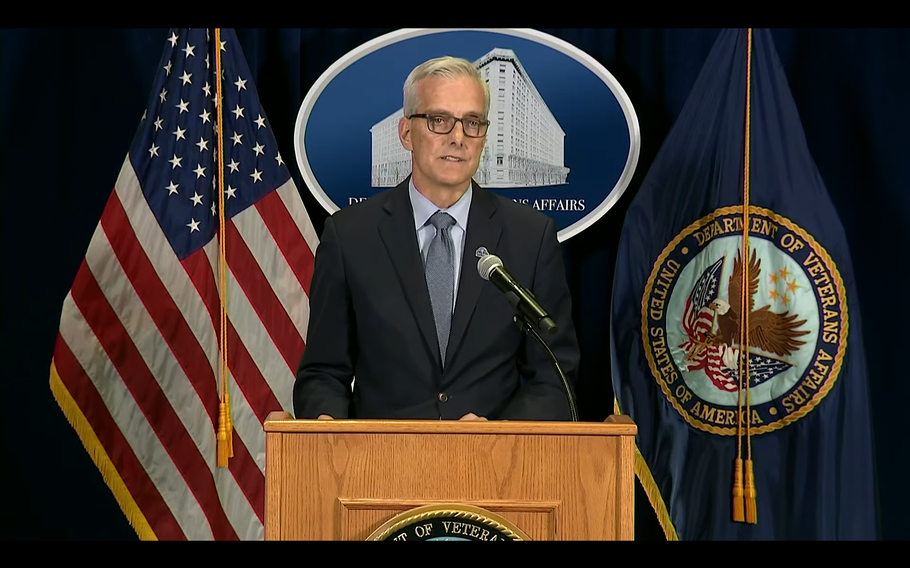 WASHINGTON — Coronavirus vaccinations have increased 9% among health care workers for the Department of Veterans Affairs since the agency implemented a vaccine mandate in July, VA Secretary Denis McDonough said Wednesday.
While more employees are getting vaccinated, the department is working out a process to discipline and ultimately terminate workers who refuse the vaccines or fail to get an approved exemption. About 380,000 employees are subject to the mandate, and many face a deadline of Oct. 8 to show proof of vaccination.
"The best way to ensure the safety of our veterans is to have those personnel vaccinated," McDonough said. "Our goal through this process is to get to 100%."
The VA was the first federal agency to implement a vaccine mandate when McDonough ordered it on July 26. At the time, it applied to about 115,000 medical workers who have until Sept. 20 to show their proof of vaccination.
McDonough on Aug. 12 extended the mandate to nearly everyone who works at VA hospitals or visits them, including housekeepers, contractors and volunteers, among others.
As of Wednesday, the VA was still waiting on 18% of the employees who are subject to the mandate to disclose whether they have been vaccinated.
Of the employees who have shared their vaccination status, 88% said they were fully vaccinated or on their way to becoming fully vaccinated. The other 12% were not vaccinated, and some of them were seeking religious or medical exemptions, McDonough said.
The department plans to use the remaining weeks until the deadline to educate employees about the vaccines. If employees refuse the vaccines and don't secure an approved exemption, they'll be subject to disciplinary action, McDonough said.
"The last thing we want to do is to have to fire trained personnel," he said. "So that will be a very clear process implemented at the supervisor and local level, the goal of which is to get people vaccinated."
If employees continue to refuse the vaccines, they'll be fired, McDonough said.
"If at the end of that progressive discipline, they've still chosen to not get vaccinated, they will be separated from federal service," he said.
When asked about a potential staff shortage because of employees refusing vaccines, McDonough said the department would "be ready to take steps to make sure we have personnel on staff to take care of veterans."
In addition to employees who work in VA hospitals, all other department employees now will be subject to vaccine mandates under a policy that President Joe Biden announced last week. Biden signed an executive order requiring most federal workers to be vaccinated by Nov. 22.
The VA employs about 426,000 people, including more than 380,000 workers in the Veterans Health Administration. The other employees work for the National Cemetery Administration and the Veterans Benefits Administration.
At the National Cemetery Administration, 90% of employees have disclosed their vaccination status, and about 62% are fully vaccinated or have received one shot. About 85% of employees at the Veterans Benefits Administration have shared their vaccination status. Of those, about 80% are fully vaccinated or intend to get both doses of the vaccine.
During the pandemic, 182 VA employees and 14,261 patients have died from the virus.