Essay
The therapists who helped following 9/11 needed to help themselves
by
Petula Dvorak
The Washington Post
September 9, 2021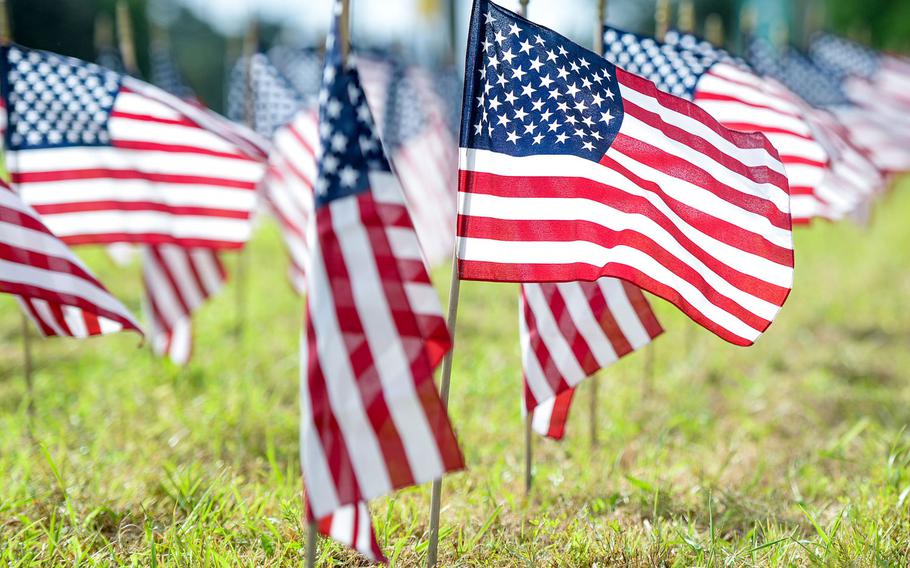 It doesn't take much to bring them back to the pit, the site, the crash.
The smell — smoke, scorched rubber, oil, death.
The sight — bright lights shining on all that rubble, illuminating fragments of bones.
The faces.
"It's a collage of all their faces, the ones I talked to. Like a husband and wife both working in the Pentagon. One made it out, one did not," said retired U.S. Air Force Col. Donna Lake, as she recalls the trauma, pain and tears she absorbed in those days after Sept. 11, when she worked the scene counseling survivors and family members.
There were concentric circles of trauma that rippled through Americans after the Sept. 11 attacks 20 years ago.
"Like a pebble in the water," said Judith Kuriansky, a psychologist who worked "the pit" that remained after the World Trade Center towers fell.
The center of those circles are the survivors and their family members, the immediate impact of that attack on them searing and obvious. Then there were the first responders, the firefighters, the medical teams, the police officers and others who recovered and rescued. They will be forever haunted by the feel of blood and burned flesh, the screams of those they couldn't save.
To help them cope, teams of psychologists, therapists and counselors were dispatched to the sites to comfort and help stabilize those in the innermost circles.
It was a big deal for America to put a priority on mental health in trauma. It took decades, but on Sept. 11, 2001, we officially went from being a society that wrestled with the legitimacy of PTSD to one that realizes that a mental health professional administering comfort and guidance is as crucial as a medic wrapping a gaping wound in a bandage.
"Twenty years ago, PTSD was not a common term," said Lennis Echterling, who just retired as a psychology professor at James Madison University and a volunteer who chased disasters across the nation, offering mental health support in the eye of the storm. He immediately volunteered with the Red Cross in Virginia after the attacks on the Pentagon. "But it's not as much of a hard sell anymore ... many more therapists now will describe their practice as dealing with PTSD."
Because being traumatized doesn't just happen in a war zone. Horrific things that haunt a person's dreams and waking hours, that cloud their reason and make their spines tingle with fear and dread can happen anywhere.
"There was an ex-Marine I talked to, working at the Pentagon," Echterling said, recalling the Pentagon attack survivor that stuck with him the most. "He told me: 'I did two tours of duty in Vietnam. And this was worse. Much worse. My secretary was killed and she wasn't getting hazardous pay, she had two kids she was putting through school. ... Now, I'm going to her funeral.' "
They absorbed a lot of trauma. And continued to absorb more.
Echterling, 73, went on to work with survivors of Hurricane Katrina.
Lake, 65, went to war, commanding air medical services from Kuwait, the one to load service members from Iraq and Afghanistan into coffins.
Kuriansky, 74, an adjunct psychology professor at Columbia University Teachers College, joined a United Nations team that traveled the globe, counseling earthquake victims in Japan, China and Haiti, and Ebola survivors in Sierra Leone.
And all of these remarkable people ignored their own advice.
"Man, I had to learn to practice what I damn preached," Echterling told me. He was feeling the trauma, years of being a crisis counselor gnawed away at him.
But he didn't get therapy until the collective trauma caught up with him after Katrina. And he finally went to a colleague, asking for help. It wasn't easy.
Every year on the Sept. 11 anniversary, Kuriansky fills out a survey at a survivors' event, totally lying about whether she was having trouble processing the trauma of that day.
She was there to help the first responders who sorted through human remains and smoldering steel. The trauma of the first responders come back to her, the body parts and the raw human emotions of the people sorting through them.
"A story that haunts me is the electrician," she said, retelling the story she remembers at night when she can't sleep, that ride to the subway after her night shift at Ground Zero. "In his little driving cart, the electrician was saying: 'Dr. Judy, I can't believe we are driving over bones right now.' I keep hearing him say that. It was true. That's what was there. There was no way to get around it. You're either walking or driving over rubble, rubble with so many people's bones."
But no way, she didn't need help. She collaborated on a song about the twin towers. She went on to all those other disasters, holding hands, listening to the victims. She was fine.
Until she wasn't.
I learned this when we were on the phone for an unrelated story. And she said she was dreading the 20th anniversary this year. She was depressed. She teared up.
"Look at that. Dr. Judy needs help," she said, invoking her radio name, when she hosted a popular sex advice show on the radio — Love Phones.
This year, she didn't lie on the survey. Yes, yes, yes, she needs help, she checked off the boxes.
"They told me it would take three to four months to assign me someone!" she said, the New York in her voice coming through. It's a moment when the tables turned, and a health professional was reminded of how difficult it is to get help, once everyday folks get the gumption to ask.
Lake, who is now retired from the military and a professor of nursing at East Carolina University, realized her self-care was little more than crisis classes and one intake form at Veterans Affairs.
After 25 years in the military, after time as a critical care nurse, on humanitarian missions helping heal survivors' bodies and minds, she didn't take care of her own trauma.
And now, as the 20th anniversary of the biggest attack on American soil nears and everyone is asking her how's she's doing, she's ready to give an honest answer.
"Now that I say it, yeah, I didn't," she told me. "I didn't get a chance to really digest 9/11."
---
---
---
---