Pennsylvania Korean War veterans receive ambassador for peace medals
by
Marcia Moore
The Daily Item
September 3, 2021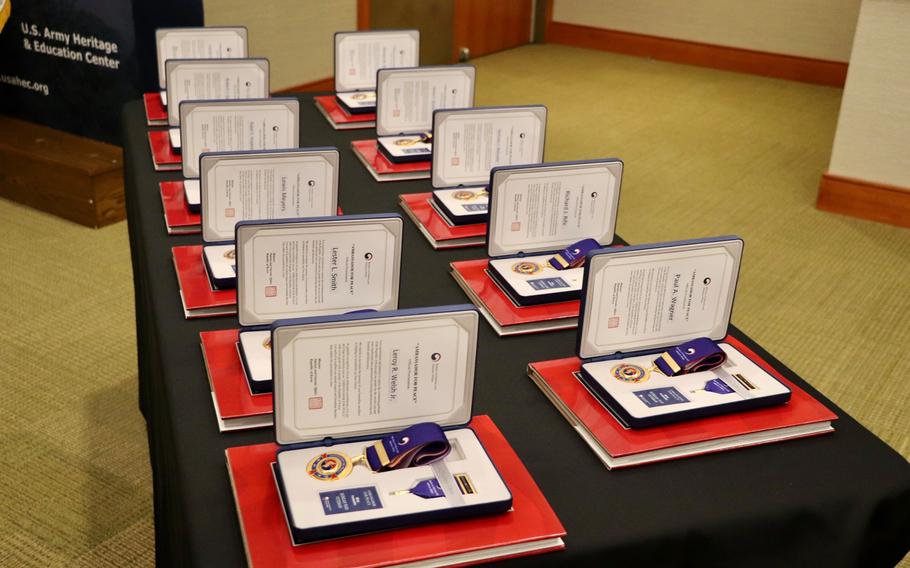 SELINSGROVE, Pa. (Tribune News Service) — Michael and Walter Schrey watched with pride as their father, Donald Schrey, received a Korean Ambassador for Peace medal at the VFW in Selinsgrove Thursday.
"It's a great honor," said Walter Schrey, who traveled from Pittsburgh for the event.
Donald Schrey, 89, of Selinsgrove, served in the Army for "two years, four months and five days" and said the medal presentation stirred up many memories of his service during the Korean War, like having to carry a 26-pound machine gun.
In all, U.S. Rep. Fred Keller presented nine medals. Schrey was the only living recipient in attendance as family members and elected officials including state Reps. Lynda Schlegel Culver and David Rowe and Snyder County Commissioners Joe Kantz, Chuck Steininger and Adam Ewig applauded their service.
Two other honored veterans, Harry Hummel, of Northumberland, and William Hill, of Selinsgrove, did not attend.
Relatives accepted the medals on the behalf of veterans of the Korean War who have died.
Selinsgrove resident Ruth Deluca held a framed black and white photograph of her late husband, Pasquale Deluca, in his service uniform, as she picked up the award. Susan Beasley, the daughter of Eugene Leitner; Cristian Latsha, the daughter-in-law of Kurvin Batdorf, and several members of the late George Dubaskas's family also accepted the medals posthumously on their loved ones behalf.
Thomas Forman, whose sons were unable to be at the event, was also awarded a medal posthumously.
"For generations, the service and sacrifice of America's veterans have secured the blessings of freedom and protected our way of life; we are forever in their debt," said Keller. "Millions of Americans served in the Korean War, many of whom came from right here in central and northeastern Pennsylvania. While the conflict is sometimes referred to as the 'Forgotten War,' we must always remember the heroic efforts of these extraordinary individuals and honor the many sacrifices they made to keep us safe."
Joseph Dubaskas Sr., of Selinsgrove, shared harrowing stories of his late father's service — which began at age 14 during World War II when he lied about his age and joined the Army — and post-military life during which he worked for two decades in the Bureau of Prisons.
While serving in Korea in the early 1950s, George Dubaskas was a prisoner of war for 22 months. He retired from the military in 1971 after receiving numerous medals, including two Purple Hearts, Bronze Stars and a Silver Star, all of which his son brought with him to Thursday's ceremony.
In 1991, while working at a federal prison in Talladega, Ala., George Dubaskas spent three days as one of several hostages taken after 118 Cuban prisoners seized control of the facility.
Tearing up as he recounted the trials his father faced, Joseph Dubaskas Sr. was joined by his children, Talisha Probst, Shanda Dubaskas and Joseph Dubaskas Jr., all of Selinsgrove, who each expressed their adoration of the late patriarch.
"We have a sense of pride to know our grandfather did all that," Joseph Dubaskas Jr. said.
"He definitely led a life of service," said Probst.
(c)2021 The Daily Item (Sunbury, Pa.)
Visit The Daily Item (Sunbury, Pa.) at www.dailyitem.com
Distributed by Tribune Content Agency, LLC.