Department of Defense jobs program helps service members find careers in the civilian sector
by
Caleigh Bartash
Stars and Stripes
August 28, 2021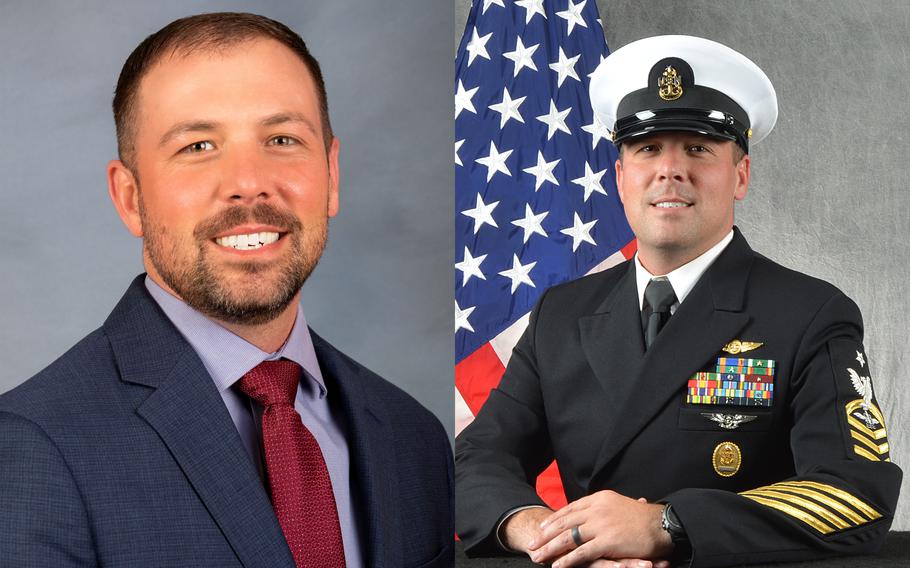 As he planned to leave the U.S. Navy, retired Senior Chief Courtland Schafer said he was not thrilled about his civilian career options. Then he got a tip from a former colleague.
A pilot with whom Schafer used to fly told him about the Department of Defense job program for service members leaving the military. The man was the coordinator for DOD SkillBridge at Delaware Resource Group, an aerospace defense contractor near Schafer's base in Oklahoma. Schafer applied for various positions at DRG and joined the company through SkillBridge.
SkillBridge offers service members of all ranks, including select guardsmen and reservists, the opportunity to earn civilian work experience as they transition out of the military, according to its website. The DOD covers military pay and benefits, though service members must start and complete the program within the final 180 days of their service, according to SkillBridge. 
Schafer started his internship in January 2020 and retired from the Navy in June of the same year, but he has remained at the same company since. As a capture manager, he helps DRG draw government contracts.
The former flight engineer said he had heard people up and down his chain of command say that aircraft instruction and program management best fit veterans' specialized skill sets. At DRG, Schafer has used his college education in business and management theory in a different role — one he said he prefers.
Schafer advised fellow veterans to not put themselves in a box while job searching.
"Had it not been for SkillBridge, I probably would have continued to just try to find a job in some sort of project management type of field, which wasn't really what I wanted to do in the civilian world," Schafer said.
Initially established under a DOD directive in 2014, SkillBridge works with hundreds of employers including Amazon and the U.S. Veterans Administration, according to its site — and new partners are still welcome to apply.  A July DOD report to Congress said over 14,000 service members completed or enrolled in a SkillBridge opportunity during the 2020 fiscal year.
Army veteran John Hoffman learned about the program through the Soldier for Life — Transition Assistance Program, now known as the Army Transition Assistance Program. In September 2020, Hoffman became the first SkillBridge intern at the University of Arizona Applied Research Corporation, where he ultimately was hired.
Hoffman also considered working in federal law enforcement before his internship. He said his position at the University of Arizona made him realize that he was interested in a career in program management.
"Aside from just the getting out, I get experience and I want to get a job, it helped me figure out what career path I want to take after I separated," Hoffman said.
Hoffman said he recommends that SkillBridge applicants plan their separation timeline to make sure they do not miss out on benefits. The Army veteran said he would like to see more participation in the program and more support from chains of command. Service members must get permission from their unit commanders before participating in SkillBridge.
"Mission comes first, but if there is an opportunity I encourage leaders in the military to educate themselves on the program — whether they're staying in or not," Hoffman said. "That way when their service member comes to them and wants to participate in this program, they have a good understanding of what it is and then they can support them one way or the other and help them make an informed decision."
Retired Navy veteran Doug Halter, partner and division manager at 2 Circle Consulting Inc., said he first learned about SkillBridge when a separating veteran contacted him about interning at the firm. He became the program's point of contact and usually receives an email a day from service members seeking internships.
Halter said his firm is very selective when choosing interns to make sure they will be able to use the skills they learn in their future careers. Interns must have naval aviation backgrounds to work at 2 Circle Consulting, which provides expertise to Navy and Air Force acquisition programs.
Three service members have interned at 2 Circle Consulting through SkillBridge, according to Halter, and every one of them got hired after. Halter said he is proud to support service members as they move from military to civilian life.
"It's a brand new landscape for a lot of these individuals that are getting out of the military, and one of the things that we enjoy about it as well is: Not only does this increase our pool or improve the pool from which we can now recruit, but it also gives us a chance to mentor those individuals and help them transition from military to civilian life," Halter said.
Service members interested in SkillBridge can learn more about how the program works within their branch on the "How to Apply" page of the program's website.