Trump alumni launch group to push his VA policies, including access to private care
by
Lisa Rein
The Washington Post
August 19, 2021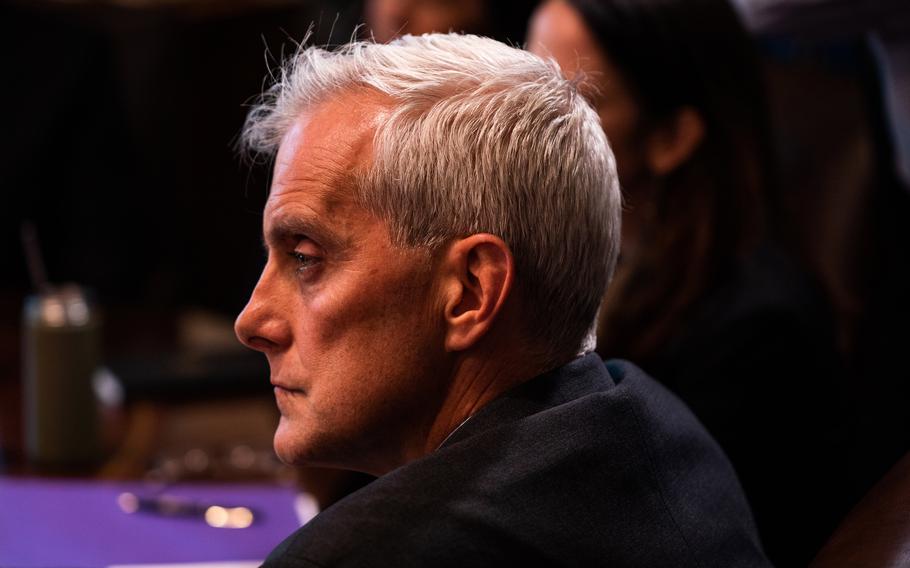 WASHINGTON — A group of senior Trump administration alumni this week launched a nonprofit group to try to extend the former president's effort to offer veterans more access to private medical care and other policies while diminishing President Joe Biden's priorities at the Department of Veterans Affairs.
Veterans 4 America First Institute is modeled after the America First Policy Institute, the post-Trump group that launched in April with a multimillion-dollar budget and is one of several efforts by former Trump administration officials to push his priorities. The new effort is led for now by volunteers who said they are committed to "effective management and accountability" at VA and the Defense Department, with a particular focus on what they called an intransigent VA bureaucracy.
President Donald Trump sought to expand private health care to veterans — long a priority for conservatives but not seconded by Biden — and the group's leaders said that continuing to press for private coverage would be a primary goal.
Founding members of the group, which plans a publicity campaign, include Darin Selnick, a former senior adviser to VA and the Trump White House Domestic Policy Council; Peter O'Rourke, who served briefly as the agency's acting secretary after other senior roles; Camilo Sandoval, a Treasury Department and VA alumnus whose last role was chief information security officer for the White House budget office; Jason Beardsley, who served in senior roles at the Pentagon and VA; and Reed Rubinstein, former deputy associate attorney general at the Justice Department.
The advisory board includes Keith Kellogg, a retired Army lieutenant general who was Trump's acting national security adviser and chief of staff of the National Security Council.
Leaders of the new effort insist they are nonpartisan. "Our point is not to be partisan or point a finger at the current secretary," Selnick said in an interview. "But we have the expertise to come up with solutions and advance them."
It is clear, however, that the new effort is intended to pressure VA Secretary Denis McDonough, particularly in the area of private health-care options.
Selnick said McDonough is "going backwards" on Trump and Congress's commitment to encourage veterans to seek care from private doctors, by allowing wait times for these appointments to grow and, in Selnick's view, by pushing patients to be seen at VA instead of in the community.
VA press secretary Terrence Hayes said in an email of the new group: "VA has no comment as it pertains to this or any other group of former VA staff members. We are solely focused on our sacred obligation of providing the absolute-best health care and access to benefits for our Veterans."
The debate over private health care for veterans enrolled in the VA system has taken center stage in recent years, following a scandal over long wait times at the agency's Phoenix hospital. Conservatives have favored more options outside the system, while Democrats and their allies in the labor movement have argued that the government system overall offers the best care.
VA had referred about 31% of veterans to appointments with private doctors by the end of the Trump administration, according to agency figures. McDonough has praised the government system and said it provides top-notch care.
"The Secretary encourages Veterans to use VA health care more often than not because we have a remarkable continuum of care program and offer outstanding providers for our Veterans," Hayes said in an email. McDonough "also fully supports the use of community care when it results in the best outcomes for Veterans."
Hayes said that through the first three quarters of this year, referrals to private doctors and outpatient care in the VA system have grown from the previous year, when the number dropped during the pandemic.
While complete data won't be available until Sept. 30, the volume of appointments with VA and outside doctors "is trending to be near pre-pandemic levels," he said.
McDonough, who was White House chief of staff to President Barack Obama, has focused his tenure on fighting the coronavirus pandemic among veterans and VA's health-care staff, preventing suicides by veterans, fixing a failing Trump-era effort to modernize veterans' health records and expanding benefits to former service members who were exposed to toxic substances.
This is not the first veterans' group started by Trump alumni. David Shulkin, Trump's first VA secretary, in March launched Policy Vets, a weekly podcast with former American Legion executive director Louis Celli with guests including lawmakers, veterans and a variety of experts. But Policy Vets' focus is more practical, highlighting issues from prosthetics management and long-term care to gender equality and disparities in care, according to its website.
With a relative few political appointees to oversee a workforce of more than 400,000, the VA bureaucracy in the past came under withering criticism from some Trump officials as ineffective and, in some cases, resistant to administration policies. Trump officials also clashed with the powerful unions that represent the agency's workers.
"Our veterans . . . bear the burden of bureaucratic mismanagement and political ineptitude," O'Rourke, Veterans 4 America's president, said in a statement. He did not cite examples.
Paul Lawrence, who led the Veterans Benefits Administration under Trump and serves on Veterans 4 America's advisory board, said McDonough's team has contributed to long waits for benefits during the coronavirus pandemic, although Biden was not inaugurated until nearly a year into the crisis.
Lawrence cited a long-standing shortage of doctors who administer exams to document medical conditions under consideration for disability benefits. He said he put a plan in place before leaving office to hire more contract doctors, but McDonough has not yet implemented it.
Lawrence also said that by allowing thin in-person staffing levels at the National Personnel Records Center in St. Louis, an arm of the National Archives that provides veterans with vital paper records they need to obtain benefits, VA has delayed the process for thousands of applicants.
Hayes said the pandemic and concern for veterans' safety forced the agency to pause in-person exams last April. In the past five months, as more exams have been conducted in person, the backlog of pending exams has been reduced by 26%.
He said the inventory of requests to VA for documents from the records center has now dropped to pre-pandemic levels, with responses in three to four days after much of the staff in St. Louis was recalled to the office to speed up processing.