'They weren't taking care of our guys': Veteran dedicates himself to preserving gravestones of those who served
by
Meredith Tibbetts
Stars and Stripes
July 14, 2021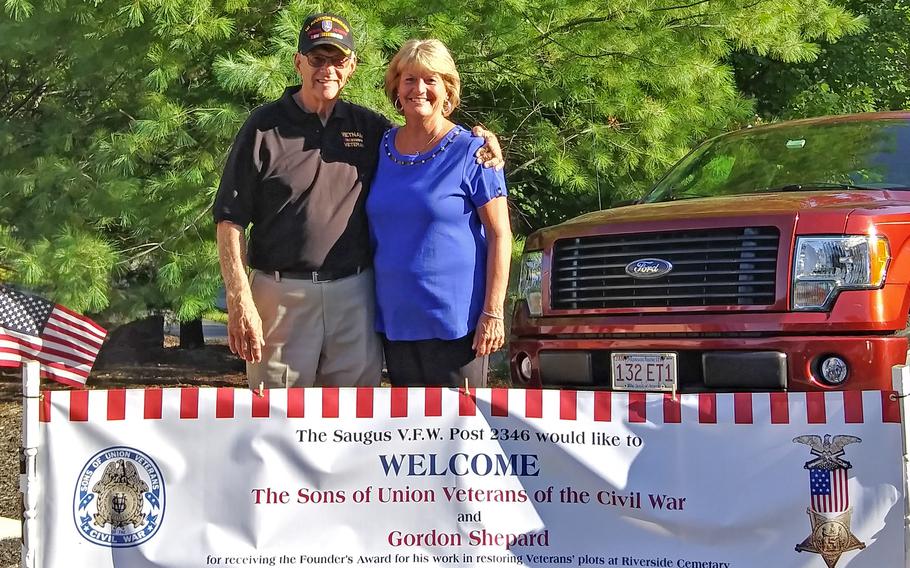 The stone had sunken several inches into the soil, a marker that was meant to stand against time and remind people of Richard Devine Jr.'s ultimate sacrifice in the jungles of Vietnam on Jan. 10, 1968.
In 2006, fellow Vietnam veteran Gordon Shepard stood over the spot where his childhood friend Devine was buried, angry at the state of the marker. So he drove home, grabbed a shovel and fixed it. After he was done, he noticed other veterans' grave markers nearby were in the same condition — some worse — so he fixed those, too. 
Almost 15 years later, Shepard, 74, is still fixing and maintaining memorials and markers around Riverside Cemetery in Saugus, Mass. Over the years he has spent thousands of his own money and raised thousands more to make sure his fellow veterans were honored.
Riverside Cemetery repairs
There were no sprinklers. The Civil War Memorial cannonballs had disappeared years ago and were never replaced. Hedges were overgrown in areas, covering markers. Stones were crooked, sunken into the ground, and dirty.  
"We have a fella that was killed in Pearl Harbor, Dec. 7, 1941. And we have Silver Star recipients and we have Bronze Star recipients and multiple Purple Heart recipients. And they weren't being taken care of the way it should be taken care of. It was just awful. Meanwhile they have the rotaries [in town] all looking real good, flowers and all of this stuff. Town hall looking good. And they weren't taking care of our guys," Shepard said. 
Medal of Honor recipient Arthur DeFranzo, an Army staff sergeant killed during WWII, is also buried at Riverside Cemetery, as is an unknown soldier. 
In a large veterans' section with 400-500 footstones, eight gravesites didn't have any markers. When Shepard asked the cemetery superintendent why, he was told the footstones had probably sunken into the soil and were buried. Shepard called the National Archives, who put him in contact with the people who handle the veterans' markers. Because he wasn't related to the deceased, he was told he needed to find out who they were, their previous address and when they died.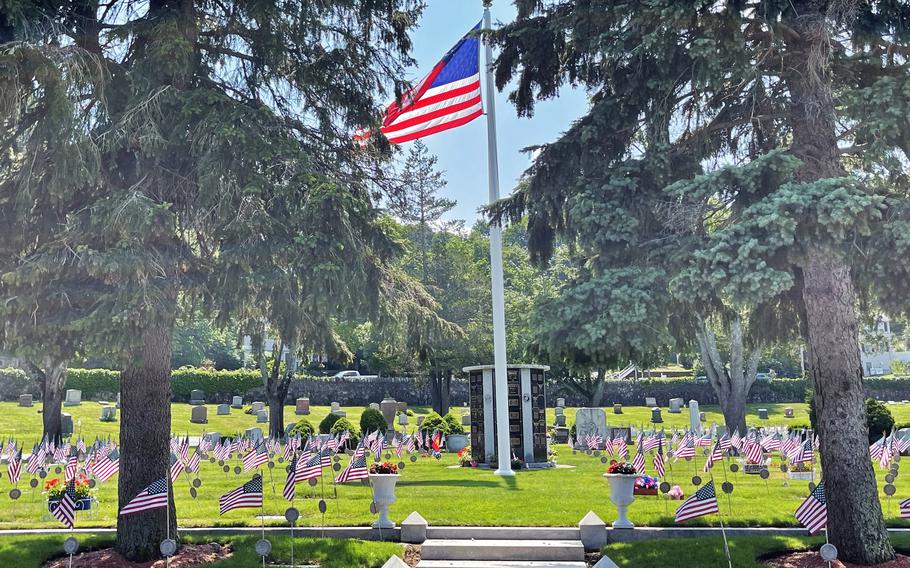 Shepard headed out in the community, knocking on doors. Eventually, he was able to get markers for all eight in that section. 
Shepard also called Arlington National Cemetery. He wanted to know how they were able to line up all their stones perfectly and in straight lines. 
"My veterans of World War I, the stones were laying down, they were this way and that way. They were all over the place. It was terrible," Shepard said. "So I got a hold of the superintendent [at Arlington] and he started talking. He was free with his knowledge and everything, and he told me how he did it." 
Sneaking in
When Shepard first started the cemetery repairs in 2006, he was worried that management would tell him to stop because of liability concerns. He started sneaking into the cemetery in the early morning and taking off shortly before 8 a.m., when the cemetery's staff would arrive. Unable to keep up with that schedule, Shepard started showing up at 9 a.m. with a speech for anyone who tried to stop him. 
John Falasca III, superintendent for the Cemetery Department in Saugus, did stop by to talk to Shepard.
"Back then we only had four employees," Falasca said. "Now we only have two. We try to keep up with everything. We do the best we can." 
The cemetery, which Falasca said is about 17 acres, does about 100 burials a year. There is a lot of upkeep for a cemetery that size. There are other volunteers, including local Boy Scouts.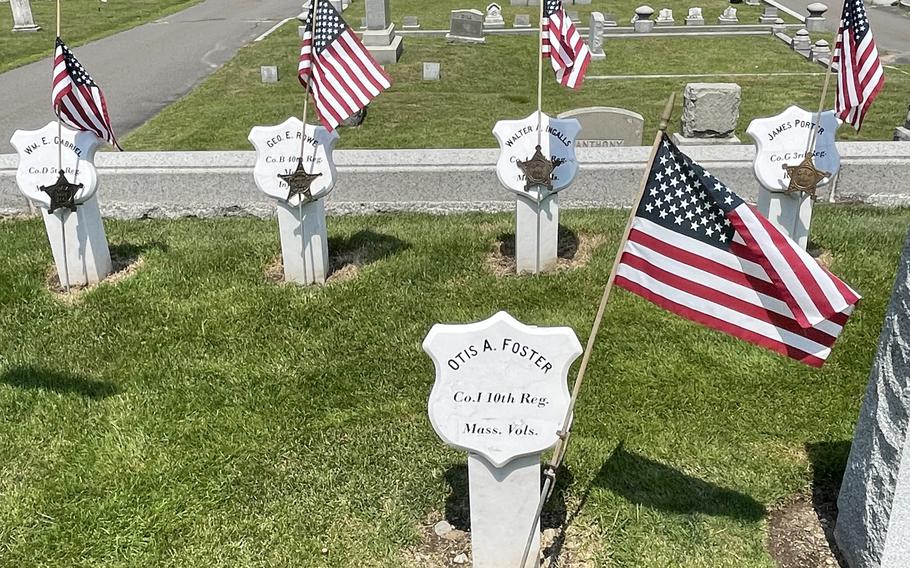 Falasca encouraged Shepard to continue his work. Shepard did, but there was a lot to be done. 
Doug Cooper, the American Legion Post 210 commander at the time and president of the Saugus Veterans Council, asked how he could help. When Shepard mentioned all the sunken stones, the commander got a crew together. It took five weekends, but they were able to raise all the stones and place a rock underneath each one so they wouldn't slip again. Shepard and his son, Ryan, returned on their own to line up the markers, adjusting each a few inches to make it look perfect. Then they added flag holders in the middle of the markers, which took about three weekends. 
Shepard takes care of the WWI, WWII and the Civil War sections of Riverside Cemetery. After spending about $2,000 of his own money maintaining the lawns, he realized he needed a sprinkler system.  He was met with resistance and was told that Saugus residents wouldn't like paying for it. Shepard went on the offensive.  
"I said, 'Let me just point something out right now. You see where we are standing right now? See that marker right there? That kid is 19 years old and he's dead from Vietnam. His parents won't see him get married. His parents won't see him go to college. His parents won't see any offspring by him. They won't see their grandson and they won't see nothing, understand? And we can't put a little water on them?'"  
Shepard hopped in his car, drove to Home Depot, bought $300 worth of hoses and sprinklers and turned them on.  
It's been nine years, and no one has told him to turn them off.
Tet Offensive
"Dicky" Devine grew up two houses away from Shepard in Saugus. As boys they often played together, even though Shepard was a few years older. Devine joined the Army first, and Shepard followed shortly after. Both were sent to Vietnam, where they frequently exchanged letters.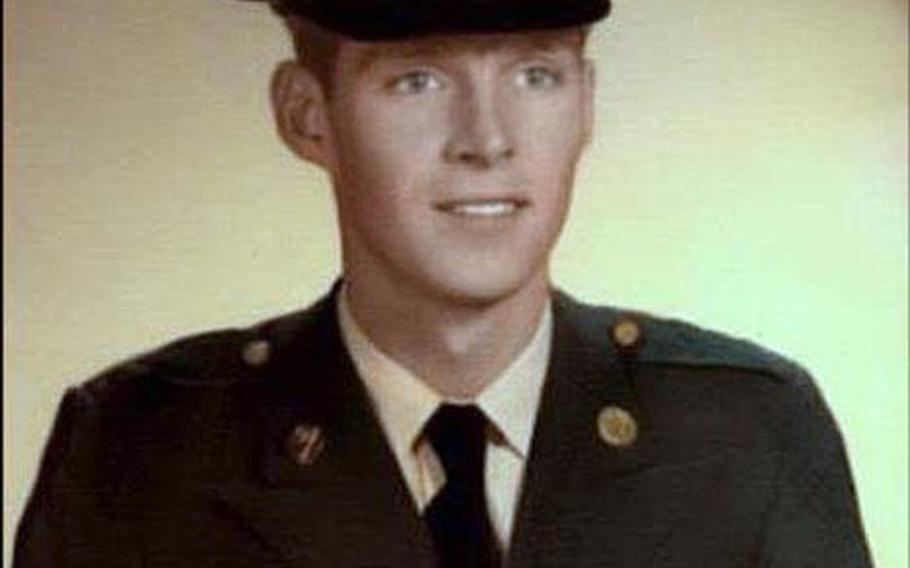 "All of a sudden, his letters started coming back to me. So I wrote my mother to find out, and told her to call Mrs. Devine and find out where Dicky is so I can write him another letter. I didn't get mail from anybody for about 1½, 2 weeks. It was really unusual, as I was getting mail every 2-3 days. And I finally got a letter from my mom that Dicky had been killed in January. January of '68," Shepard said, his voice trailing off.  
Shepard remained in Vietnam during the Tet Offensive, based in Danang and Can Tho, about 90 miles south of Saigon in the jungles. While in Danang, he was with the 245th Aviation Company, and while in Can Tho he was in the 244th Aviation Company. 
Devine was not the only personal loss Shepard experienced in Vietnam. He was crew chief when one of his aircrafts was shot down during a reconnaissance mission. Capt. Joseph Doyle and Capt. Steven Popkin were killed Feb. 28, 1968. 
"Captain Popkin was a good guy. I miss him. He was very well liked in the company," Shepard said. 
In those early months of 1968, it was the 9th Infantry Unit's job to protect the 244th Aviation Company.  
"They would come in for anything that they thought would be a problem. They would man the towers, man all the bunkers," Shepard explained. His outfit's job was to help out the 9th Infantry if something happened. During the first part of the Tet Offensive, the 9th Infantry got pinned down, unable to come to the defense of the 244th. 
"We were on our own," Shepard said. The Viet Cong "attacked us, and bombed us, and shot at us. It was a pretty crazy day, and pretty crazy night. But we got through it. We had three ground attacks, three firefights all total." 
Civil War Memorial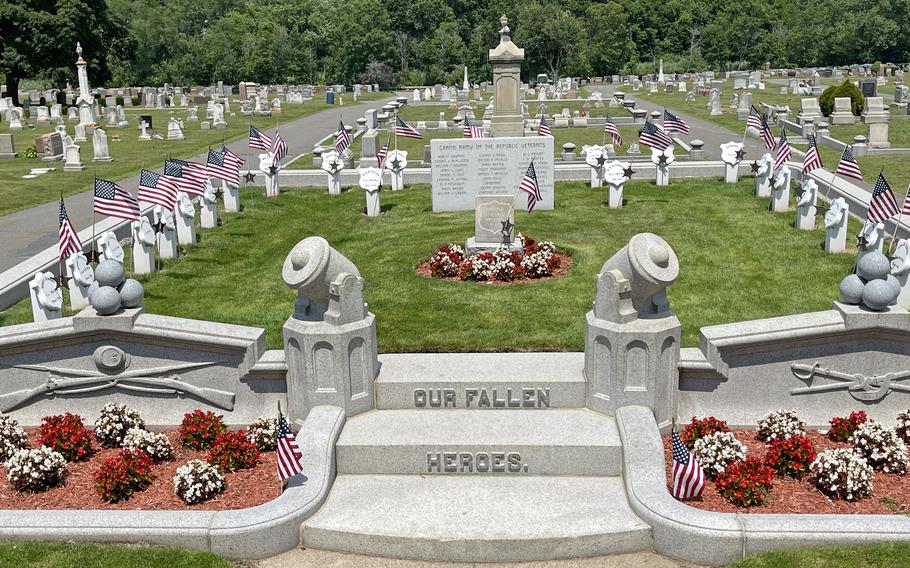 One of Shepard's longest — and biggest — projects at Riverside Cemetery has been fixing the Civil War Memorial.
Over the years, the cannonballs disappeared, and people drove over the lawn around the memorial. 
The cannonballs had been missing for so long that no one was sure what had been in several empty drill holes. Shepard was determined to accurately restore the memorial, so he called the historical society. Eventually, an old photograph was found depicting cannonballs. 
Shepard got new cannonballs, and he installed curbing around the memorial. The grass is now green from the sprinklers. A flagpole was added, too, with an American flag of 33 stars — the number of states there were in 1861 when Fort Sumter in Charleston, S.C., was attacked, officially beginning the Civil War.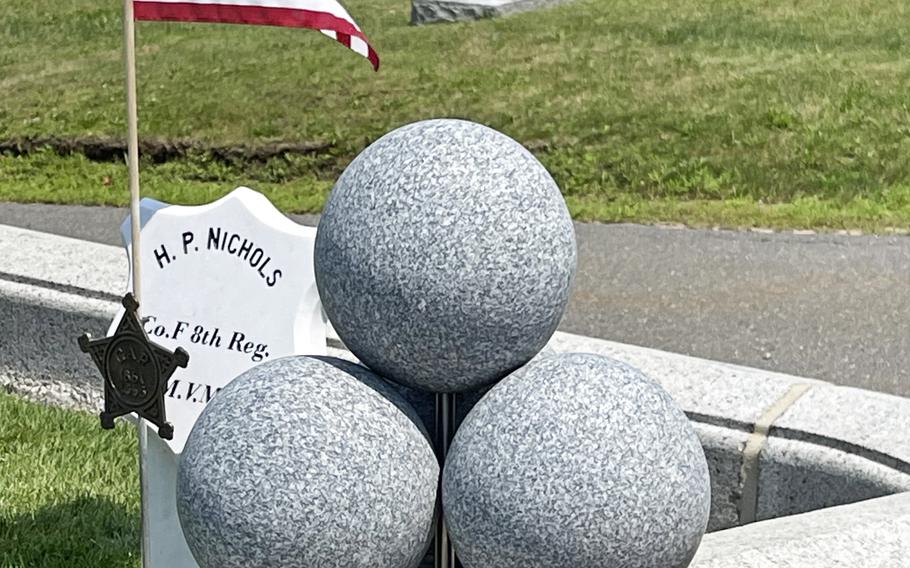 Falasca said he and Shepard have a great relationship. Shepard asks permission with each project, keeping Falasca abreast of what he is working on.
"The guy just never stops," Falasca said. "His next project now is to put granite around the Grand Army of the Republic lot."
The Sons of the Union Civil War Soldiers honored Shepard in August 2019 for his work on the memorial.  
"I wish there were more people like him that put in the dedication. I know a lot of people who volunteer but nothing like what he does, 14 years strong," Falasca said.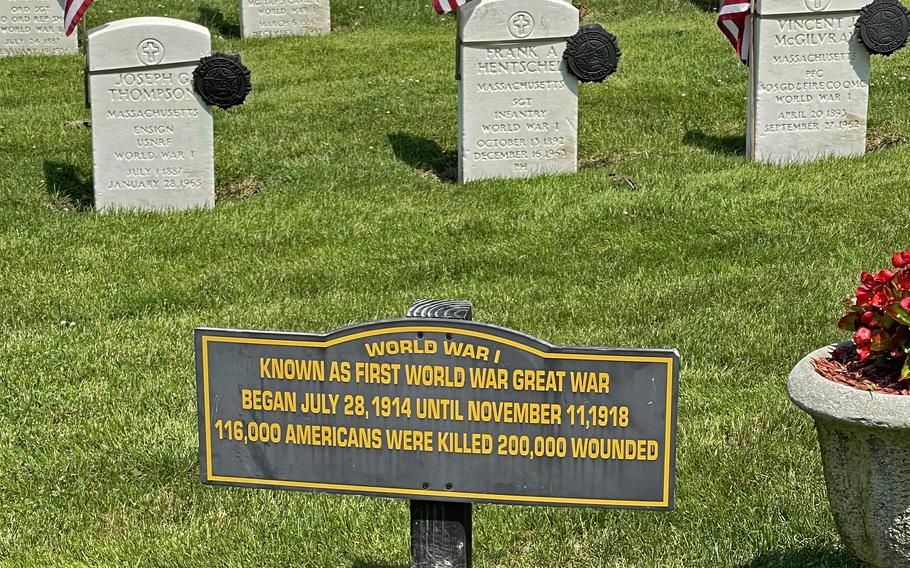 Shepard raises money in the community, with about 400 people donating to help keep the veterans' sections of Riverside Cemetery in the best shape. He has raised more than $40,000 through raffles and donations and has spent more than $5,000 of his own. 
"Recognition doesn't mean anything to me. What means the most to me is when a parent, or a father or a mother, or a husband or a wife, they come up to me when I am down there and say, 'Thank you very much for doing this. It looks very very nice.' That's all I need," Shepard said. "When I hear people say that, it makes me want to do more."