Union workers, veterans repair vandalized Korean War Memorial
by
Mike LaBella
The Eagle-Tribune
July 1, 2021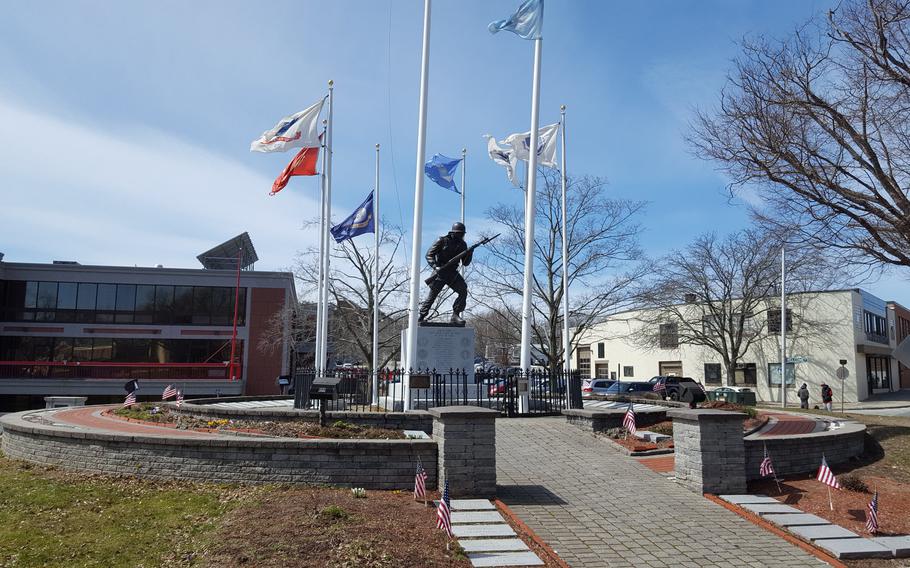 HAVERHILL, Mass. (Tribune News Service) — Members of two local unions answered a call for help from a local Korean War veteran after he discovered a floodlight that illuminates the Korean War Memorial in GAR Park had been vandalized.
Their help could not have come at a better time, because June 25 marked the 71st anniversary of the start of the Korean War.
"I usually hold a small ceremony at the memorial, and for this one, I'm thankful for the help we've received," said 89-year-old Korean War veteran Russell V. J. Chaput, founder of the Korean War Veterans Memorial Committee that raised money to install the memorial and is now its treasurer, secretary and caretaker.
His group raised more than $130,000 to erect the monument, which is located at the northern edge of GAR Park near Winter Street and the Citizens Center.
During a recent visit to the memorial for light maintenance, Chaput discovered that someone had vandalized one of the LED floodlights that ring the memorial.
"These lights cost us veterans approximately $500 each to have installed," Chaput said, noting that 16 Haverhill men were lost in the war and the memorial was created to honor them.
He said the Korean War veterans raise money and pay for all maintenance and upkeep of the memorial. Replacing the floodlight would have taken a bite out of the memorial's dwindling maintenance fund, according to Chaput.
Michael Gagliardi, business manager for the Laborers International Union Local 175 in Methuen, said members of his union along with members of IBEW Local 103 electrical workers of Boston made repairs last week.
He said they pitched in and bought a replacement floodlight and installed it, and also repaired some loose brickwork and added three cubic yards of bark mulch donated by Mackey Construction in Wilmington. That company sent two of its laborers, both veterans, who assisted with repairs and laying down the new mulch.
"When we read the story in The Eagle-Tribune about what happened we contacted Mayor (James) Fiorentini, who put us in touch with Russ," he said. "We were heartbroken to think someone would desecrate a monument to our nation's heroes and it made it even better when we found out an 89-year-old veteran (Chaput) was overseeing maintenance of the memorial.
"He was on his hands and knees alongside our union members doing some of the work and I was amazed," Gagliardi said. "Russ' dedication is a credit to this country."
Taking part in the project were, Michael Gagliardi and his sons Michael Jr. and Brendyn Gagliardi, both of whom are with Local 175; David O'Laughlin, business agent for IBEW Local 103 electrical workers of Boston; Bill Mahoney and his son Ryan Mahoney, members of IBEW Local 103; Sean McNulty, a Marine veteran with MacKay Construction in Wilmington; and Luciano Guerreiro, also a veteran and of MacKay Construction.
Chaput said he is appreciative of the work that members of the two unions did.
"I only expected them to fix the light and I was surprised to see them reset some loose bricks and spread new mulch — which I usually spread myself but it's getting harder each year," he said. "What they did (has) saved me a lot of physical pain."
Chaput is seeking donations to fund a perpetual maintenance account for the memorial.
Checks to the Korean War Memorial Maintenance Fund can be sent to Haverhill Bank, 180 Merrimack St., Haverhill, MA 01830, or to Russell V.J. Chaput, 56 Brandy Brow Road, Haverhill, MA 01830.
(c)2021 The Eagle-Tribune (North Andover, Mass.)
Visit The Eagle-Tribune (North Andover, Mass.) at www.eagletribune.com
Distributed by Tribune Content Agency, LLC.