Army veteran sets a world medical first
by
Annie Charnley Eveland
Walla Walla Union-Bulletin
June 14, 2021
WALLA WALLA, Wash. (Tribune News Service) — One roadside bomb. Eight Iraqi insurgents. A traumatic brain injury that affects memory, severe burns and multiple injuries. Eighty-two subsequent surgeries and a place in medical history.
U.S. Army Staff Sgt. Jerry Ellis Majetich's journey out of hell and through ongoing recovery started with a 2005 ambush in Iraq during Operation Iraqi Freedom.
Because of his military training and assignments, "Jerry was on an insurgent hit list. They had bounties on him," said brother Tom Majetich. He added that Jerry was blown up by an IED while in a Humvee. The two guys with him were never found, Tom said. His captain pulled him out of the rig and he was able to return fire.
In addition to all the injuries from the explosion, Jerry was shot in the right shoulder and three times in the right leg and awarded a Bronze Star, a Purple Heart and other honors.
"We got the call that they didn't think he'd make it," Tom said. Jerry's five brothers flew to Fort Sam Houston, Texas, to see him in the burn center.
It's been a long haul for Jerry. He's been recovering from burns over 37% of his body and 100% of his face and scalp. But along the way he has gone to military bases to speak with other soldiers. "He gives them ideas, helps them get off morphine, helps the wounded and suicidal," Tom said.
Over time, all the brothers helped care for him. In 2006, Tom took three months family leave to help Jerry's family out in Texas. "They were pretty messed up at that time," he said.
A home is under construction for Jerry in St. Augustine, Fla. It's a good place for him to be because of the proximity to VA medical facilities, Tom said.
"There's a lot of help out there. It's really great what they're doing for the veterans, especially with the house for Jerry and his family," Tom said. Jerry's family includes his wife, Mary Ellen, and daughter, Katy Majetich.
Their mom, Margaret Majetich, lives in West Palm Beach, Fla. She brings the tradition of military service to her family, too. She was stationed as an Army nurse in Germany in the late 1950s. She's particularly proud of a letter she received in 1994 from an Army colonel recognizing her contributions toward all six of her sons who served in the U.S. Army.
Margaret's sons were all stationed overseas at one point, Tom said. The brothers are: Richard Posio of Mich., who served with the Army in Korea in the 1970s; Tom Majetich, who served in armored tanks in the Army; Ben Majetich, who is a chief of police and was in Army combat mortar platoons at Fort Hood Texas; David Majetich of Cohutta, Ga., who was with the Army military police at Fort Stewart in Hinesville, Ga.; Hank Majetich, a former Army MP in Texas and now a police lieutenant in Redmond, Ore.; and Jerry, the youngest, who first served four years with the U.S. Marine Corps in ship security on an aircraft carrier, then served 15 years in the Army, including with psychological operations in Iraq.
WTLV-TV First Coast News reported on May 25 that Jerry made medical history, leaving hope it could help other amputees. He is the "first person in the world to have an experimental surgery on an upper extremity that could revolutionize prosthetics," reported Heather Crawford of WTLV.
His mangled right hand had been a 15-year source of unceasing pain and in 2020, he chose to have it amputated. He told Tom, "'I've been in pain ... for years.'
I understood after the amputation because it relieved the pain," Tom said. "Jerry's happy and feels so much better."
Jerry had endured a 17-hour surgery on that hand, but it failed. He told them to take it off. "For me, the pain being gone has changed my life," he told WTLV.
Post amputation, Jerry volunteered to have an experimental surgery using the AMI procedure. The agonist-antagonist myoneural interface method restores proprioception to persons with amputation.
"The thing that was unique about Jerry's surgery is we've taken it to the next step, which is to try to reconnect the tendons to essentially reconstruct the wrist joint, and the finger joint on the end of his residual limb, on the end of his amputation stump, to try to give him a better sense of control," plastic surgeon Dr. Jason Souza told WTLV.
This procedure could revolutionize the prosthetics realm, the story notes. The hope is it will help alleviate phantom pain and lead to better prosthetic function.
Tom and Jerry are forward thinking about these developments and how they can help others.
"I am thankful for the opportunity to help the veterans that follow because you know, there are, there will be other wars, there'll be other amputations and I want to make sure that things are better for those that fall behind me," Jerry told WTLV.
(c)2021 Walla Walla Union-Bulletin (Walla Walla, Wash.)
Visit Walla Walla Union-Bulletin (Walla Walla, Wash.) at union-bulletin.com
Distributed by Tribune Content Agency, LLC.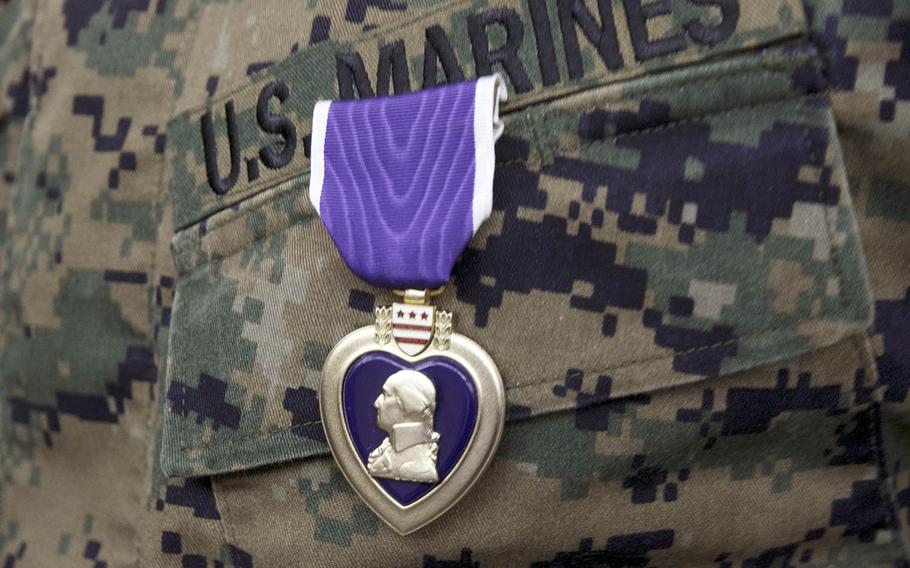 ---
---
---