One YouTuber is on a quest to preserve quirky and nostalgic AFN ads, from killer vending machines to poorly dubbed Hercules
By
Stars and Stripes
May 30, 2021
---
Killer vending machines, security-conscious hamsters and a roommate who devolves into a caveman.
These are some of the memorable features of Garry Terrell's vast collection of military-grade videos from the American Forces Network and its predecessor, the Armed Forces Radio and Television Service. 
The son of a former U.S. soldier, Terrell is trying to preserve "all things AFN/AFRTS," and boasts over 3,600 videos on the YouTube channel AFRTSfan.
He began his collection nearly three decades ago, after learning that little had been done to save the many AFN spots that serve as a touchstone for troops and military families who've lived overseas. The military-made productions fill what would normally be ad time in broadcasts back home. 
As a DOD function, AFN can't run traditional ads or mention commercial products or profit-making activities in its productions, said Jo Bordeau, a spokeswoman for the Defense Media Activity. Instead, it lets commanders put out messages about force protection, weather, current events and base services.
Whether witty, off-kilter or deadly serious, the promos are often the butt of jokes. Several years ago, a pair of folk-singing Air Force pilots known as Dos Gringos paid homage to the "daily dose of life skills that you just cannot avoid," lampooning AFN warnings about shaken babies, operational security, roommate courtesy and the dangers of general power of attorney.
Because they're broadcast across various theaters, the ads served as "kind of like this bonding thing" for kids' friend groups frequently reshaped by duty station changes, said Sabine Brown, an airman's daughter who grew up in Germany in the 80s and 90s.
For Terrell, whose mother is German, "it was just my local TV and radio provider" growing up on the bases where his father served as a career U.S. soldier in the 70s and 80s. He took it for granted until the early 90s Base Realignment and Closure process threatened to shutter bases he'd grown up on.
"Fearing that AFN might also go away, I decided to try and collect some AFN radio and TV items to add to my ever-growing memory book of Germany," he said in an email. "I felt like I was in a race against time."
He began contacting and befriending AFN staff and alumni, growing his collection through contributions from his expanding network of AFN insiders and "superfans."
He started sharing this burgeoning library on YouTube over a decade ago, creating something of a time capsule, with spots that run the gamut from cringe-inducing, silly or lame to fun, brilliant and truly memorable.
Terrell's hardly the only one sharing AFN ads on YouTube, but few collections seem as extensive. Each clip brings back a memory, he said, and he hears often from veterans, military brats and others who feel the same way.
"It's not unusual to have someone recite verbatim a spot that they have not seen or heard in 40-plus years but remember it like it was yesterday," he said.
Brown still recites lines to friends she grew up with, like a hip hop-style spot about "proper wrapping technique" for mailing packages, or a healthy eating ad that urges, "come on buddy, buy some broccoli."
They're inside jokes that evoke nostalgia, said Brown, who now lives in Tulsa, Okla., with a family of her own. When she shared a few AFN clips with her husband and children, they "thought it was funny, but definitely didn't laugh as hard as I did."
The specific ads Brown recalled don't appear to be in the AFRTSfan collection, at least not yet, but people are continuing to share their videos with Terrell.
"Which is terrific for all of us looking for that special AFN commercial," he said.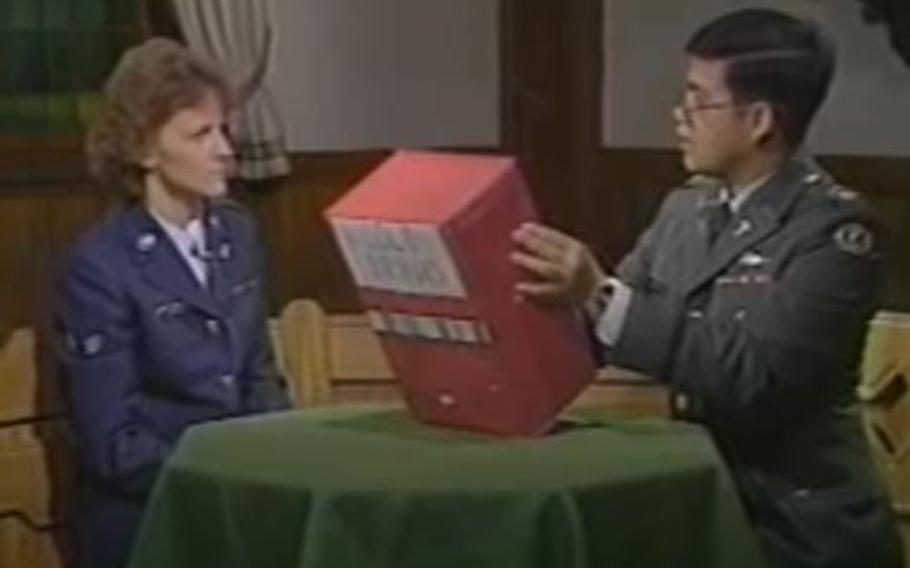 Stars and Stripes reporter Ann Pinson contributed to this report. 
---
---
---
---