'Delayed casualties of war'
House bill would fast track VA benefits to veterans suffering from 23 respiratory illnesses, cancers
By
Stars and Stripes
May 26, 2021
---
WASHINGTON — Veterans with any of 23 respiratory illnesses and cancers from their exposure to toxins during overseas conflicts would receive a fast track to disability benefits under a House bill unveiled Wednesday. 
Members of the House Committee on Veterans' Affairs introduced the bill, titled the Honoring our Promise to Address Comprehensive Toxics Act of 2021, during an event in front of the Capitol building. It's designed to ease the process for veterans to gain access to Department of Veterans Affairs health care and benefits. 
Rep. Mark Takano, D-Calif., the chairman of the committee, said the legislation was the culmination of years of work and was based on 15 bills from Republican and Democratic lawmakers. 
"This comprehensive package covers every aspect of toxic exposures," Takano said. "It's a long time coming." 
The bill is similar in many ways to a Senate bill introduced by Sen. Jon Tester, D-Mont., on Tuesday. Like Tester's bill, Takano's would automatically grant eligibility for VA health care to about 3.5 million veterans of the Iraq and Afghanistan wars and reform the VA's current process of handling claims of toxic exposure. 
Like the Senate version, the House bill includes older veterans, too. The bill calls for presumptive benefits for Vietnam War veterans who have developed hypertension because of exposure to chemical herbicides, as well as veterans who served in Thailand, Laos and Cambodia and were potentially exposed to herbicides. It also includes veterans who participated in toxic cleanup activities in Enewetak Atoll or Palomares, Spain. 
One key difference between the bills is the number of conditions the bills propose adding to the VA's presumptive list. A veteran with a condition on the presumptive list receives a fast track to disability compensation by lowering the amount of proof they must provide to receive benefits.  
While the Senate bill adds 11 respiratory illnesses and cancers to the list, the House is seeking to add 23. Rep. Raul Ruiz, D-Calif., a medical doctor, said lawmakers looked at scientific literature and case studies to find and compile the list of illnesses that could've been caused by service members' exposure to burn pits.  
Throughout the 1990s and the post-9/11 wars, the military used open-air pits to burn garbage, jet fuel, paint, medical waste, plastics and more. Veterans diagnosed with cancer, respiratory issues and lung disease at young ages have blamed exposure to the toxic fumes. They have sought VA benefits and health care, but the department has contended that there isn't sufficient evidence to support their claims.  
"Our government does not hesitate to send our young, healthy men and women to fight the wars they determine are needed," Ruiz said. "They come back and — though they are alive — they are delayed casualties of war due to their exposure to terrible substances that can cause respiratory illnesses, cancers and autoimmune diseases years later." 
Tester and Takano are anticipating pushback from some lawmakers because of the cost of the bills. The costs remained unknown Wednesday, but it's likely significant. 
Takano said the main challenge is getting a Senate majority to approve the addition of conditions to the VA's presumptive list. 
"The question to me is, will the Senate be bold and include presumptions?" Takano said. 
Comedian Jon Stewart, an advocate for veterans suffering from the effects of burn pits, spoke at Wednesday's event and criticized the possibility that some of the conditions could be dropped from the bill during House and Senate negotiations. 
"It can't be about number-crunching and, 'Jeez, I don't know if we can add head and neck cancers because that's going to add another $100 million' — no more," Stewart said. "We can't let up." 
Lawmakers in the House and Senate have said they want to get a bill passed through Congress by the end of the year. The Senate Veterans' Affairs Committee was set to discuss the Senate version Wednesday afternoon and decide whether to advance it to the Senate floor. 
Twitter: @nikkiwentling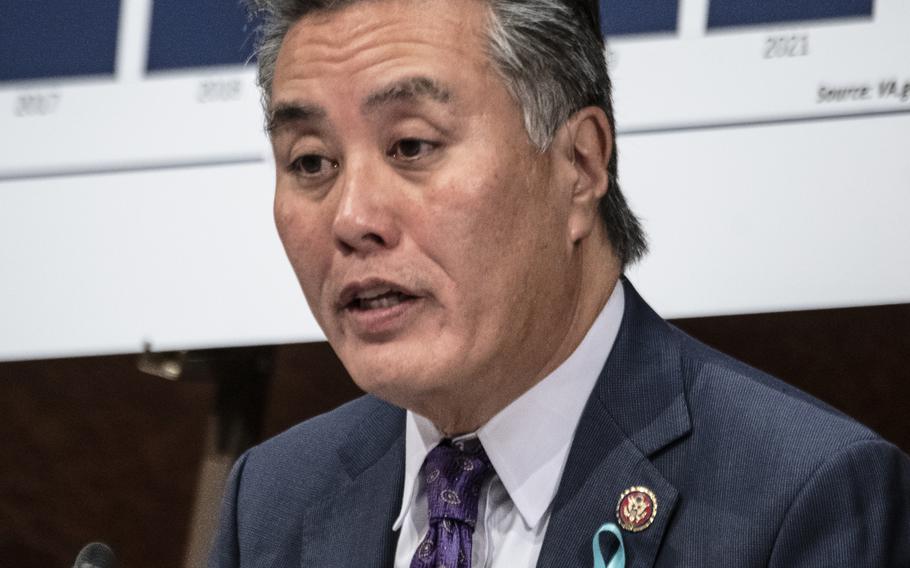 ---
---
---
---