Pentagon issued 'bad paper' discharges to tens of thousands of troops with mental health conditions
by
Nikki Wentling
Stars and Stripes
May 16, 2017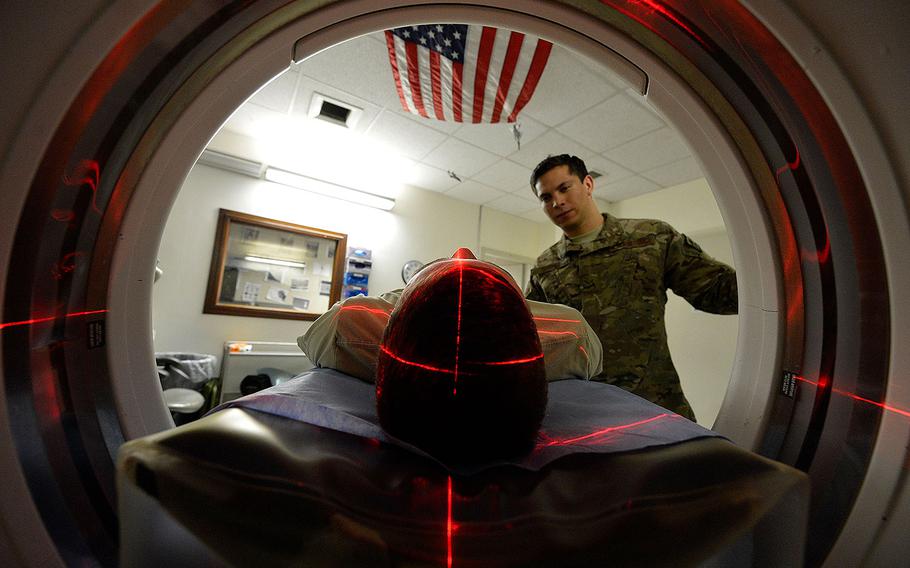 WASHINGTON — More than 13,000 servicemembers separated from the military for misconduct in recent years suffered from post-traumatic stress disorder, traumatic brain injury or another disorder and were prevented from receiving treatment from the Department of Veterans Affairs because of their discharge status.
The Government Accountability Office released a report Tuesday detailing the thousands of possibly improper discharges the Defense Department issued from 2011 through 2015. The report states the Defense Department is inconsistent and doesn't always follow its own policies to take into consideration that a service-related medical disorder could have led to a servicemember's misconduct.
The report particularly focuses on PTSD and TBI, signature wounds of the Iraq and Afghanistan wars that the GAO report stated can change servicemembers' moods and behaviors and lead to disciplinary problems.
"Really, it's providing us with definitive proof to support what we've been saying for years: that the vast majority of veterans with bad paper are those who have been afflicted by PTSD, TBI and other conditions," said Kris Goldsmith, with Vietnam Veterans for America, who has been advocating for years for the Defense Department to change their discharge procedures. "DOD has been treating veterans like they're disposable."
During the four-year span, the Defense Department separated 91,764 servicemembers for misconduct, and 57,141 – or 62 percent – were diagnosed with PTSD, TBI or other conditions such as adjustment, anxiety, bipolar or substance abuse disorders within two years before leaving the service. About 35 percent of servicemembers had adjustment disorders, which are psychological responses to stressful events. Eleven percent had TBI and 8 percent were diagnosed with PTSD.
Most of the servicemembers were given a "general" discharge, making them ineligible for some VA services. But 13,283 were given the more stringent "other-than-honorable" discharge, which disqualifies them from receiving VA health care.
The GAO report found the Navy and Air Force didn't have a policy to medically screen servicemembers for PTSD and TBI before they're separated for misconduct.
Included in the 2017 National Defense Authorization Act was a measure titled the "Fairness for Veterans Act" that requires Defense Department panels that review discharges to consider medical evidence from a veteran's health care provider. Panels are supposed to review each case presuming PTSD, TBI or another condition led to the discharge.
The office also found that in cases where servicemembers facing disciplinary action chose separation rather than go through a trial by court-martial, the Army and Marine Corps might not have told servicemembers that the decision meant they were ineligible for VA services.
Army officials also might not be following a policy to train officers to identify symptoms of TBI in servicemembers, the report states.
Inconsistencies and unfollowed policies have led to increased risk that servicemembers are being "inappropriately" separated from the military, the GAO wrote.
The Defense Department agreed with most of the GAO's recommendations to fix the issues. However, the department disputed some of the data included in the report, including a finding that 16 percent of separated servicemembers suffered from PTSD or TBI. The Defense Department argued GAO double counted, and GAO maintained it didn't.
The Defense Department also had concerns the GAO included adjustment and depression in its list of conditions that could have caused misconduct and led to servicemembers' separation. The Defense Department said there was no clinical evidence to back that up, but the GAO said they came up with the list by talking with Defense Department and mental health professionals about conditions that could be caused or exacerbated by military service.
Tuesday's report prompted Vietnam Veterans of America to renew their plea to President Donald Trump to establish a program to upgrade "bad paper" discharges for post-9/11 veterans who suffered from mental health conditions. The group first asked Trump in December to pardon the veterans.
Advocates estimate about 22,000 veterans with mental illnesses have received other-than-honorable discharges since 2009.
"These are veterans who volunteered to serve in a time of war, yet they've been failed by previous administrations," VVA National President John Rowan said Tuesday in a statement. "Our current commander-in-chief can't hesitate now. President Trump has always supported our veterans, and we are confident that he will listen to our plea."