Sea of Trees Dome offers year-round fun
by
Hiroshi Chida
November 27, 2003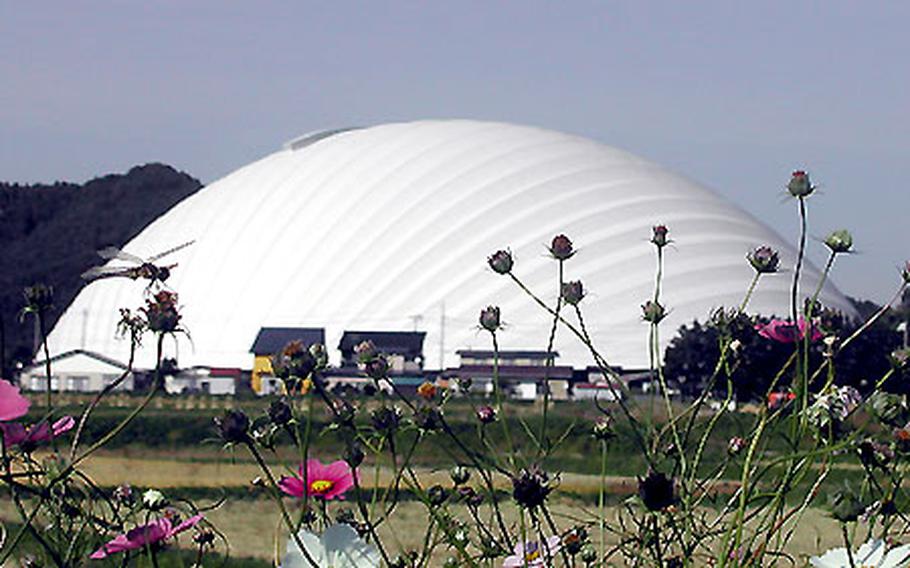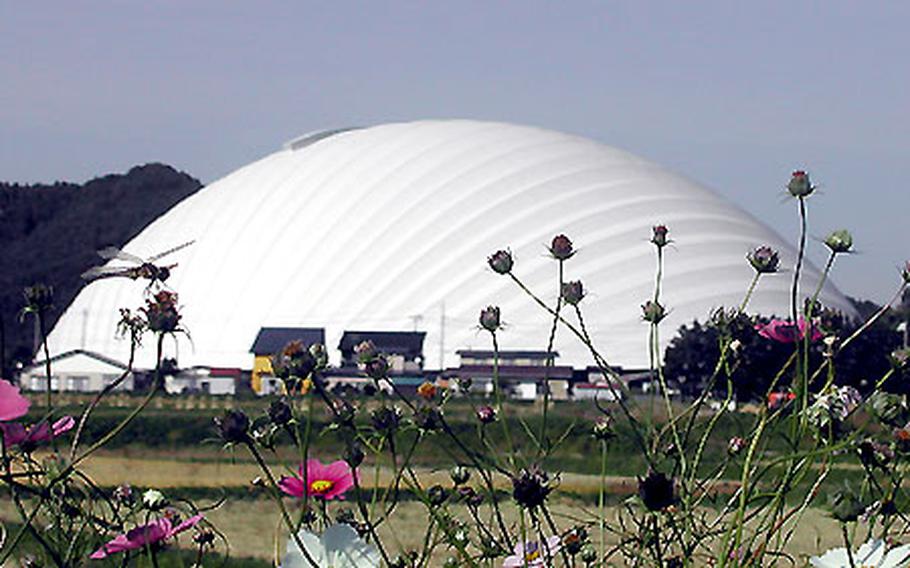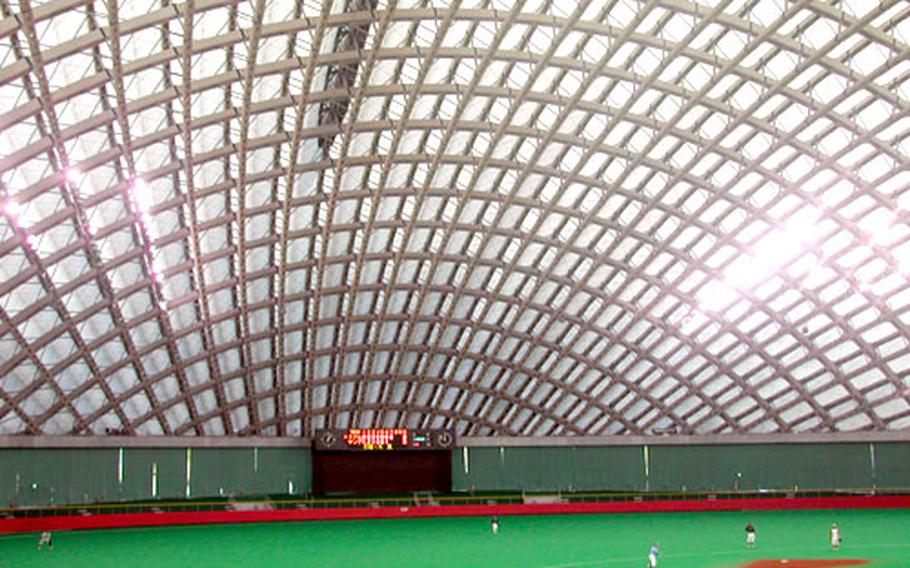 Odate is a town of 50,000 residents in Japan's northern Akita prefecture — roughly 400 miles north of Tokyo and 40 miles west of Misawa Air Base. But this relatively small town is home to an enormous building of unique architecture.
Resembling an egg cut in half from the top down, the Odate Jukai Dome stands in the midst of the town's rice paddies. However, the town's locals said, the dome is not remarkable solely for its appearance; it's what's under the shell that counts.
Beneath the dome's egg-like, white covering is its wooden support structure — one of the largest of its kind in the world, and a design that has received many accolades.
The locals are very proud of the dome. It is used throughout the year and is booked roughly 98 percent of the time it's open. Constructed mainly for baseball, it has also housed other sports, concerts, conferences, exhibitions — just about anything.
With a seating-capacity of 5,000, the dome stretches 400 feet into center field and 300 feet into the left and right wings. The parking garage can hold 1,400 autos.
Akita is also known for its production of quality cedar trees, and cedar lumber was used to construct the frames that support the dome's Teflon roof.
Around 25,000 cedar trees were used in its construction. The project took two years — completed in 1997 — and cost $80 million. Town officials expect the dome to last up to 50 years.
Domes are important for people who live in places where they cannot enjoy sports outdoors during the winter, said Takeo Higashi of Toyoo Ito and Associates, architects in Tokyo — the folks who designed the dome. He thinks more domes will be built in cold areas in the future.
If You Go ...
Fees for using Odate Jukai Dome:
Amateur sports by adults: 37,500 yen, all day, (3,000 yen per hour) for admission free games; 100,000 yen, all day, (8,000 yen per hour) for charged games.
Sports by high schoolers and below: 12,500 yen all day (1,000 yen per hour) for admission free games; 50,000 yen, all day, (4,000 yen per hour) for charged games.
Lighting fees: 14,000 yen per hour (full lighting), 7,000 yen per hour (half lighting), 3,500 yen (quarter lighting)
For more information: Call Odate Jukai Dome, 0186-45-2500; Fax, 0186-45-2220; http://www.jukaidome.com, or e-mail, Jdome@jukaidome.com