Near Kaiserslautern: It takes some work to get to Burg Trifels
by
Jennifer H. Svan
August 28, 2014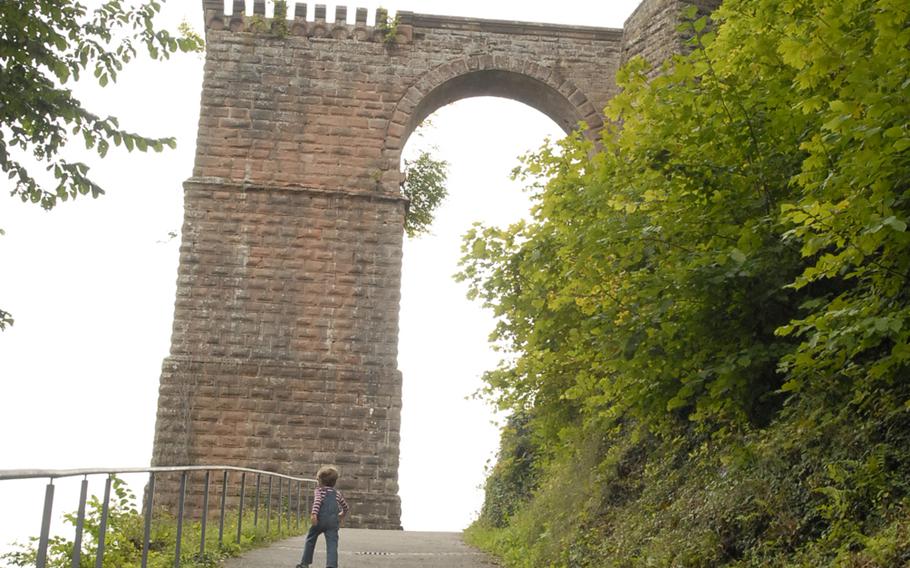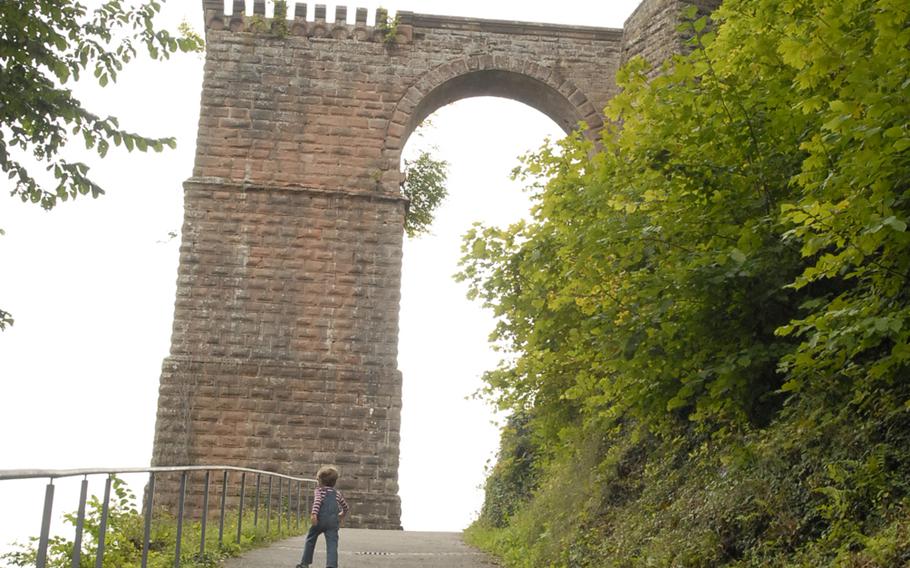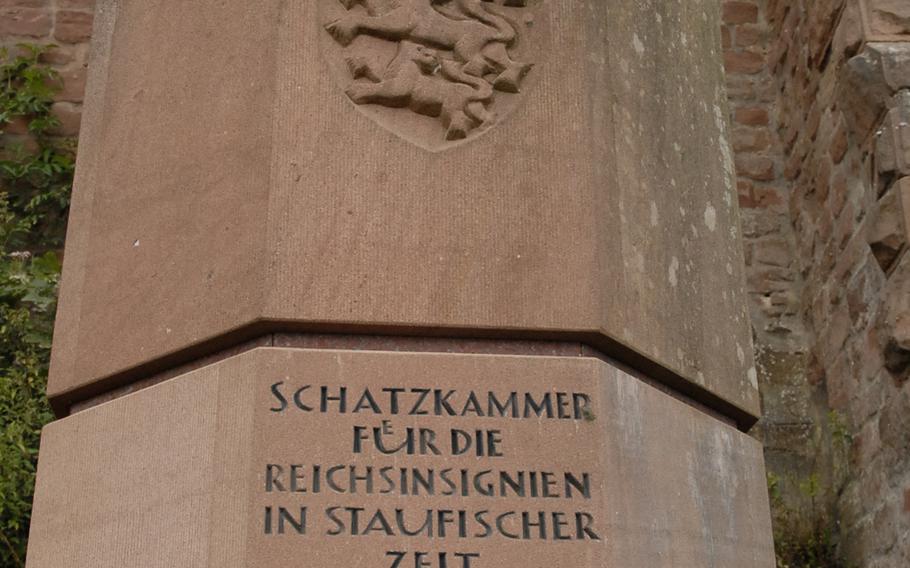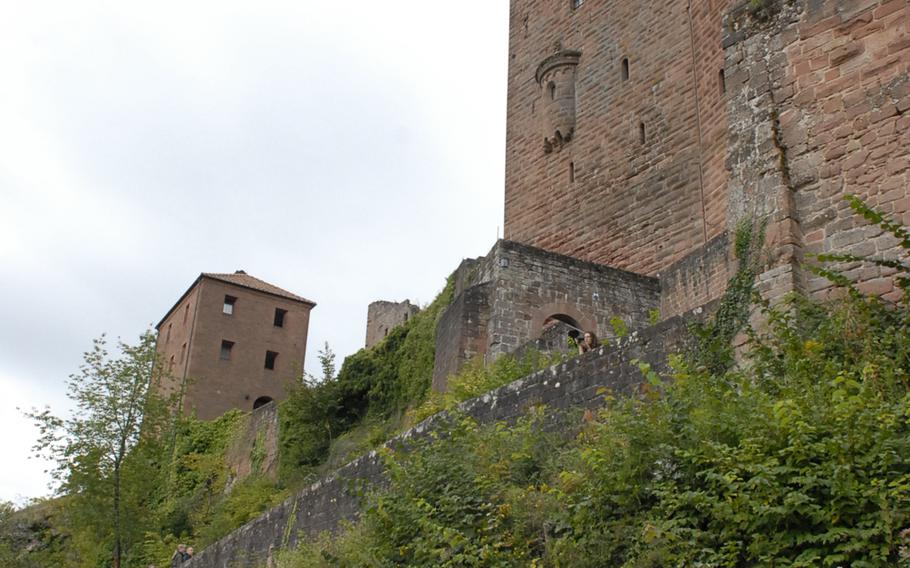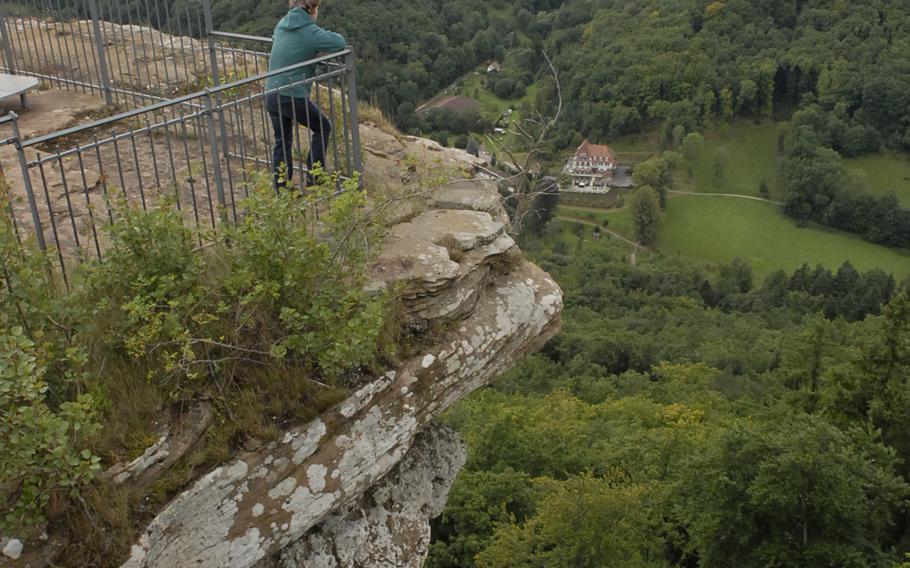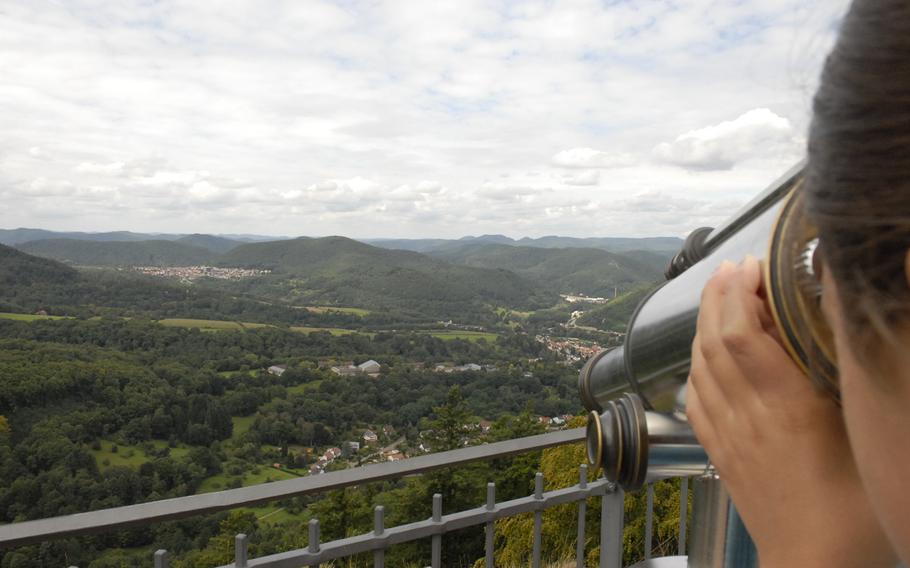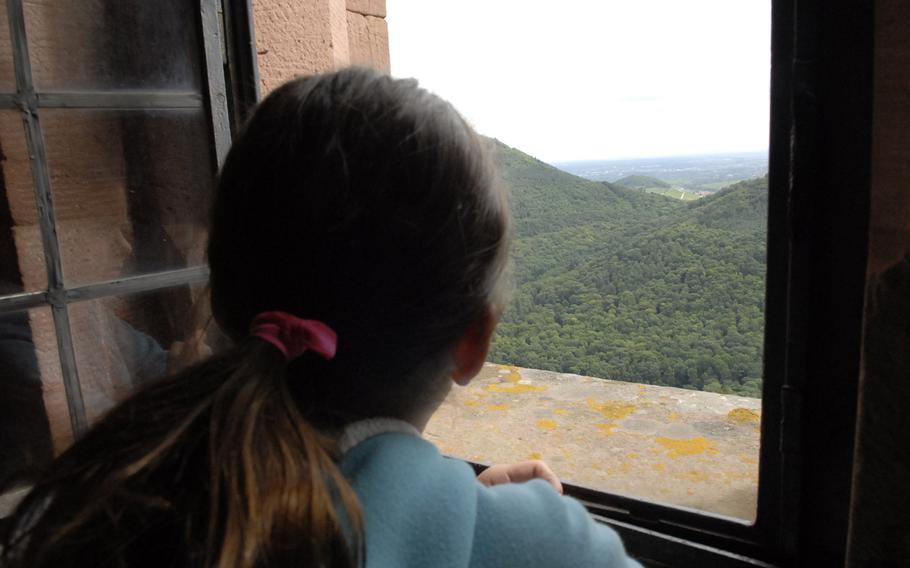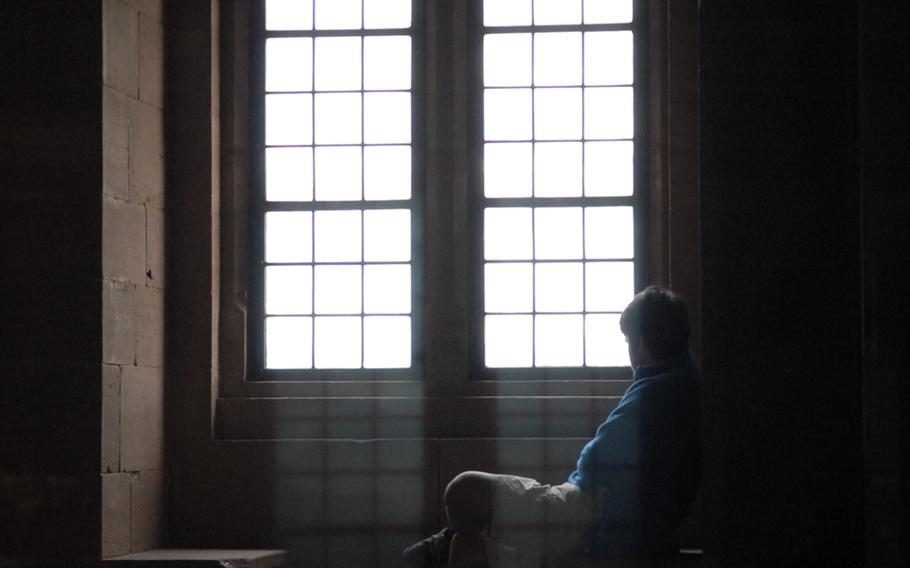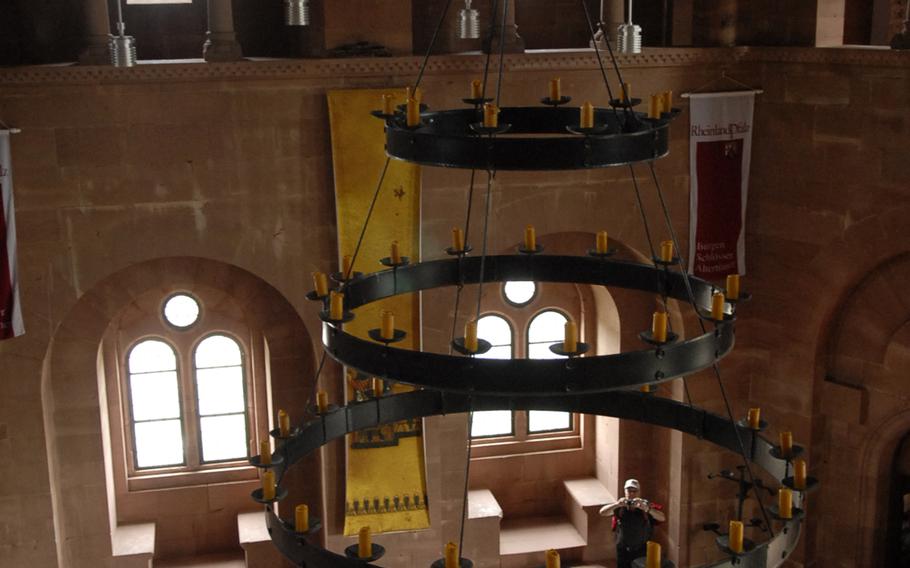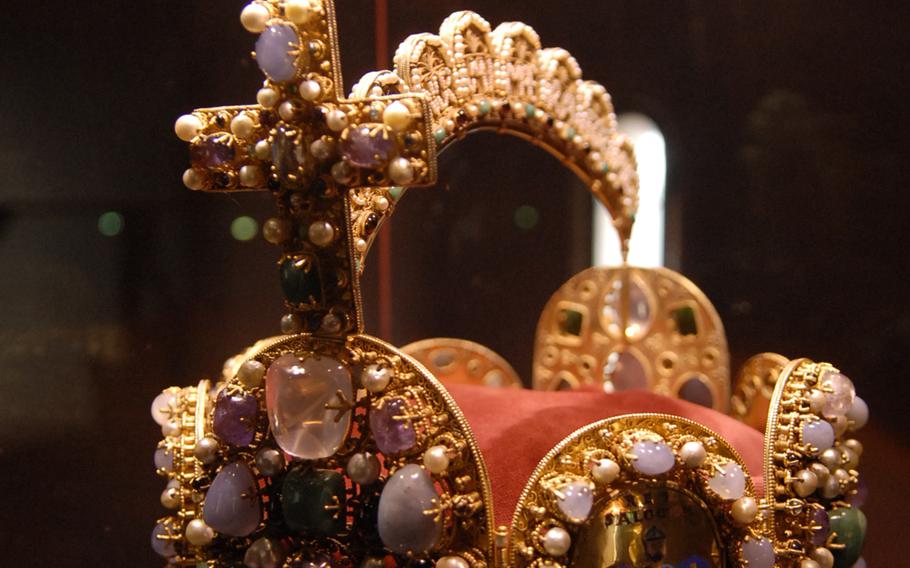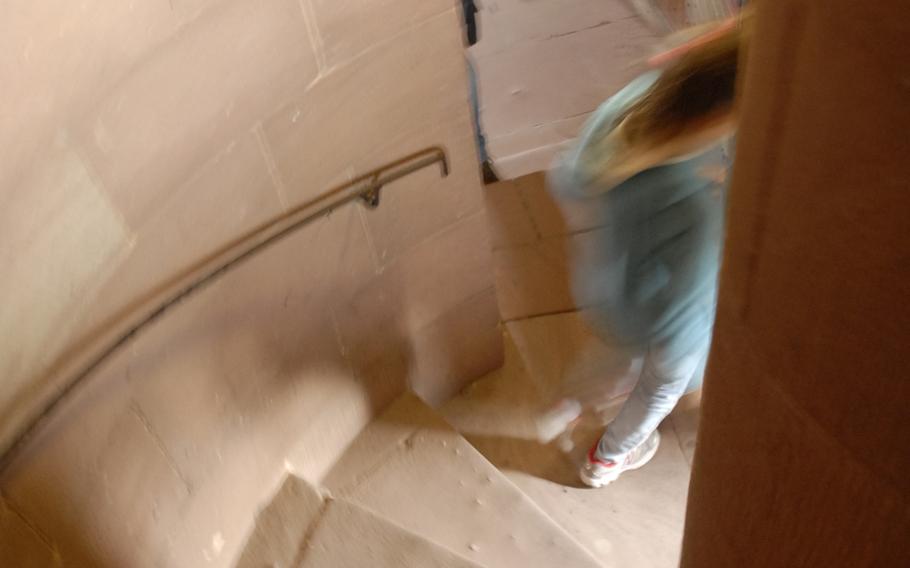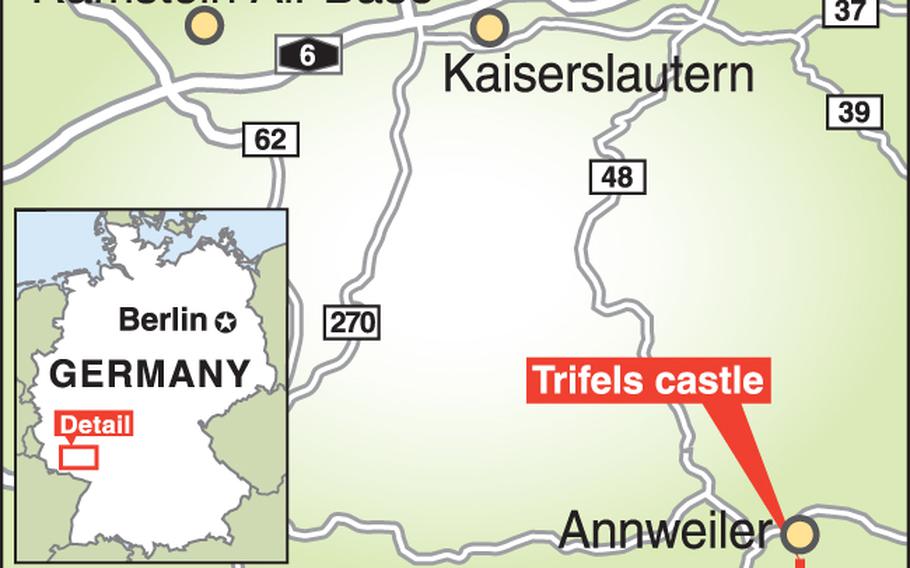 Though the first stones of Burg Trifels were laid nearly 1,000 years ago, even today it's easy to see why the mountaintop perch was a smart site for a castle.
The medieval-era sandstone structure has a bird's-eye view of the surrounding valleys in Germany's hilly southern Palatinate woods, about an hour south of Kaiserslautern.
Even in the modern age, it takes time and legwork to reach the castle. From the nearest town of Annweiler, you must drive for several miles up a curving, narrow road and then take a 15-minute hike up a steep forest trail.
After emerging from the trees into sunlight, suddenly you're looking up at the castle's imposing gate. Hundreds of years ago, this steep hike must have been a powerful deterrent to invaders: There's no sneaking up on this rock fortress.
My 10-year-old daughter and I ventured to Burg Trifels on a recent August day.
After following the signs for Burg Trifels outside Annweiler, we came to a parking lot a few miles up a mountain road with a Trifels signpost and hiking trails: Would this be the starting point of our hike? Through the trees, we could see the castle across the valley, still a good way off in the distance, and guessed this must be a more circuitous route for nature-lovers and hiking enthusiasts.
We love a nice hike, but we didn't feel like getting lost that day, so we pressed on and up the mountain.
After passing a group of mad-cap cyclists apparently in training for the Tour de France, we came to a parking lot that we knew must be the right one, since the road ended there.
For about 15 minutes we climbed up a trail that twisted through the woods and was both dirt and paved in places before we reached the castle.
Trifels sits at an elevation of about 1,600 feet on the mountain Sonnenberg, which means sun mountain. Built on the remains of a wooden castle, it's perched on a red sandstone cliff that's split in three — hence the name Trifels.
The earliest record of the castle dates to 1081. Over the years, it was home to powerful imperial families, and it imprisoned for some time England's King Richard the Lionheart, among other unlucky souls.
Parts of the castle look worn and aged, with weeds and even trees growing between rocky crevices, but it's hard to tell by looking what parts remain from its early days.
The castle burned in 1602 after a lightning strike. Over the years, it's been rebuilt and added on to, making it a completely renovated, well-maintained castle spread over multiple rooms and levels.
After paying a small admission fee, we climbed up to the main castle grounds and headed to the far end of a narrow rock ledge ringed by a sturdy fence. The panaromic view alone made the trek worth the trip.
After paying 1 euro to look through the high-powered binoculars and taking plenty of photos, we climbed more stairs to reach the castle's interior, intrigued by what sounded like a monastery choir singing. It turned out to be recorded music playing from inside the castle's small chapel, a nice touch that added to the Old World ambience. Next we walked into the castle's main chamber, a room with a marble floor and a large, three-tiered chandelier with candles hanging from the high ceiling.
Climbing another stone staircase, we came to a small room with replicas of royal objects that once were kept at the castle, including a jeweled crown, orb and scepter. Small kids seemed to like the corner where they could put on a robe and crown and sit in a thronelike chair, their parents not missing the opportunity to get a photograph.
Another room holds models of how the castle looked throughout different time periods.
The last renovation began in 1966. It's debatable how closely today's castle resembles the medieval structure, online castle guides say.
But whether the castle is a historically accurate structure doesn't take away from the experience. The stunning views and the well-kept rooms connected by winding staircases spark one's imagination to what it might have been like to live like royalty during the Middle Ages above the trees in Europe.
Burg Trifels Directions From Kaiserslautern, take L503 to B48. Stay on B48 through a heavily forested area for about 20 miles. When B48 ends, take B10 toward Annweiler. Just after the second tunnel on B10, get off in Annweiler and follow signs toward Burg Trifels. The signs are brown with white lettering. The drive from Kaiserslautern takes about an hour.
Times 9 a.m. to 5 p.m. Jan. 1 to March 31; 9 a.m. to 6 p.m. April 1 to Sept. 30; 9 a.m. to 5 p.m. Oct. 1 to Nov. 30. Closed in December. Last entry is 30 minutes before closing time.
Costs Entrance is 3 euros for adults. Children 6 to 18 are 1.50 euros. Children under 6 are free. Food: A snack stand with beer, brats, pretzels, sodas, ice cream bars and souvenirs is at the trail near the parking lot. Outdoor tables with umbrellas are located near the snack stand. A sit-down restaurant with a larger menu is across the main parking lot.
Information Castle telephone: (+49) (0)6346-8470; Trifelsland tourism bureau telephone: (+49) (0)6346-2200; website: www.trifelsland.de or www.burgen-rlp.de/index.php?id=reichsburgtrifels.
---
---
---