Last call for Oktoberfest
by
Seth Robbins
October 1, 2009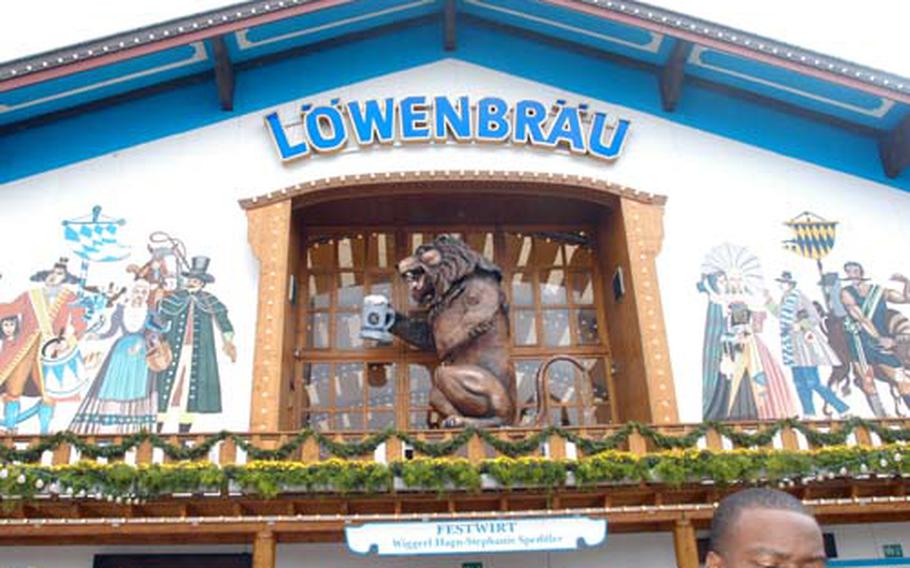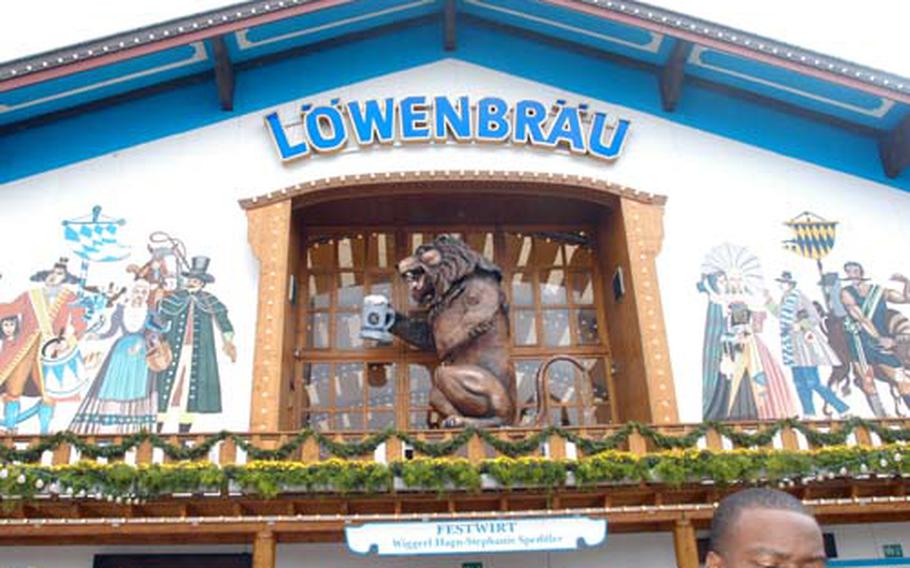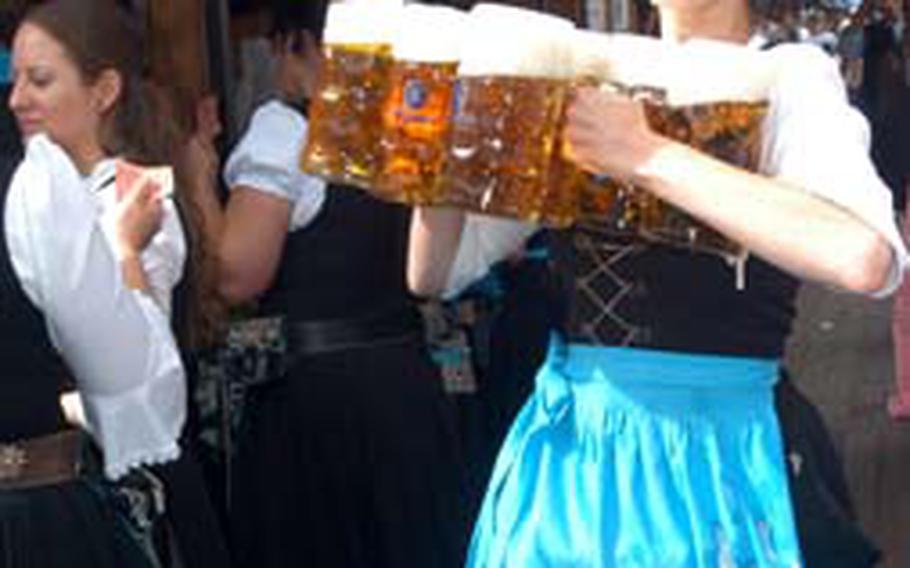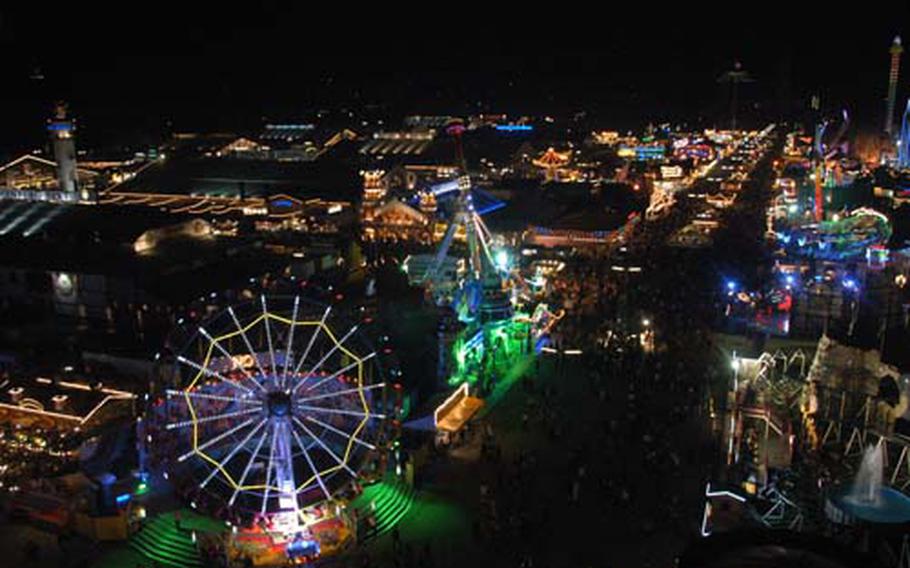 RELATED STORY:Here's to Oktoberfest!
RELATED STORY:Tradition on parade
RELATED STORY:Revelers drink up the fun at Oktoberfest
It's last call at Oktoberfest, with beer flowing at the annual Bacchanalian bash for only one more weekend.
But don't fret. There's still time to break out the lederhosen and dirndls — low-cut Bavarian dresses that are now as likely to be hot pink satin and black lace as the old standard blue-and-white. Or just come as you are and enjoy some of the best brews Munich, Germany, has to offer.
The 176th Oktoberfest, which ends Sunday, offers something for everyone, even visitors who don't drink alcohol. There are whirling amusement rides and games of skill and chance on the fairgrounds. There are processions featuring traditional clothing and and an open-air concert with all the Oktoberfest bands. There are souvenir shops selling all kinds of traditional and silly mementoes, including hats with beer kegs.
And don't miss the hearty fest fare, including one-half meter bratwursts, roasted chickens, schnitzel sandwiches and, for the more adventurous, pigs' knuckles. At past Oktoberfests, fest goers have gobbled up more than a half million chickens.
As for beer, about 6 million liters are poured
each year. But if you're looking to drink liter-sized brews in one of the famed tents, your only chance is to arrive early — no seat, no service is the motto inside. Even spots outside fill up.
In all, there are about 14 large beer halls, and each has its own distinct decorations and milieu. The Löwenbräu tent is the hangout for fans of the city's second, more traditionally working-class, football team — 1860 München — also known as the Lions. What they think of the 15-foot plastic lion out front that roars, or belches, as it tips back a beer is anyone's guess.
For those visitors whose German language skills are lacking, there is the Hofbräu tent, where many Australians, Brits and Americans meet to celebrate. The throng inside won't be wearing lederhosen, knee-length suede pants and suspenders. But you will still feel like you are in rural Bavaria, with an entire field of hops decorating the tent and a big brass oompah band that plays traditional favorites as well as Lynrd Skynrd.
The biggest tents at the festival grounds, known as the Theresienwiese, can hold about 10,000 people. When the halls are full, you can forget about getting past the beefy security guards stationed at the entrance doors. Here are a few tips, though, to help you get around the city and inside the tents:
• Drinking hours are 10 a.m. to 10:30 p.m. on weekdays, 9 a.m. to 10:30 p.m. on Saturday and Sunday. However, the long rows of benches fill well before the first beer flows. Arrive before 8 a.m. or try for the outdoor seating in the nearby beer gardens. Even the beer gardens fill up, but usually people do not stay there as long, so you will have a better chance of snagging a spot.
• Don't travel in large groups. It's easier to get seats when your numbers are fewer.
• When answering nature's call, be sure someone keeps an eye on your spot at the table. If an interloper slips in and takes it, you could be out of luck: Remember, no seat, no service.
• Entrance to the grounds and tents is free. A liter mug of beer, called a Maß, costs about 8.60 euros this year. Take cash because many places don't accept credit cards.
• If you drive to Munich, there is no parking at the fest area, and the nearby streets are often congested, with parking spots impossible to find. Your car will be towed if you park illegally. It is advisable to park at your hotel or at a lot or garage in town and take public transportation.
• Other options include going by train: the German rail system even has some special trains for the occasion and you'll find lots of other Munich-bound revelers already drinking by early morning. Several Outdoor Recreation offices and other travel outlets on U.S. military bases are still offering trips for the final weekend. See the Tours & Outdoors listing on Page 30 for ideas.
• Subway lines U3, U4, U5 and U6 stop at the Theresienwiese. Subways run every 10 minutes until 2 a.m. this weekend. You can also take S-bahn lines S1 or S8 or streetcar lines 18 or 19.
• Hotels are pretty booked up during Oktoberfest, but it is usually possible to find something. Check the Munich city Web site at www.munich.de for accommodations or surf Web sites, such as Bookings.com. You can also try the Munich tourism office hotel reservation booking service at (+49) (0) 89-233-96-550. Last week, an operator said there were still available rooms, about 20 minutes from the festival grounds by subway, for 140 euros.
• Be prepared to be bumped. Jockeying with other thirsty fest goers is a popular sport at Oktoberfest.
• And finally, don't become part of the "Bierleichen," the term locals use to describe those revelers lying face down outside the tents or taking naps on the nearby hillside. It means beer corpses.
Prost!
Know & goHere are some useful Web sites for anyone going to Oktoberfest:
• www.oktoberfest.de/en. The official Web site includes information on history, opening hours and other nuts-and-bolts details as well as a Bavarian dictionary of useful terms translated into seven languages (quick: what does Fetznrausch mean?). The Web site also has an online shopping section for souvenirs.
• http://gogermany.about.com/od/oktoberfestinmunich/tp/oktoberfest_guide.htm. This includes detailed information about public transportation and tips about getting around Munich, while also addressing such questions as "Can I bring children to Oktoberfest?" (Yes, even into beer tents, although, according to the Web site, anyone younger than 6 must leave the tents by 8 p.m.)
• www.discover-munich.info/oktoberfest_survival_guide.php. An Oktoberfest survival guide with information on the beer (it's 7-8 percent alcohol, so you might want to consider mixing a Radler or some non-alcoholic drinks in with the beer to ensure you will last longer) and suggestions for what to do after the party is over. One bit of advice: "Try not to be sick in the taxi, that is very bad form."