It's fair time again in Munich
by
Michael Abrams
October 9, 2003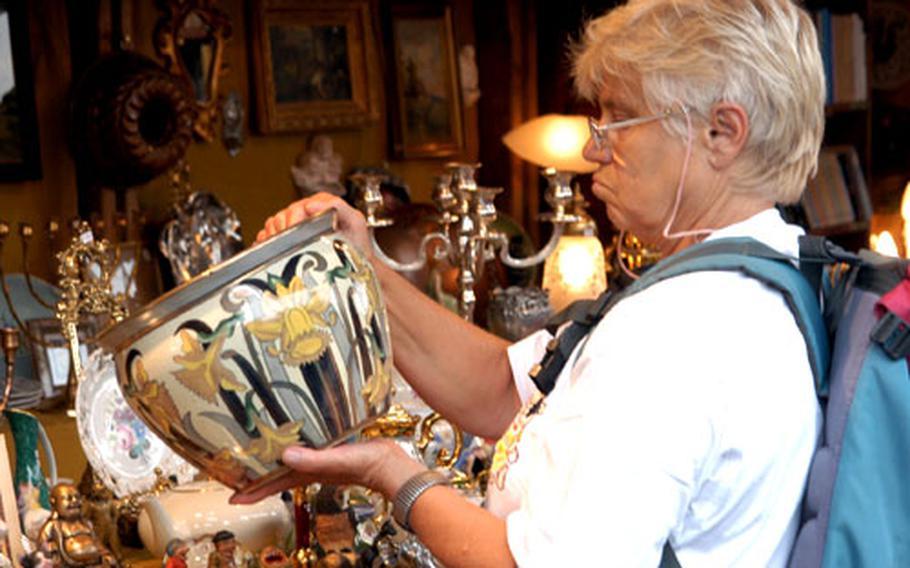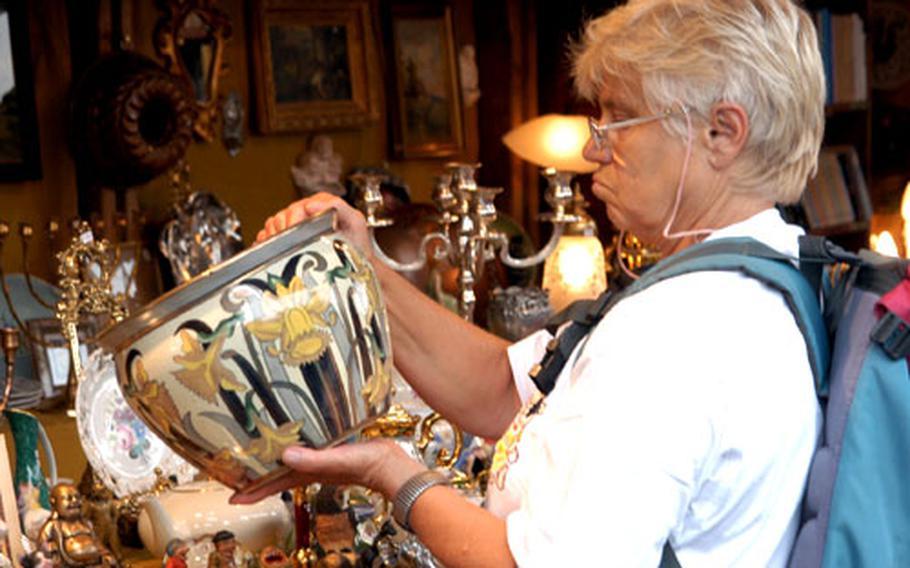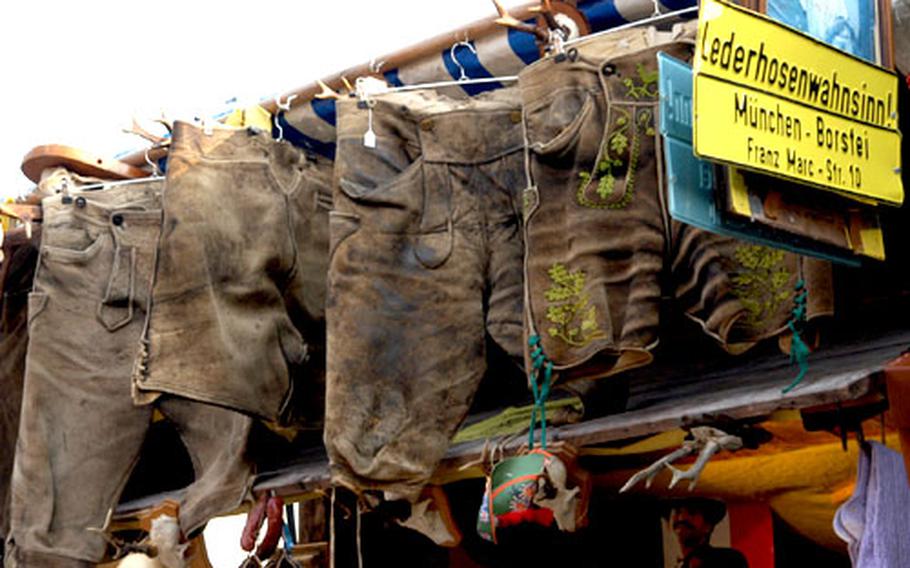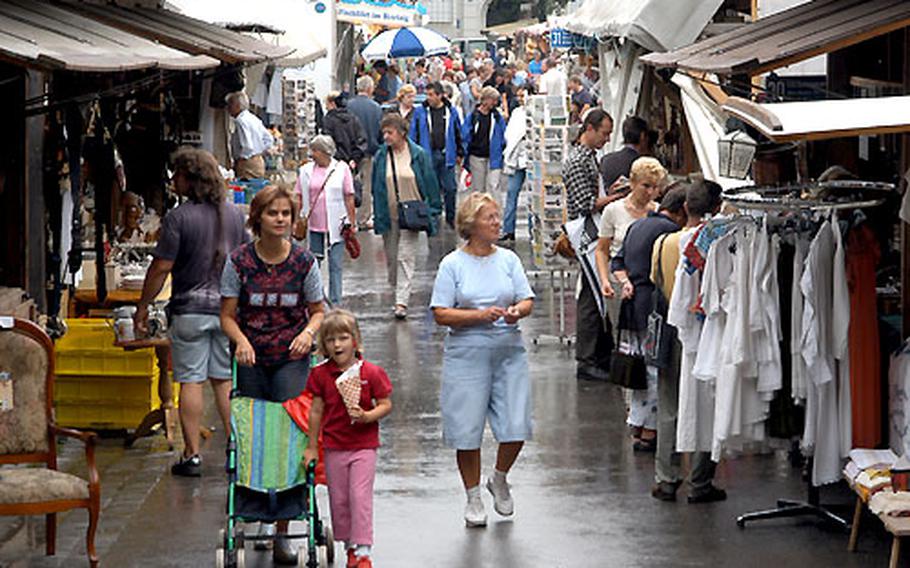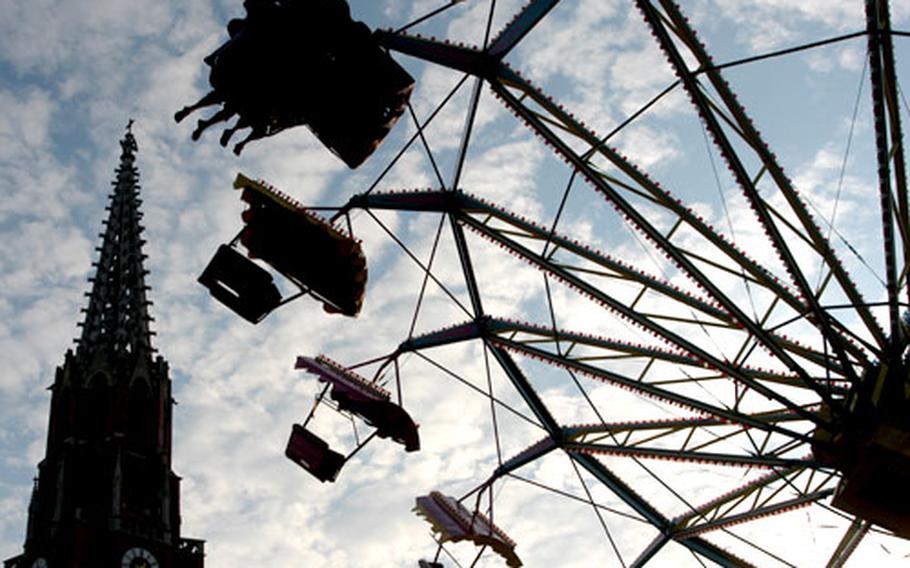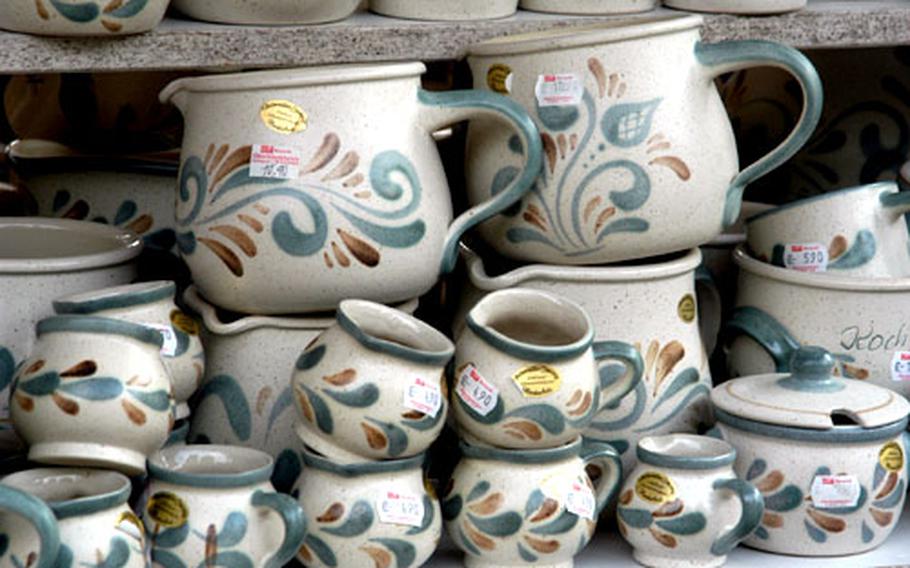 This must have been what it was like at a fair in the Middle Ages, when people came from near and far to sell their goods, to buy what they needed and to eat, drink and be merry.
The Auer Dult is Munich's fair for shopping, food and fun.
The word "Dult" is an old one. Originally pronounced "tult," it once meant a church festival and was usually held to honor a saint's day or the consecration of a church. Today it just means a fair.
There are three Dults in Munich: the Maidult at the end of April, the Jacobidult at the end of July, and the Kirchweihdult in October.
The oldest is the Jacobidult, first mentioned in 1310. In 1796 Prince Karl Theodor granted the suburb of Au (it is now in central Munich) the right to hold fairs, thus giving it the name Auer Dult. The three fairs have been held on the Mariahilfsplatz, in the shadow of Mariahilfs church, since 1905.
Today the Dult covers more than 60,000 square feet with more than 250 vendors.
It is one of Europe's largest markets for tableware and kitchenware. Rows and rows of vendors selling pots, pans, dishes, cups and kitchen utensils. You name it; if it is something needed to cook in or with or to serve on or in, you will probably find it here.
You will also find people selling textiles and leather, toys and baskets, bandages and anti-aging cream.
One row of stands is reserved for what is new in household products: the latest in furniture polish and non-stick pans, in window cleaners and vegetable slicers, all demonstrated by the merchants peddling them.
As they say one man's junk is another man's treasure, and the antique dealers are out in full force also. Old gramophones, clocks, music instruments, grandma's silver, books and more. Make a deal and a treasure might be yours. You might even find a used lederhosen or dirndl for your next visit to the Oktoberfest.
To keep the kids happy, there are bumper cars and merry-go-rounds, swings and a miniature Ferris wheel. An early 20th-century calliope adds to the sounds of the fairground.
And what better way to recuperate from all the shopping and walking than with food and drink? Sausages, grilled chicken, Steckerlfisch — a fish grilled on a stick — all washed down with that drink Munich is famous for, beer, served in the Dult's beer garden.
Meander through the Dult and forget about 21st-century life beyond the borders of the Mariahilfsplatz for a while and enjoy life at a fair that has been around for a long, long time.
If you go ...
Where: The Auer Dult is held on the Mariahilfsplatz in the Munich neighborhood of Au.
The best way to get there is by bus. Bus 52 leaves from central Marienplatz and stops at Mariahilfsplatz. Tram 27 leaves from Karlsplatz to the Dult. There are no parking places around Mariahilfsplatz.
When: The next Dults are Oct. 18 to 26, 2003, April 24 through May 2, 2004, and July 24 to Aug. 1, 2004.
The market stands are open from 9 a.m. to 7 p.m.. The amusement rides start at 10:30 a.m.
— Michael Abrams
---
---
---