Homes of the rich and regal
by
Ron Jensen
July 10, 2003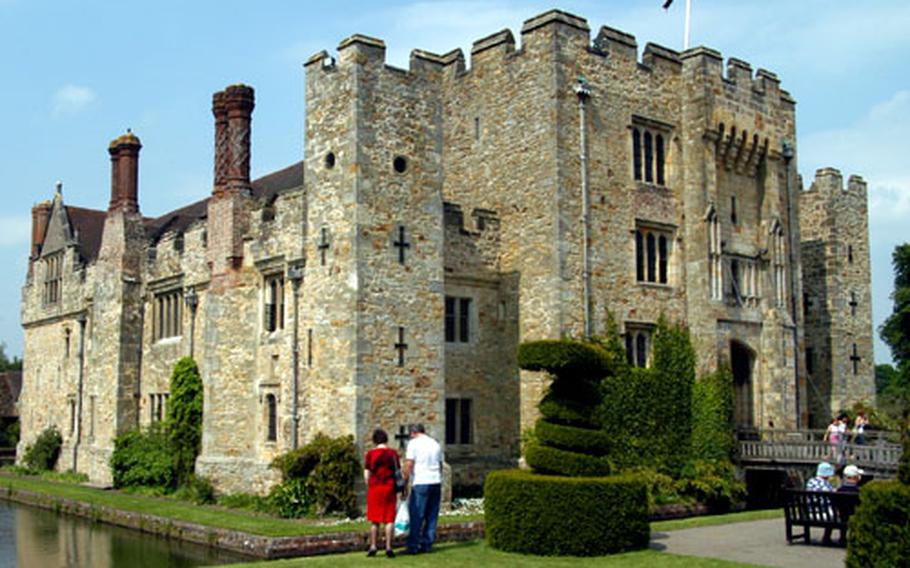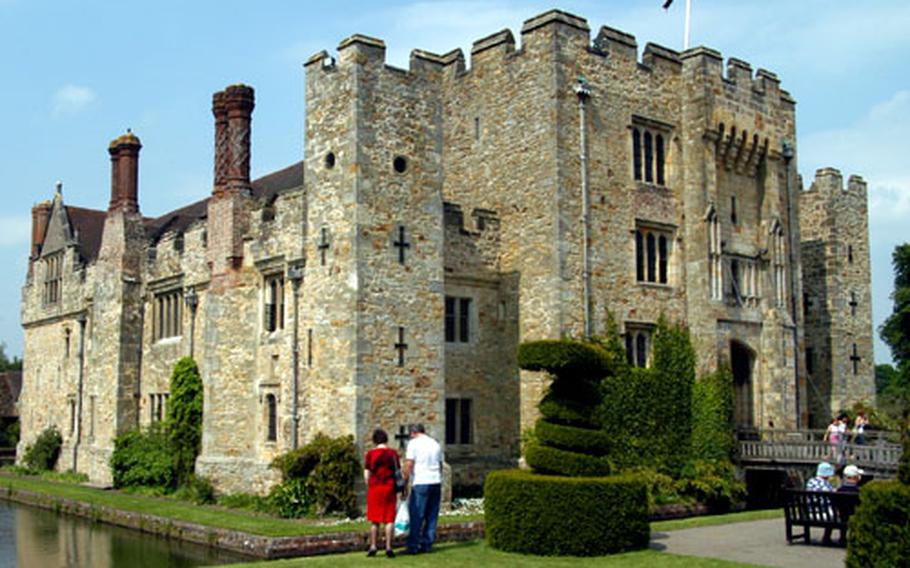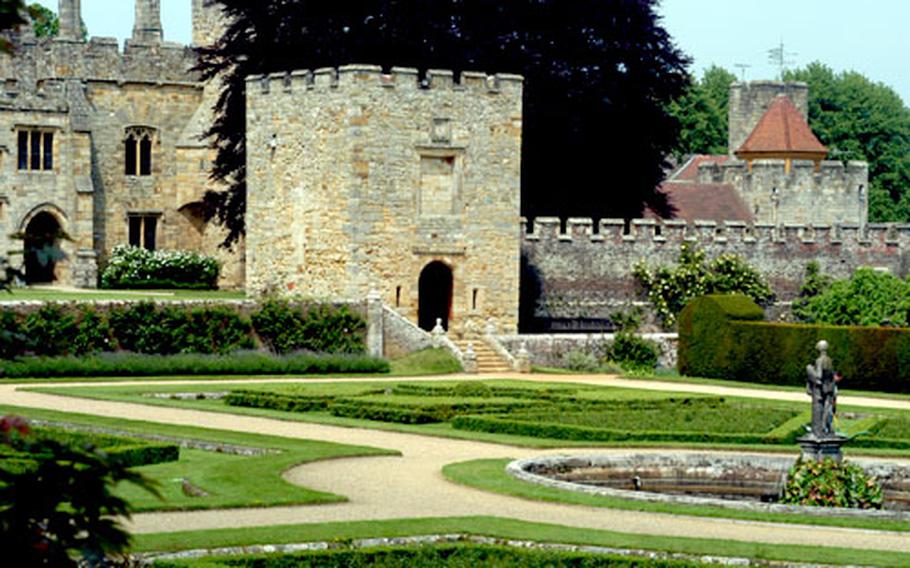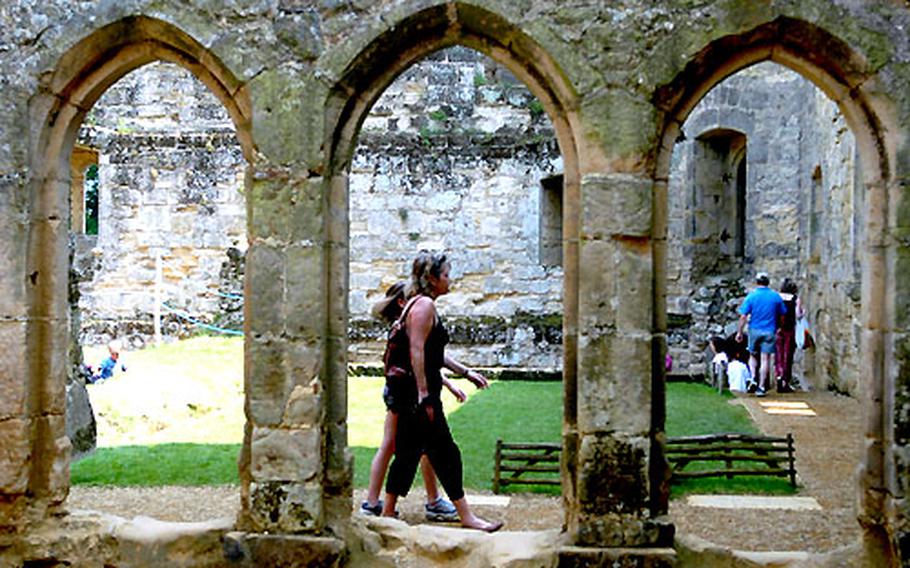 If time travel were possible, why would anyone not return to the heyday of the medieval castles and manor houses of southern England?
You could watch Anne Boleyn as a little girl at Hever Castle, where she played and read books and probably never imagined that she would one day marry a king and give birth to Queen Elizabeth I.
Imagine, too, witnessing the hearty appetite of King Henry VIII, the king Anne Boleyn married. He visited many of these houses and castles, always arriving with great fanfare and leaving shock and awe in his wake.
Time travel is not possible. But to visit the relics of England's medieval past is a fine alternative. You may not see Henry VIII, but you can walk in his footsteps.
Southern England is steeped in history. On a recent journey, we visited several of the links to the past in a just a few days. They are close together and more than one can be seen in a day, although it does pay to linger and soak up the atmosphere.
Here are a few places worthy of visits:
¶ Hever Castle: There is still a romance about this place. It is no sprawling complex, but more of a fortified and well-defended farmhouse, which is what it was in 1200 when the Hever family added a moat and drawbridge for added security. The small inner courtyard still has the feel of a farmhouse yard.
It was renovated in the 14th century and evolved into much more of a castle, which is what visitors see today as they approach through the large park that surrounds the place.
It is believed that Anne Boleyn was born here in 1501, just a few years before Henry Tudor took the throne and became Henry VIII. Her room is part of the tour and prayer books inscribed by her are on display. During his courtship of her, Henry VIII visited Hever Castle many times.
By the way, the film "Anne of a Thousand Days" was filmed around this castle.
You can visit the castle up to Nov. 30. The castle opens at noon and the gardens are open at 11 a.m. The last admission is at 5 p.m. The cost is 8.40 British pounds (about $14.50) for adults and 4.60 pounds for children ages 5 to 14. Children under 5 are admitted free. A family ticket for two children and two adults is 21.40 pounds.
Hever Castle is only a few miles off M-25 southeast of London. It is three miles southeast of Edenbridge. More information is available at: www.hevercastleco.uk or by calling (+44) (0) 1732- 865224.
¶ Bodiam Castle: Built in the late 14th century, Bodiam Castle is classified as a ruin. But what a magnificent ruin it is.
From the outside, it seems intact and its reflection in the surrounding moat is one of the loveliest sights in England. It is a small place, as castles go, and the small windows in the walls were designed to make it look larger than it really is from a distance.
Inside the magnificent outer walls is emptiness — hollow windows and hard walls. Although built for defense, it seems the only time it was involved in a conflict was during the War of the Roses late in the 15th century.
It was looted over the years before an effort in the 19th century to save it from further demolition left us with the wonderful place we now have.
Bodiam Castle is open through October, daily from 10 a.m. to 6 p.m. It is open until 4 p.m. on Saturday and Sunday from November to mid-February.
Admission is 4 British pounds for adults and 2 pounds for children. A family ticket is 10 pounds. Bodiam Castle is 10 miles northeast of Battle and 20 miles southeast of Royal Tunbridge Wells. More information is available at the National Trust Web site: www.nationaltrust.org.uk/bodiamcastle.
¶ Chiddingstone: This little out-of-the-way village linked to Anne Boleyn's family is a great place to stop off for refreshment. The Castle Inn has been serving travelers since 1420.
¶ Penshurst Place: One room in this magnificent medieval manor house makes the visit worthwhile.
Baron's Hall was built in 1341 and the chestnut ceiling 60 feet above the floor is considered a highlight of 14th century domestic architecture. At the base of the arches are life-sized carved wooden figures, thought to represent people who worked at the house.
Henry VIII dined here and so did his daughter, Queen Elizabeth I.
The entire house is fantastic, filled with tapestries, furniture and artwork only a house of this magnitude could collect.
The house is open daily until Nov. 2. Admission is 6.50 British pounds for adults and 4.50 pounds for ages 5 to 16. Children under age 5 are admitted free. A family ticket for two adults and two children costs 18 pounds. The house is easily reached from M-25 by taking the A-21 toward Hastings and getting off at Hildenborough, where signposts point the way.
More information is available at www.penshurstplace.com.
¶ Knole: Testimony to this magnificent house comes from King Henry VIII. He liked it so much, he forced the Archbishop of Canterbury to give it to him in 1538.
Elizabeth I later gave it to the Sackville family, who retain ownership to this day and live on the premises of the largest private home in England.
This 15th-century home is referred to in some books as a "calendar house," meaning it has 365 rooms, 52 staircases and 12 courtyards.
Well, maybe. One guide at the house says that tale is true. Another doubted it, but did say, "There's still a hell of a lot of rooms."
The tour includes only 13, but it is a worthwhile look at a place that has been largely unchanged for 300 years and retains much of the splendor that so attracted the king.
The house is open Wednesday through Sunday until Nov. 2. Admission is 5.50 British pounds for adults, 2.75 pounds for children and 13.75 pounds for a family.
The house is near Sevenoaks. Take the Junction 5 exit off M-25 southeast of London. More information is at the Web site www.nationaltrust.org.uk/knole.
If you go ...
All places mentioned here have large parks surrounding them where young children can run and play to their hearts' content. Some have playgrounds for the young ones who find history uninteresting.
A practical guidebook for a tour of the houses and castles of southern England is "Medieval & Tudor England: Day Trips South of London" by Sarah Valente Kettler and Carole Trimble. It is available at BookMark stores on some bases.
The admission prices for these places may seem steep. But many of the sites receive no government funds for upkeep and remain in the hands of the families that have owned them for centuries. Therefore, the price is set rather high.
One way to make the cost go down is to join one or both of the main national organizations charged with maintaining historic England. Members of the National Trust and English Heritage often — but not always — receive free admission or a reduced price for entry to sites.
An annual membership in the National Trust costs 34 British pounds for an individual adult (about $58); 23.50 pounds for an additional adult; 48 pounds for a family with one adult; 62.50 pounds for a family with two adults; and 13.25 for an individual up to age 25. Its Web site is: www.nationaltrust.org.uk.
Membership for one year in English Heritage costs 34 pounds for an adult; 58 pounds for a couple up to age 59; and 15 pounds for a person under age 19. Its Web site is: www.english-heritage.org.uk.
Membership will include a book listing all properties managed by the organizations and information about visits, including opening times and any admission fees.