Get airborne with discount airlines and Space-A travel
by
Kendra Helmer
May 22, 2003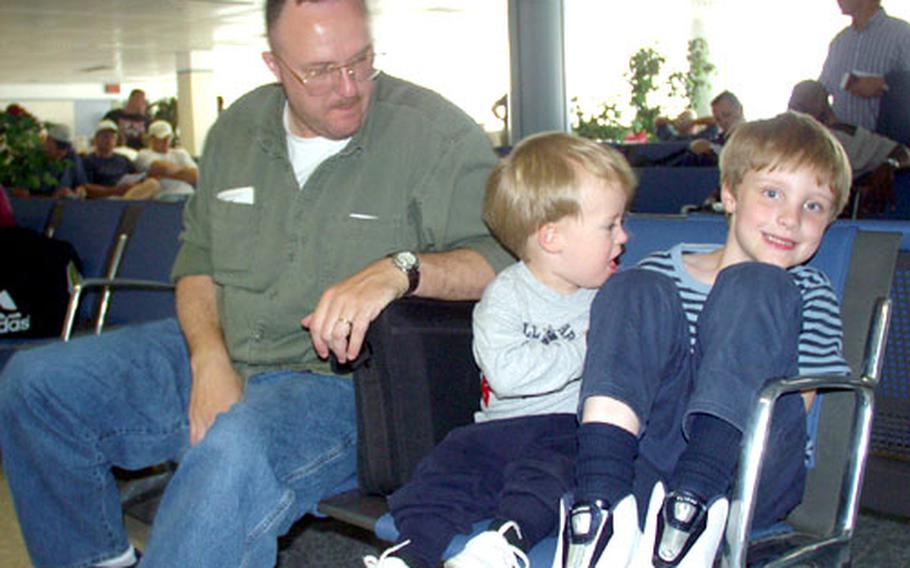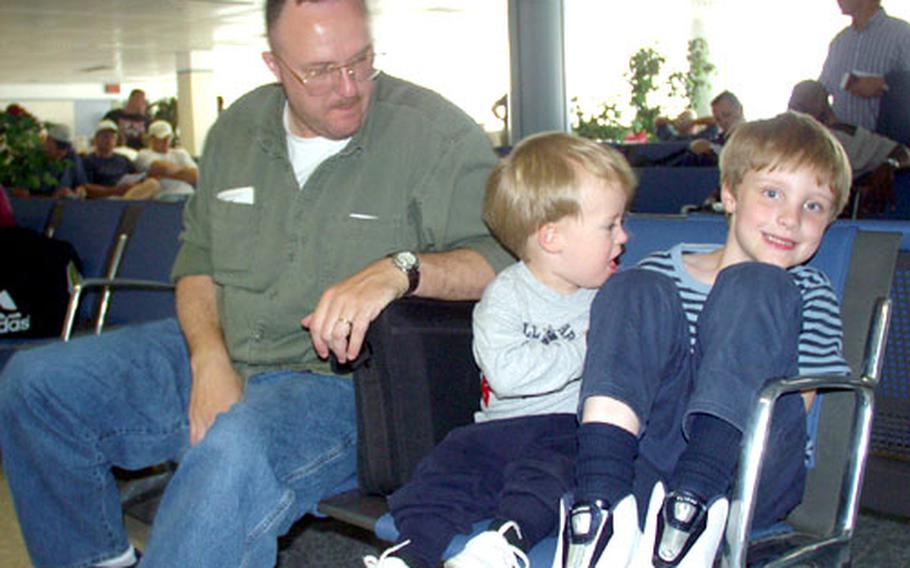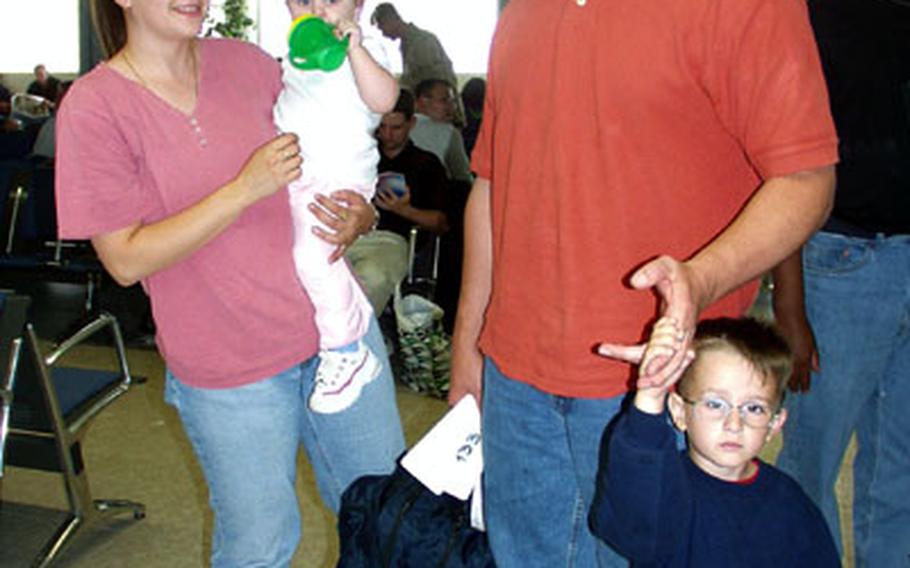 Budget travelers shouldn't write off air travel as too costly.
Discount airlines and space-available travel on military aircraft can take tourists to dozens of European cities.
Discount airlines
Tickets for airlines such as Ryanair and easyJet can cost as little as a bottle of cheap wine — saving a traveler enough cash to afford throwing back the good stuff in destinations like Rome.
"It's convenient if you just need a lift," said Vincenzo DiGennaro, 30, travel agent for International Tours and Travel in Naples, Italy.
Budget airlines, which fly out of several European countries, including all that are home to U.S. military bases, are no-frills. Food and drinks cost extra — or are nonexistent — and some don't have assigned seating.
Air Force Senior Airman Alisha Lawson flew with Ryanair from Frankfurt, Germany, to London and Pisa, Italy. She's never paid more than $40 for a round-trip ticket.
Any complaints about the lack of service or attention paid by flight attendants?
"Not for $40," laughed Lawson, 21, a weather forecaster at Ramstein, Germany.
To be able to offer such low prices, the airlines don't use travel agencies; passengers book the flights online, DiGennaro said. Book at least a month ahead for the best fares, and check Web sites regularly for last-minute deals.
"They have special offers like 50 euro round-trip from Naples to London, which is good," DiGennaro said.
But the airports are usually satellite airports, away from the main airport and the big city. In London, for example, travelers might fly into London Stansted instead of Gatwick or Heathrow, Then, DiGennaro said, it takes another hour and a $40 train ticket to get downtown.
The same applies to the Rome airport; Ciampino is a smaller airport on the city's outskirts.
"Check the location of the airport and don't have high expectations for service," DiGennaro advised.
Another thing to be aware of is that some of the half-dozen discount airlines don't include airport fees and taxes in online price quotes. For example, a ticket from Frankfurt Hahn to Milan advertised for 6 euros actually costs about 25 euros with taxes, fees, charges and a 6-euro credit-card fee. So be sure to check the total price before submitting personal information, including a credit card number.
Space-A travel
Travelers with more flexibility in their schedule can try flying for free on a space-available basis on military aircraft.
"It's like Russian roulette: You gotta be here at the right time to get the right mission," said Air Force Tech Sgt. Edward Malkowski, shift supervisor for passenger services at Ramstein Air Base's passenger terminal.
Space-available flights take travelers to military bases in more than a dozen European cities and the U.S. East Coast. From the East Coast, travelers can catch hops to South America and the West Coast. Flights to Asia originate on the West Coast.
In Europe, eligible passengers include active-duty military and their dependents, some Department of Defense civilians on emergency leave, schoolteachers on summer break, retirees and civilian contractors.
Travelers sign up when their leave is effective. Command-sponsored dependents flying without the military member need a letter from the unit orderly room.
A traveler's best bet is to fly out of Ramstein, the European hub for military flights, Malkowski said. Popular destinations are where swimsuits are a must: Spain and Italy.
Fortunately, there are more flights to Italy than anywhere else. The toughest European destination is Mildenhall, England.
"I've seen folks sit here for seven days to get there," said Malkowski, 34, from Hoboken, N.J.
A flight schedule comes out the first of every month. But flight times and destinations change frequently, even as passengers are boarding a flight.
"People get very frustrated, very irate," Malkowski said. "The times slip so much. A lot of people think we're Delta or United Airlines. We're space available."
Show time is three hours before the flight, but, he advised, call every few hours to make sure the departure date hasn't changed. The Ramstein terminal gets about 400 inquiries a day.
"Call back time and time again because missions change constantly, especially with us going down range," Malkowski said.
Passengers should pack light, as the baggage limit depends on the type of aircraft. Ordinarily, a passenger is allowed two pieces of luggage weighing no more than 70 pounds each, plus one carry-on. Strollers and car seats don't count toward the limit. On some aircraft, though, like C-21s, the limit is 30 pounds, including hand-carried items. No excess baggage is authorized.
Terminals aren't open all night, so be prepared to pay for a hotel or pass the time in a billeting lounge. Above all, be patient, Malkowski said.
"You just need to be flexible."
Tips for finding bargain fares
¶ Flights can't be booked through a travel agent; you must book online.
¶ Book at least a month ahead for cheapest fares.
¶ Check airport location (some are in outskirts of city, adding to the cost and time of travel).
¶ Check if airport fees and taxes are included in the price
Web sites
¶ easyJet — www.easyjet.com; hub: London Stansted. Flies to 38 destinations including: Copenhagen, Denmark; Naples and Rome, Italy; Athens, Greece; Barcelona and Madrid, Spain; Amsterdam; Prague; Paris; Munich, Germany; Ibiza, Spain; Belfast, Northern Ireland
¶ Ryanair — www.ryanair.com; hubs: Shannon Airport, Ireland; London Stansted. Flies to 84 destinations including: Stockholm, Sweden; Dublin, Ireland; Oslo, Norway; Brussels, Belgium; Edinburgh, Scotland; Palermo, Sicily.
¶ German Wings — www.germanwings.com; hub: Cologne-Bonn, Germany. Flies to 21 destinations including: Istanbul, Turkey; Paris; Zurich, Switzerland; Lisbon, Portugal.
¶ bmibaby — www.bmibaby.com; hub: East Midlands, England. Flies to 26 destinations including: Prague, Czech Republic; Munich, Germany; Ibiza; Dublin, Ireland; Milan, Italy.
Destinations
Space-A destinations from Ramstein, the European hub: Mildenhall, England; Sigonella, Sicily; Olbia, Pisa, Villafranca, Aviano and Naples, Italy; Rota, Spain; Lajes, Portugal; Souda Bay, Greece; Akrotiri, Cyprus; plus Delaware, South Carolina, Virginia, Massachusetts; Maryland and Ohio.
— Kendra Helmer