Cruising France's canals on a barge with friends
by
W. Ingram Philips
May 15, 2003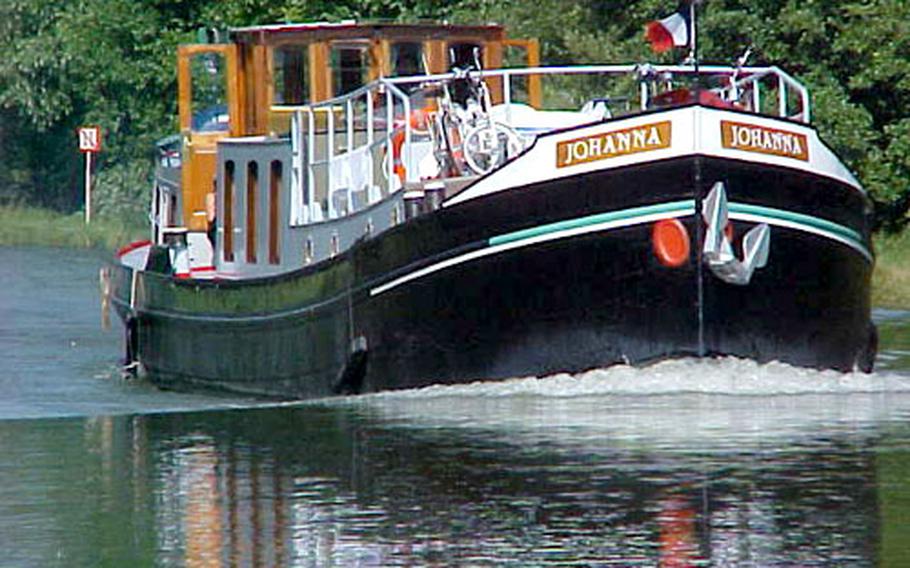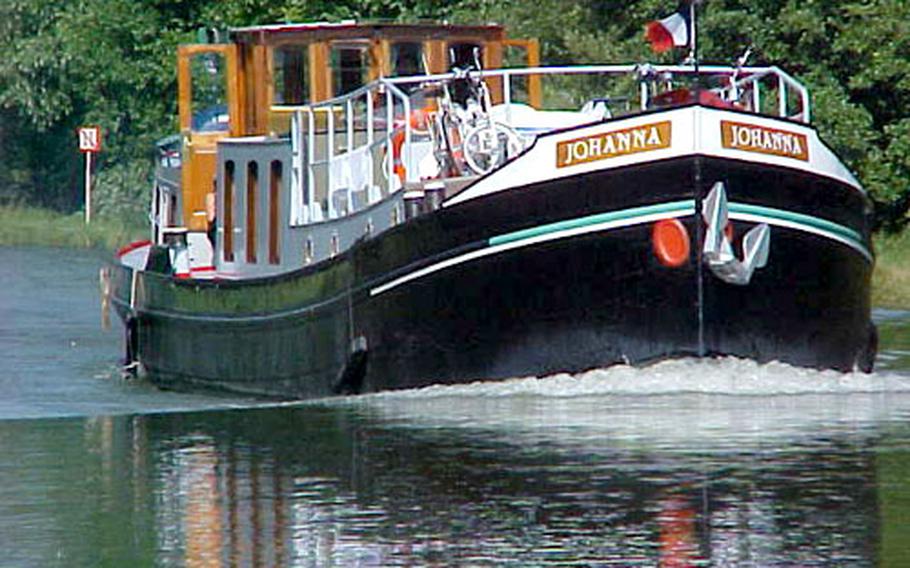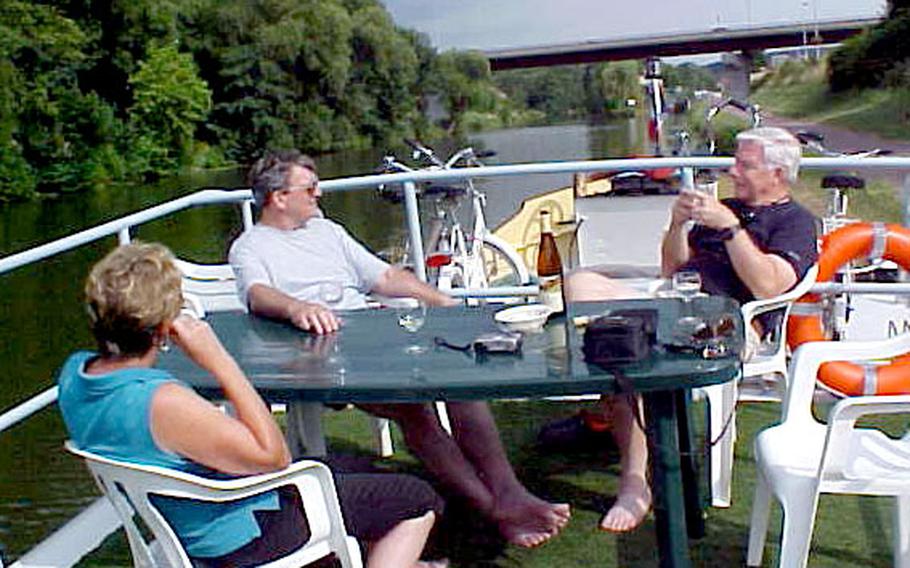 Last summer, W. Ingram Philips, a retired Army colonel, and his wife, Mary, chartered a large canal boat for a self-catered cruise in the French Alsace. Just south of Saarbrücken, Germany, they linked up with Col. Glenn Walker and his wife, Arlene, who had flown space-available to Ramstein Air Base in Germany. The following is Col. Philips' account on French canal travel.
Hire a 60-ton Dutch barge for our wedding anniversary, slowly cruise down waterways in France for a week, and enjoy it? A risky proposition, indeed, but one that delivered one of our best vacations.
My wife spotted Johanna, built in 1923 and available for charter, moored in Brugge, Belgium, last summer. Curious and ever adventuresome, Mary asked the skipper for a look. Graciously, John Wilson of Yorkshire, England, extended his hand and a hearty welcome.
Thus began Mary's inspection and photographing of the passenger areas, and my inquiries of John about his converted dredger. Mary was keenly interested in every aspect of what might be her vacation "home," while I looked about at the lovingly maintained wheelhouse, freshly painted upper deck and rails, and overall state of maintenance below.
Neither of us is a boat expert, but we know what we want for a holiday. Interests satisfied, we resumed our wanderings along Brugge's footpaths, trying to imagine a Johanna cruise.
Back home in San Antonio, Texas, we could not forget the dream.
"John, choose the best route for us — one with beauty and easy rail access," we implored our skipper in an autumn e-mail. "Tell us how to make it happen near Germany."
"In eastern France — Sarreguemines to Strasbourg," he responded. "Wonderful scenery plus the interesting tunnels of Nidderviller and Arzviller and the amazing lift near Rechicourt. You'll have the mountains of the Vosges, picturesque villages along the way, and the Alsace Plain leading to the ancient but sophisticated city at Strasbourg. Air and train connections are easy. I'll hold the dates with a deposit."
The opportunity was too good to pass up, or to go it alone. We invited Glenn and Arlene Walker of Washington, D.C. — an Army couple and former stairwell mates from Kaiserslautern, Germany, who were also celebrating their anniversary. Before we knew it, anniversary day found us winging across the Atlantic to meet the Walkers for the start of this never-to-be-forgotten cruise in the French Alsace.
Frankly, I was both excited and nervous. What if Johanna was not there? Ahhh, but she was! Capt. Wilson greeted all, and helped move mountains of luggage into the salon below deck.
Informally, he oriented us to the boat — there were few rules but some instructions were needed to understand the proper functioning of the gas stove-oven and toilets. Thereafter, the "head" ritual would bring smiles: Operating on a vacuum, commodes were flushed by a handle — and, to this day, we still chant the mantra of "ten, pump; five, wait; six, pump." (Imagine this happening at 3 a.m. when all four of us awoke to "go"!)
John also showed us the emergency hatch. Thankfully, we never had to use it. After some chitchat, he left us to our unpacking and settling in.
Johanna — "in trade" until 1990, then converted by John to a passenger vessel — is 80 feet long and 13 feet wide. It includes small crew quarters forward and the engine room and skipper's country aft. For passengers, it has a spacious salon with a game-dining table, chairs and galley (stainless sink with hot/cold water, stove-oven, refrigerator, freezer, dishes and flatware, pots, pans and cleaning supplies).
Sleeping quarters include four single cabins — each with its own porthole and comfortable bunk, storage drawers and small table. There is also a cabin with a two-tiered bunk plus the possibility of a double bunk in the salon. We did not use the double and stored our luggage in the twin. There is a pleasant hot/cold water shower and two WCs. Nothing fancy, but clean, neat, practical and cozy.
The Johanna is a "captained barge" with a mate — which means the captain and his "crew" do most of the nautical work. As for us, we wasted no time setting up our individual cabins. As quickly as possible, we stowed everything and returned to the main deck to survey "our" first waterway — the Canal des Houilleres de la Sarre — and to head out for our first market trip.
Throughout our cruise, we thoroughly enjoyed purchasing local meats, fresh vegetables, breads, pastries and wines. Making our own meals or dining out in the nearby villages added pleasure every day. (Mary came up with a unique way of performing "household" duties: we played cards each night and the winners were responsible for the meals the next day, while the losers did the cleanup. Chores were fun and the food was terrific.)
A favorite activity was eating on deck, watching the world as we cruised slowly by or when tied up in a quiet forest.
Early on day number two, following a terrific Bastille Day fireworks display the night before, John started the diesel and instructed his Belgian crew member to cast off. Rested and ready, we were all on deck for passing through the first of what would be some 60 locks.
The French canal system maintains navigable waterways through the use of automatic and self-operated locks that must fill and empty for canal traffic. While the manual ones are operated by a professional lockmaster, we had the fun of pitching in from time to time.
The first days of our journey were through locks that lifted the Johanna up to a Vosges summit; the latter, down to the Alsace Plain. We passed through two tunnels — one, long and spooky, and the "must-be-experienced" Rechicourt lift where we enjoyed both the unique ride down the mountain as well as photographing people photographing us. The Voies navigables de France, the network of canals, was built more than 150 years ago for working and pleasure crafts. It still provides a wonderful way to travel.
Our travel routine was to rise at about the time we heard John begin to swab the decks, about 7:30 a.m. Since locks would be open from 9 a.m. to 5 p.m., there was no reason to move the boat earlier or later.
A breakfast of tasty omelets or wonderful pastries with fresh fruit, yogurt and juice got us started on the right foot. Coffee and tea was often taken on deck to the tune of Johanna's engine. It would then quietly slip its mooring and begin the chug-chug along the narrow waterway. More often than not, the barge's low rumble was the only sound to be heard besides our own conversations. Occasionally, pleasure boats slid past — their passengers silently waving or shouting a greeting, "Bon jour!"
Daily, Glenn and I charted the cruise progress from an outstanding series of maps: Navicarte. As longtime Army folk, we all took part in planning our off-boat wanderings. The old towpath paralleled our canals, nicely paved for bicycle and foot traffic. It was a magnet for our exercise and casual strolls.
We were easily put ashore at any one of the locks, could spend our time as we liked, and were picked up as Johanna made her way. It was comforting to know she would be there, never losing us.
Every day, we hiked up small village streets, searching for bakeries and tiny markets, exploring the alleys, peering over the back fences. On one occasion, a sweet lady gave us flowers from her garden. Our evenings and nights were spent enjoying our surroundings and sleeping like babes.
A further word here about the people: Wonderful. In spite of clichés heard for years, we found everyone to be cordial, helpful and warm to us. (Yes, in Paris at the airport, too!) Especially going out of his way, a restaurant owner, Jean Marc Bechtel, drove his little van out to the towpath to pick us up for a gourmet dinner — taking more than an extra hour of his time on a busy Le Paquis evening.
Three towns must be mentioned: Sarreguemines, Saverne and Strasbourg. Well worth extended visits, especially, for shoppers, but for sight-seeing, too. Of course, Strasbourg is a major city — the home of the ancient Petit France quarter, the modern Council of Europe and one of the most beautiful cathedrals in the world. Mary and I saw a stunning summer light and sound program there.
The week passed rapidly though Johanna cruised with barely a wake. I know Mary, Glenn and Arlene can still see it moored that last time in Strasbourg.
The cool, clear mists of the Vosges Mountains and the cultivated Alsace fields are behind us now — as is the laughter over cards in our cozy salon, the tinkle of a wine glass and the utter silence of an evening along the canal. Reluctantly, we let the barge go on its way, leaving us with our memories.
I will leave you with an old French expression that I learned from French friends: "Vivre comme Dieu en France. (Live like a god in France.)" And I would add: Aboard Johanna!
W. Ingram Philips is a retired Army colonel formerly stationed in Europe. Col. Philips and wife, Mary, lived in Germany for nine years, during which time they traveled extensively in Europe.
More on canal boat charters
"Our" barge, the Johanna is based in Veurne, Belgium, but Capt. John Wilson cruises from May through October. He can be reached online at johanna@tijd.com and through his Web site at www.johannacharters.com. His telephone numbers are: in France, (+33) (0) 620- 615-964, or in Belgium, (+32) (0) 476-880-170. Brochures with routes and rates are available by mail or online.
Travelers charter the boat; they do not pay a rate per person. Cost for the captain/mate/ boat with use of the complete galley (including pots, pans, tableware, etc.) is one price. When we went in July 2002, we paid 1,750 euros; the most expensive rate is 2,250 euros. We spent most our our time aboard the boat, but if you want a break for a restaurant, no problem: Let John know and he will call ahead for reservations.
The maximum number for the boat is eight people if two do not mind sleeping in the salon. We feel six is best so the salon is free for meals and games. The price does not change.
A cruise week runs from 4 p.m. Saturday to 10 a.m. the following Saturday. Reserve far in advance; the Johanna fills up quickly.
How to get there: Cruise routes are close to air and rail systems, and by car from Germany. For example, Sarreguemines-Strasbourg route was reached from the United States through the airports at Strasbourg and Ramstein and then by rail. Sarreguemines is only 12 miles from Saarbrucken, Germany, and its Autobahn 6. The walk from the Sarreguemines train station to the canal was 10 minutes; the same for the return trip out of Strasbourg. All Johanna routes are planned with air/rail links in mind.
Where to stay: For the particular cruise in this article, the excellent Amadeus Hotel is five minutes from the central train station in Sarreguemines, France. Contact Sabine at (+33) (0) 387-985-546 or go to www.amadeus-hotel.fr.
In Strasbourg, there are many lodging opportunities. A fine three-star is located right at the Cardinal de Rohan Cathedral. It is Hotel Cardinal de Rohan. Contact Sophie at (+33) (0) 388-328-511 or go to www.hotel-rohan.com.
A short drive from Strasbourg is the interesting town of Obernai. Located at its rail station is Hostellerie Duc D'Alsace, a good hotel with a fine breakfast. Contact Isabelle at (+33) (0) 388-955-534.
Side trip: The Alsace wine district is beautiful: vineyards, hilly countryside and half-timbered villages. Roads are well-marked. The Rhine River and Germany's Autobahn 5 are quite near as is Switzerland. The motorway is convenient and well marked. Obernai, Colmar, Kaysersburg and many other villages are of interest.
— W. Ingram Philips