Battle: English town grew at site of Norman victory in 1066
by
Ron Jensen
July 10, 2003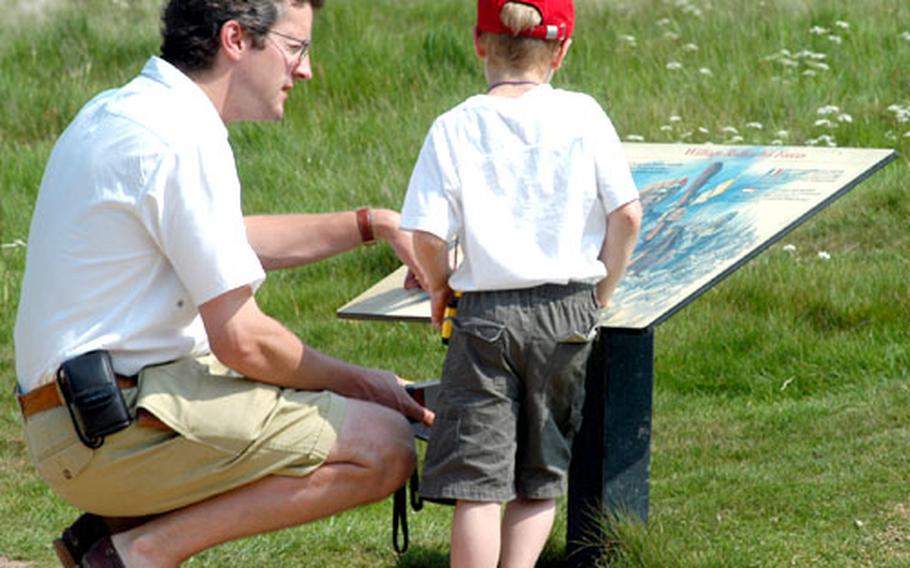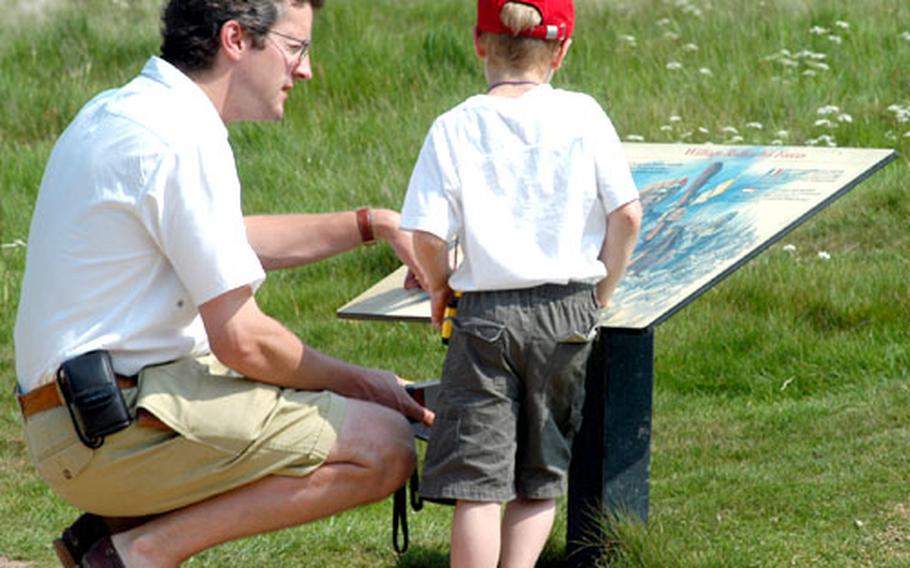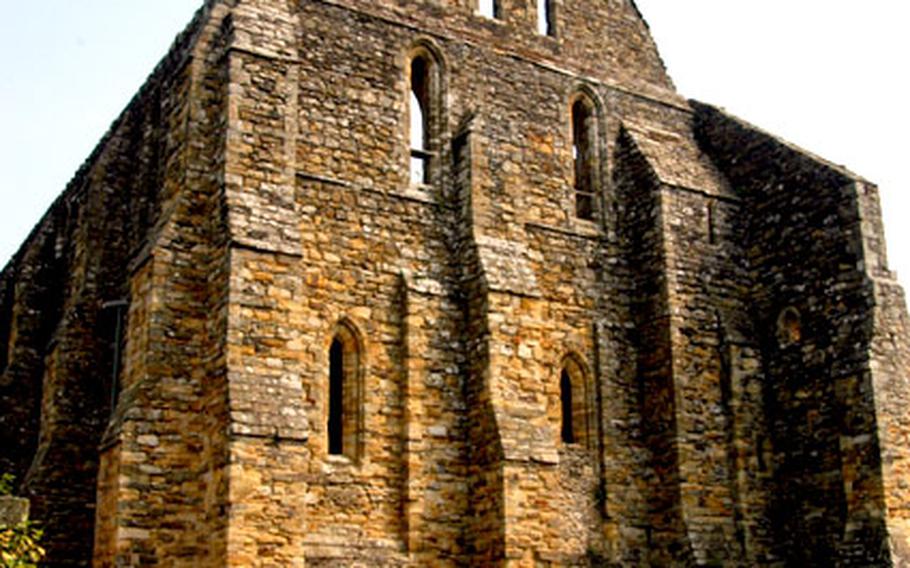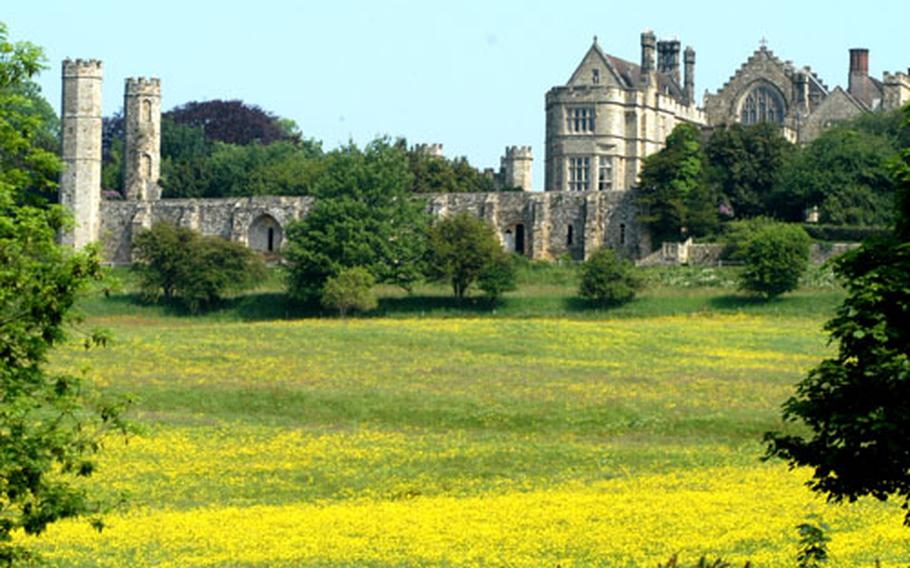 The sites of long-ago battles are beguiling. Their tranquility and loneliness belie the very reason you are standing there.
Gettysburg was a small inconsequential Pennsylvania town until July 1863.
The gentle hills of eastern Montana near the Little Big Horn are quiet now, just as they were the day before and the day after Gen. George Armstrong Custer met his bloody demise.
The Belgian field where Napoleon lost to Wellington is no different.
It is that way, too, at Battle, the town that grew up at the site of the clash between William's Norman warriors and the Saxon soldiers of King Harold on Oct. 14, 1066, a nine-hour pitched battle that altered the history of the British Isles.
On a small hill with a grade made less steep by time, wildflowers ripple in a gentle breeze. Birds sing. Rabbits bounce through the waving grass.
But for one day in the history of this place, it was a bloody hell of decapitated bodies, shrieking horses and men brandishing sword, lance and ax to tear the flesh of their enemy.
The reason for the battle can be explained simply, although there are disputes by historians about the subtleties.
King Edward the Confessor, who was childless, had promised the English throne upon his death to William of Normandy. Edward had spent more than 20 years in Normandy after he and his parents were forced to flee England, and later, while king, surrounded himself with many Norman favorites.
Edward sent his emissary, Harold, to Normandy to relay the news to William that he, William, would be the next king. This visit probably took place in 1064.
Edward died in January 1066, and the story gets a little fuzzy. Perhaps on his deathbed, Edward changed his mind and asked Harold to take the crown. Or, perhaps, Harold simply decided that being king was preferable to being a lord and seized the throne.
Whatever the reason, King Harold was crowned the day after Edward's death, which did not sit well with William when he heard about it in Normandy.
William organized a fleet and an army and floated across the English Channel with plans to take by force the throne he saw as his.
The audio tour, which is available while you walk around the battlefield, claims William stumbled as he exited his ship and fell into the mud. Rising to his knees, he held his muddy hands aloft and said, "I have seized England with both hands."
There was nothing funny about what was to come.
Harold was up north at the time fighting other claimants to his crown. When he heard of William's landing, he hustled his troops south.
The Saxons occupied the crown of Senlac Ridge on Oct. 14, 1066. William's force was to the south, facing an uphill charge at the enemy. Each force numbered roughly 7,000.
The battle was long for the time, beginning about 9 a.m. and lasting until nightfall. William had a rough start, but is thought to have gained the advantage with a clever tactic.
His attacking troops suddenly turned to retreat, enticing the Saxons to follow in hopes of finishing off the fleeing invaders. But the retreat was a ruse and the Norman force suddenly turned and charged their pursuers, who had broken ranks in the rush and were easily vanquished.
By dark, Harold lay dead, killed, legend says, by an arrow piercing his eye.
William refused a request from the dead monarch's mother to have the body removed for burial, choosing instead to give it an undignified burial on the seashore.
There were more battles for William before he could claim the crown, which was finally placed upon his head on Christmas Day 1066 in London's Westminster Abby.
With that, English history took a turn. A new political system and language took hold. Anglo-Saxon was out; Norman was in.
All that has happened since has been influenced by events on this quiet field, now nearly 1,000 years ago.
If you go ...
Battle is in southern England, about seven miles north of the coastal city of Hastings.
Admission to the battlefield and abbey is 5 British pounds, about $8.50, for adults, and 2.50 pounds, about $4.25, for children. A family ticket for two adults and two children is 12.50 pounds, about $21. Members of English Heritage are admitted free. The audio tour is included in the admission price, and is a helpful tool.
The site is open daily except Dec. 24, 25 and 26. It is open from 10 a.m. to 6 p.m. during the summer. Closing time is 5 p.m. in October and 4 p.m. from November through March.
The town has a nice atmosphere and several sites worth visiting.
The Battle Museum of Local History is a good place to learn more about the events of 1066 and see the only battle ax recovered from the battlefield. It also contains a replica of the Bayeux Tapestry, the embroidery telling the story of William's invasion and victory. The original is in Bayeux, France.
You will also want to visit The King's Head pub, which retains much of its 15th-century atmosphere.
More information about the town and battlefield can be found at these Web sites: www.battletown.co.uk and www.1066country.com.
The Battle tourist office can provide help with sightseeing and accommodation. The telephone number is (+44) (0) 1424-773721.