Trump says troops love him, attacks top brass 'who want to do nothing but fight wars'
by
Seth Robson
September 8, 2020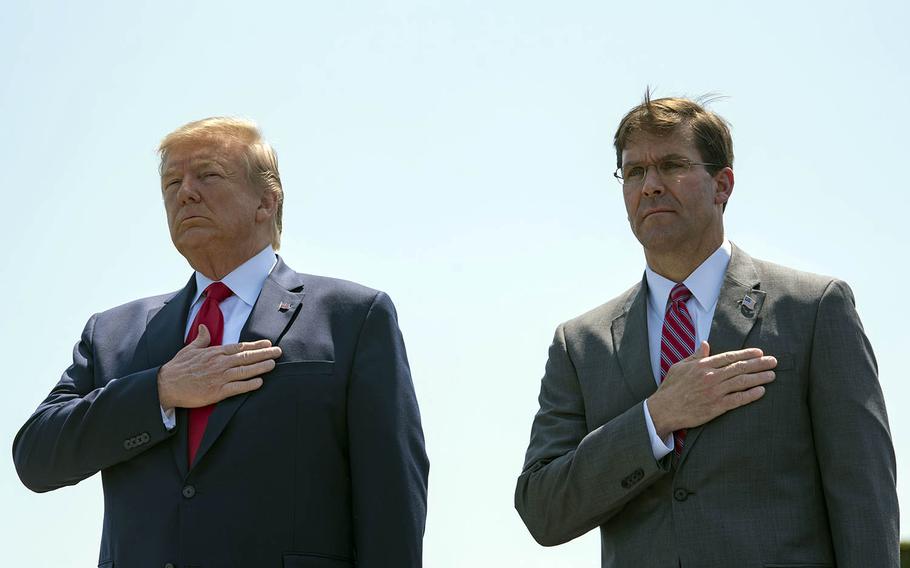 President Donald Trump touted his popularity with the troops and complained about his lack of support from military leaders at the Pentagon, days after a news report claimed he disparaged fallen service members as "losers" and "suckers."
Trump, speaking at a Labor Day press conference at the White House Monday, compared his treatment of soldiers to that of his challenger in the upcoming election, former Vice President Joe Biden, who, according to Trump, sent the nation's youth to fight in endless wars.
"It's one of the reasons the military — I'm not saying the military is in love with me; the soldiers are," he said. "The top people in the Pentagon probably aren't because they want to do nothing but fight wars so that all of those wonderful companies that make the bombs and make the planes and make everything else stay happy."
Trump noted his administration's success in the conflict with the Islamic State in Iraq and Syria and repeated his pledge to end U.S. involvement in overseas conflicts.
"Some people don't like to come home," he said. "Some people like to continue to spend money."
The comments follow an anonymously sourced report in the The Atlantic magazine that Trump had referred to fallen and captured U.S. service members as "losers" and "suckers" in 2018 when he canceled a visit a French cemetery for Marines killed in the Battle of Belleau Wood.
Biden said Thursday that, if the revelations in the Atlantic article are true, "then they are yet another marker of how deeply President Trump and I disagree about the role of the President of the United States."
Trump, at Monday's press conference, repeated earlier assertions that the story is a hoax and added that "only an animal would say a thing like that."
He compared the story to claims that members of his campaign colluded with Russia ahead of the 2016 election.
"There is nobody that has more respect for not only our military, but for people that gave their lives in the military," he said.
Trump repeated his attack on NATO nations that, he said, are not living up to their obligations under the defense pact.
"If you look at NATO, with the exception of eight countries — we're one of them — every country is way behind. They're delinquent, especially Germany, in paying their NATO bills," he said.
The U.S. is paying for almost all of NATO, Trump added.
According to NATO's official website the U.S. accounts for 22.1% of its spending compared to Germany's 14.7%.
"So, they rip us off on the military and then they rip us off, with the European Union, on trade," the president said.
He also complained about the billions of dollars that, Trump said, the U.S. is losing when it trades with China.
"They take our money, and they spend it on building airplanes and building ships and building rockets and missiles," he said.
robson.seth@stripes.com Twitter: @SethRobson1