Sikh temple shooter was Army veteran, white supremacist
By
Megan McCloskey Leo Shane III
August 6, 2012
---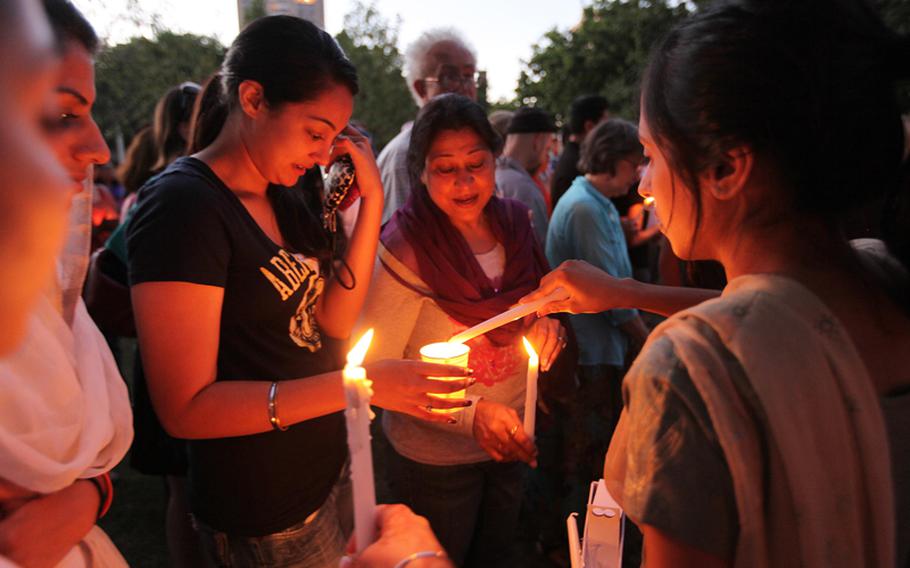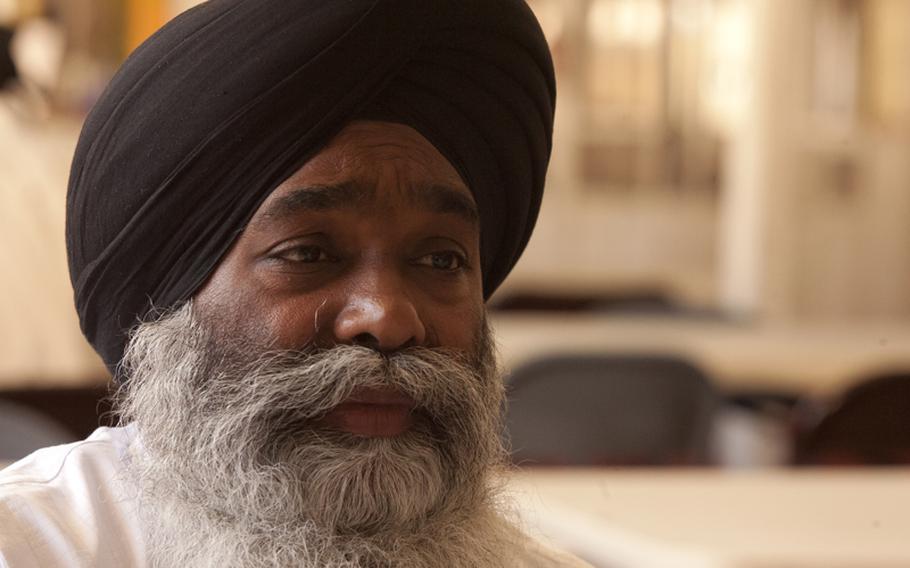 WASHINGTON — The man who gunned down six people at a Sikh temple in Wisconsin on Sunday was an Army cast-off and a known white supremacist, but law enforcement officials said they had no warning of his violent temper or intentions.
Federal investigators said Wade Michael Page, 40, killed six worshippers and critically wounded three others, including a police officer, at a temple in a Milwaukee suburb before being killed in a firefight with local law enforcement. The incident was the second mass shooting in less than a month, though investigators have not linked the Wisconsin tragedy to any other event.
FBI and local police officials told reporters Monday they don't know what drove Page to attack the Sikhs. Records indicate Page may have only recently moved to the area, and Oak Creek police said they had no known contact with the shooter before this weekend.
Page reportedly came to Milwaukee following a girlfriend, who is also affiliated with the white supremacist movement, according to Jenna Benn, the Anti-Defamation League's assistant regional director in Chicago.
The Anti-Defamation League has been monitoring Page for years for his outspoken involvement in the white supremacist group Hammerskin Nation, which the ADL reports has a history of violence and hate crimes since it's inception in Dallas in the 1980s.
According to the Hammerskins' website they are "a leaderless group of men and women who have adopted the White Power Skinhead lifestyle." The Hammerskins, one of the largest white supremacist groups in the country, are primarily known for hate rock music.
Page, sometimes using the name Jack Boot, was active about his beliefs on Facebook, Benn said.
He spent most of his life living in Colorado, where he was born, and North Carolina, where he served at Fort Bragg and lived after leaving the military.
Page spent six years in the Army, from 1992 to 1998, before receiving a general discharge that left him ineligible for re-enlistment, according to James Santelle, U.S. Attorney for the Eastern District of Wisconsin. Pentagon spokesmen declined to provide further specifics, but Army officials told CNN that he was kicked out for "patterns of misconduct."
The Associated Press later reported that Page was demoted in June 1998 for getting drunk while on duty and going AWOL, according to two defense officials. The officials spoke on the condition of anonymity because they were not authorized to release information about the gunman.
Page had worked as a missile system repairman and a psychological operations specialist. Court records show he was convicted of criminal mischief while stationed at Fort Bliss in Texas, but don't indicate a pattern of violent behavior.
However, Page's post-military life appears to have revolved around the white supremacist movement. Researchers at the Southern Poverty Law Center said Page was a member of several "hate rock" bands, including Intimidation One, Aggressive Force and Blue Eyed Devils.In 2005, he formed his own band, End Apathy. In an online interview about the group, Page said that he wanted to "actually accomplish positive results" and "end people's apathetic ways" in "our sick society."
Photos of Page on the band's website show a man covered in white-supremacist tattoos, and the band's heavy metal tracks are laced with violent and obscene lyrics.
Mark Potok, spokesman for the Southern Poverty Law Center, said Page was a significant player in that neo-Nazi music scene and was known among supremacists across the country.
The center has not found a link between his military service and the start of his extremist views, but Potok said it's likely his first public appearances with those bands in 2000 weren't his first contact with the hate groups.
Commanders at Fort Bragg wrestled with the problem of white supremacist groups throughout the 1990s, including a highly publicized case in 1995 in which a black couple was murdered by Army Pvt. James Burmeister, a skinhead.
The investigation by base officials found 21 soldiers who were active white supremacists. Army officials have worked to tighten screening and participation in those groups.
Military officials offered few details on Page's military career, noting that he received the Army Commendation Medal, the Parachutist Badge and the Army Good Conduct medal twice.
Officials from the Bureau of Alcohol, Tobacco, Firearms and Explosives said the weapon Page used does not appear to have any link to the military. Police said he used a legally purchased 9mm handgun and multiple magazines of ammunition in the attack.
Witnesses told The Associated Press that the gunman looked like he had a purpose and knew where he was going inside the temple. Neither they nor police at the scene heard Page say anything during the attack.
"We never thought this could happen to our community," said Devendar Nagra, 48, whose sister escaped injury by hiding as the gunman fired in the temple's kitchen. "We never did anything wrong to anyone."
The rampage continued as Page walked back out of the temple and ambushed one of the first policemen to arrive, shooting him at least eight times at close range.
That officer is expected to survive his wounds. Other officers killed Page when he refused to put down his weapons and began firing at them.
Sikh rights groups have reported a rise in bias attacks since the Sept. 11, 2001, terrorist attacks. The Washington-based Sikh Coalition has reported more than 700 incidents in the U.S. since 9/11, which the group blames on anti-Islamic sentiment. Sikhs are not Muslims but, advocates say, their long beards and turbans often cause them to be mistaken for Muslims. Multiple media outlets have reported that among Page's tattoos was one referencing Sept. 11.
Police in New York and Chicago issued statements saying they were providing Sikh temples in those cities additional security as a precaution.
President Barack Obama and Republican presidential candidate Mitt Romney were among those issuing public statements condemning the attack and expressing solidarity with the Sikh community.
"The people of Oak Creek must know that the American people have them in our thoughts and prayers, and our hearts go out to the families and friends of those who were killed and wounded," Obama said. "As we mourn this loss which took place at a house of worship, we are reminded how much our country has been enriched by Sikhs, who are a part of our broader American family."
Said Romney: "This was a senseless act of violence and a tragedy that should never befall any house of worship. Our hearts are with the victims, their families, and the entire Oak Creek Sikh community. We join Americans everywhere in mourning those who lost their lives and in prayer for healing in the difficult days ahead."
shanel@stripes.osd.mil; Twitter: @LeoShane
mccloskeym@stripes.osd.mil; Twitter: @MegMcCloskey
---
---
---
---