NCIS investigator tells of how Hamdania probe took abrupt turn
by
Jennifer Hlad hlad.jennifer@stripes.com
March 7, 2015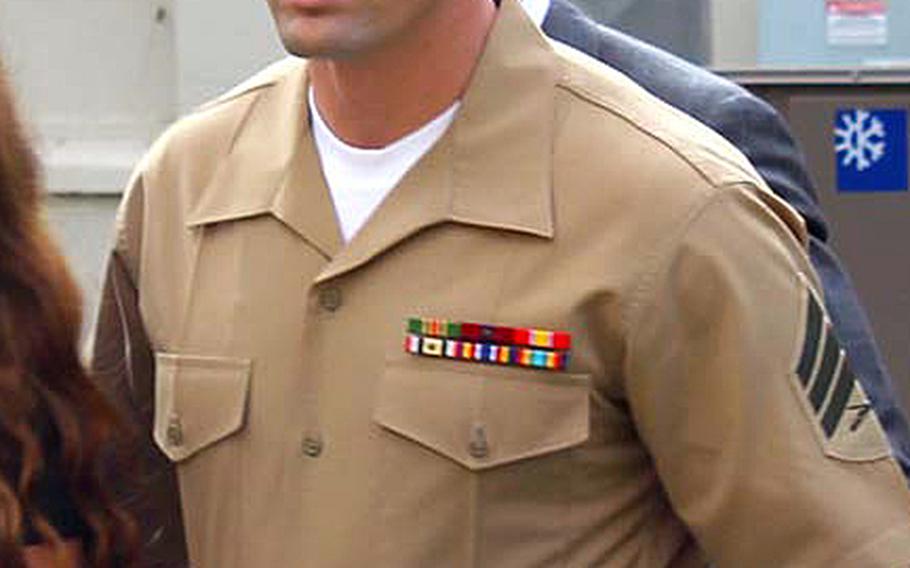 CAMP PENDLETON, Calif. — A top investigator in the 2006 killing of an Iraq civilian in Hamdania testified on Friday that when he first heard about the case, he believed it was a "good shoot."
"I just didn't think the Marines would do something like this," James Connolly, the lead Naval Criminal Investigative Service investigator for the case, said in a pretrial hearing Friday. He later added that he thought claims by the victim's family that the man was murdered were "just another way for the Iraqis to get money from the United States."
But after a few days of site visits and witness interviews, everything went "sideways," Connolly said.
A Navy corpsman in Sgt. Lawrence G. Hutchins III's squad "spilled his guts" about the killing to another investigator, Connolly said, changing the possible wrongful death into a homicide investigation.
Hutchins was convicted in 2007 of unpremeditated murder, larceny and making a false official statement in the killing. He has already served more than six years of his 11-year sentence.
Hutchins' conviction was overturned in 2011, reinstated and then overturned again in 2013 because he was placed in solitary confinement for a week with no access to an attorney during the interrogation.
Now, he's facing another court-martial for the same incident, despite efforts by his civilian lawyer to have the case thrown out because of comments made by Navy Secretary Ray Mabus that he believes amount to unlawful command influence.
The attorney, Chris Oprison, called a handful of witnesses to speak to the issue.
One of them, retired Marine Corps lawyer Colby Vokey, said by telephone that after the comments were published in 2009, he heard Marines saying that it seemed like evidence that Hutchins couldn't get a fair trial and that the Marine Corps was "out to get him."
Prosecutor Maj. Adam Workman disputed the idea that comments made more than five years ago would have an impact on this court-martial.
Friday was the second day of the pretrial hearing, and Connolly's testimony stood in contrast to testimony Thursday by Hutchins' previous defense attorney, who said the defense team was allowed only 45 minutes for a site visit and was not able to interview anyone who had been in the town that night.
Still, Connolly said he had been trained before his deployment to do "20-minute crime scenes" – get in, and get out.
"I kept that in the back of my mind when we were doing stuff," he said.
The comment upset Hutchins' wife, Reyna.
"My Marine, my husband, my life, is charged with murder based on a 20-minute crime scene investigation!!!" she wrote in a note to Stars and Stripes.
Oprison, Hutchins' attorney, also requested the judge delay the trial until an investigation can determine whether NCIS purposely failed to provide roughly 3,000 pages worth of documents to the defense. The documents were released Feb. 27, Oprison said, but he and his fellow lawyers were out of town and couldn't look at them until this week.
"Right now we're looking at an eight-year suppression," he said. "I think we need a criminal investigation."
The judge, Navy Capt. Andrew Henderson, said he would wait to rule on the issue until Oprison and Workman can determine how many of the documents had, in fact, already been provided to the defense, and how many are new.
"I don't know what I don't know," Henderson said.
hlad.jennifer@stripes.com Twitter: @jhlad