Milley: 'Not going to be intimidated into making stupid decisions'
by
Caitlin M. Kenney
July 11, 2019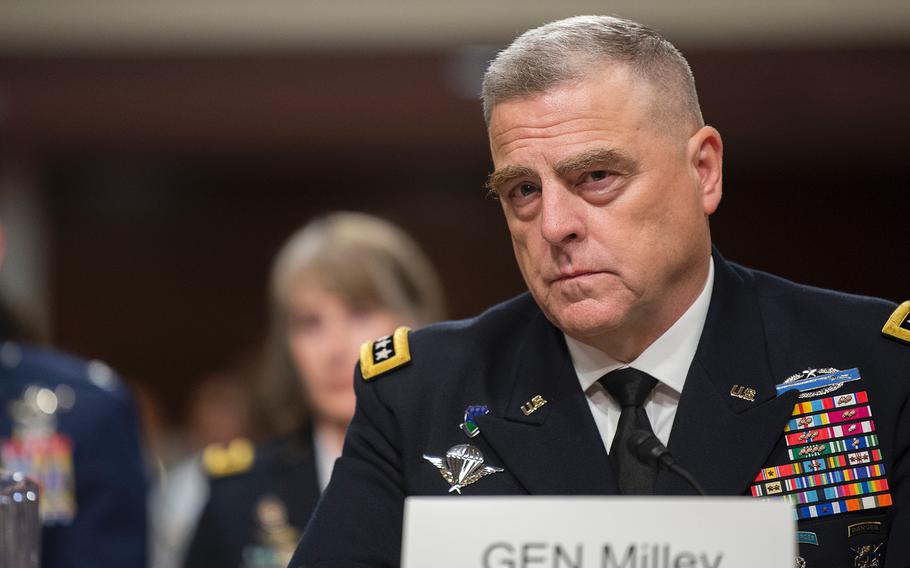 WASHINGTON — Withdrawing American troops from Afghanistan too soon would be a mistake, Army Gen. Mark Milley told senators Thursday, saying the U.S. military is needed to ensure American and Afghan representatives and the Taliban reach a settlement to end the war that has dragged on for nearly 18 years.
"I think it is slow, it's painful, it's hard. I've spent a lot of my life in Afghanistan, but I also think it's necessary," he said during his confirmation hearing to become the next chairman of the Joint Chiefs of Staff.
Milley, the Army's chief of staff, was nominated in April to be the chairman of the Joint Chiefs, replacing Marine Gen. Joseph Dunford, who will serve through September having been the chairman since 2015.
During the hearing, Milley was questioned about his responsibility to give his best advice to President Donald Trump as the chairman, which is the highest-ranking officer in the military and is the primary military adviser to the president, defense secretary, and the National Security Council.
Sen. Angus King, I-Maine, asked Milley whether he would be intimidated.
"Absolutely not. By no one. Ever," the general responded and said he and other officers such as Dunford who have seen combat and buried soldiers, understand the hazards of their chosen profession.
"And we are not going to be intimidated into making stupid decisions. We will give our best military advice regardless of consequences to our self," he said.
Senators raised concerns about the Defense Department having more than a dozen vacancies in key leadership roles — including an acting defense secretary — and whether not having confirmed leaders in those jobs weakens the civilian and military relationship, as well as sends a bad message to allies and adversaries.
"In terms of the effectiveness and the efficiency of the department, it would be much better to have the nominees fully vetted and confirmed because that gives us much more effectiveness," Milley said about civilian control of the military. "I very much in favor of getting them through the process and getting them confirmed."
Sen. Martha McSally, R-Ariz., asked Milley whether he would commit to working with her to address sexual assault in the military.
McSally's question followed reports Wednesday of sexual misconduct allegations against Air Force Gen. John Hyten, the nominee to become the next vice chairman of the Joint Chiefs of Staff.
McSally also cited the taskforce that she set up with Dunford as well as former acting Defense Secretary Patrick Shanahan to improve investigations and judicial processes as well as commander involvement regarding military sexual assault. A military investigation found insufficient evidence to charge Hyten or punish him administratively, according to a report by The Associated Press.
Milley thanked the senator for her efforts and called sexual assault "fratricide" by one soldier on another.
It is "a cancer within an organization and we've got to crush it," he said. "I think the solution resides with the commanders, empowerment of the commanders and holding them accountable."
Sen. Gary Peters, D-Mich., also asked Milley whether news reports were true that Dunford is planning to build a coalition of nations to deter Iranian threats to shipping in the Persian Gulf. Milley said he was aware of the developments and negotiations, but he was not a personal participant in the coalition-building effort.
McSally also brought up an attempt Wednesday by members of the Iranian Revolutionary Guard Corps to stop a British tanker entering the Strait of Hormuz. Milley said he had heard about it and the attempt was stopped because "the British had a military escort, so that took care of the situation."
Milley said they are planning for the coalition to provide similar naval escort efforts for commercial shipping and it will be developing over the next couple of weeks.
kenney.caitlin@stripes.com Twitter: @caitlinmkenney