Gunship crew cited for heroism in fending off Islamic State attack during Afghanistan medevac
---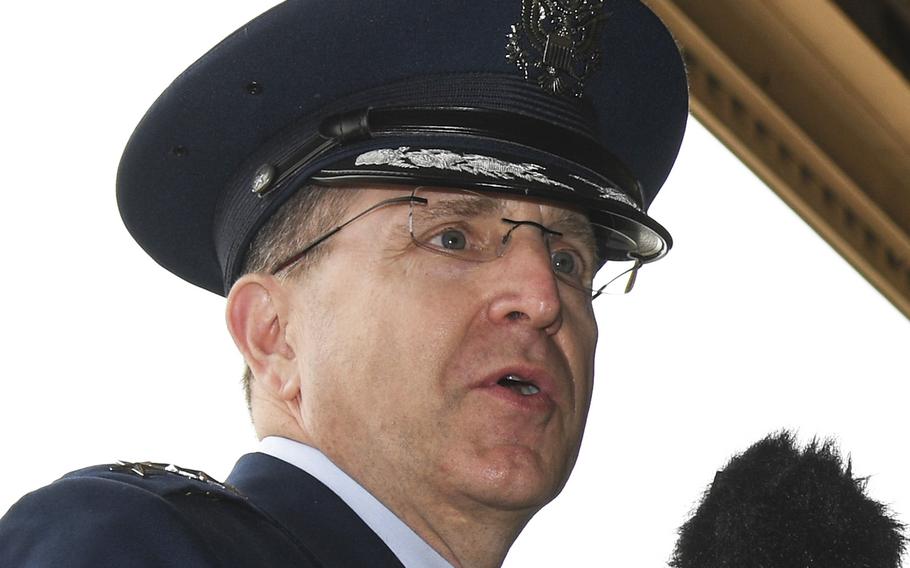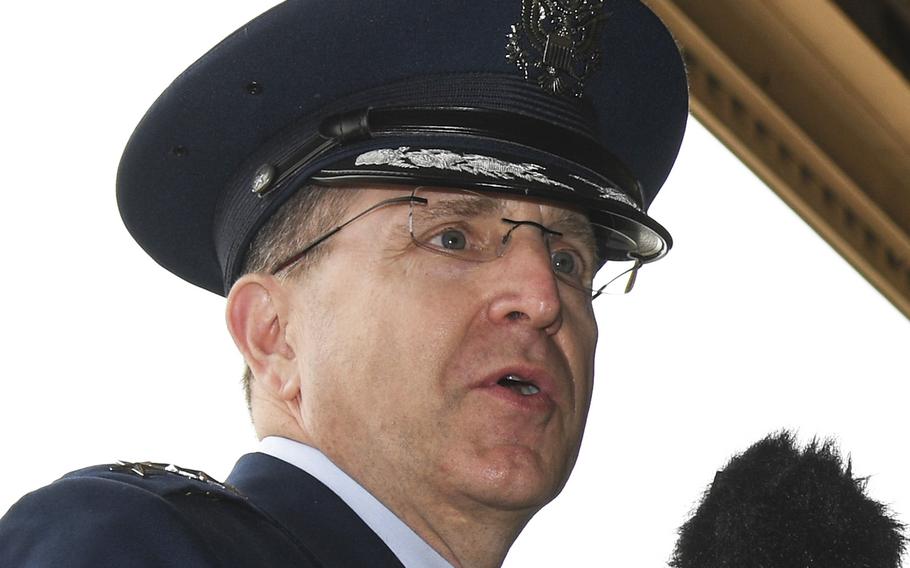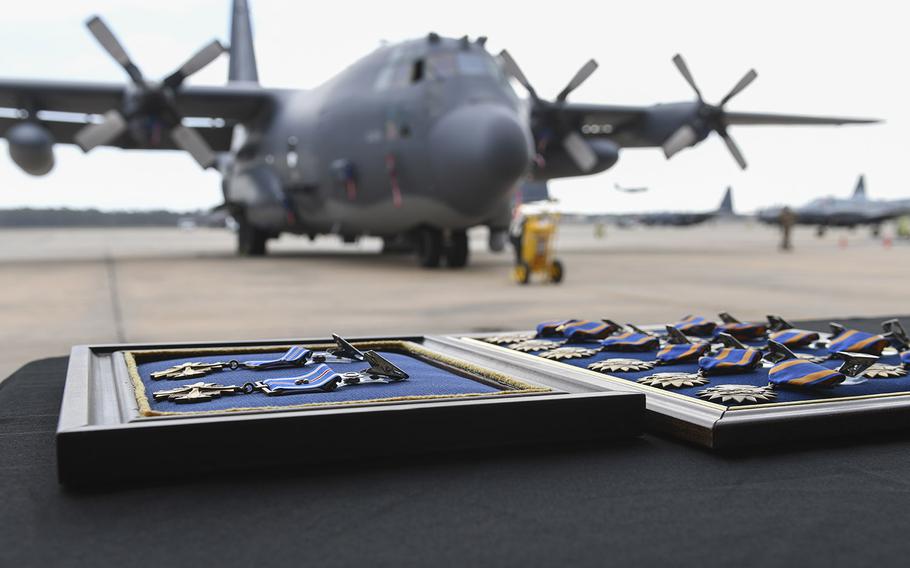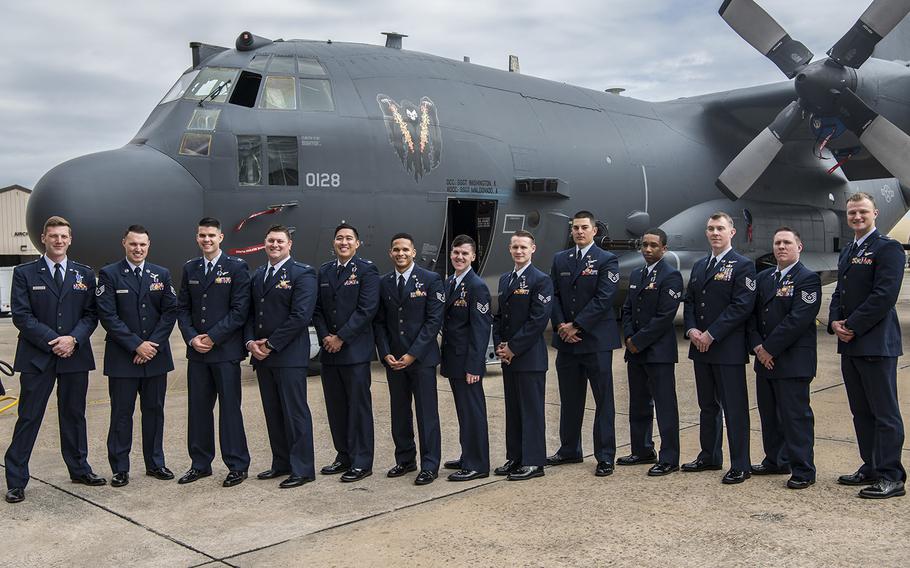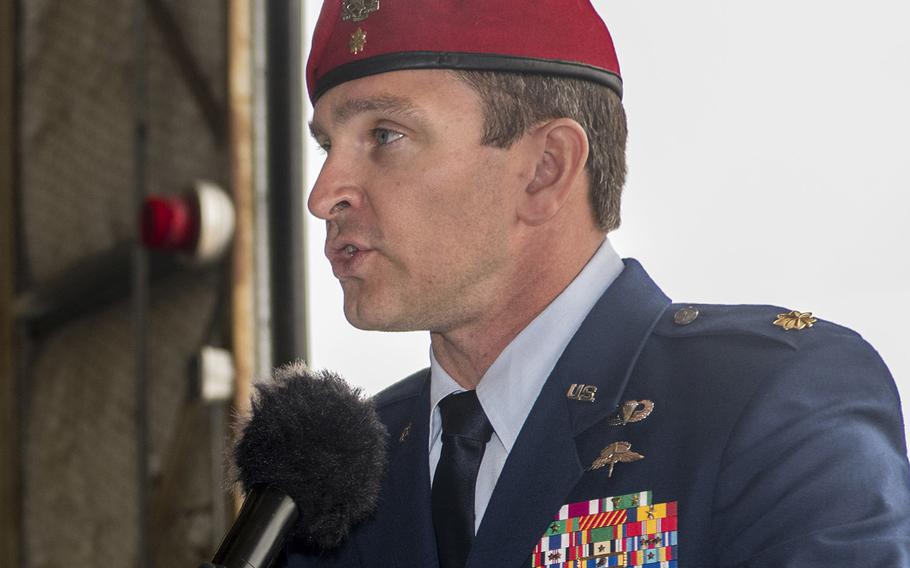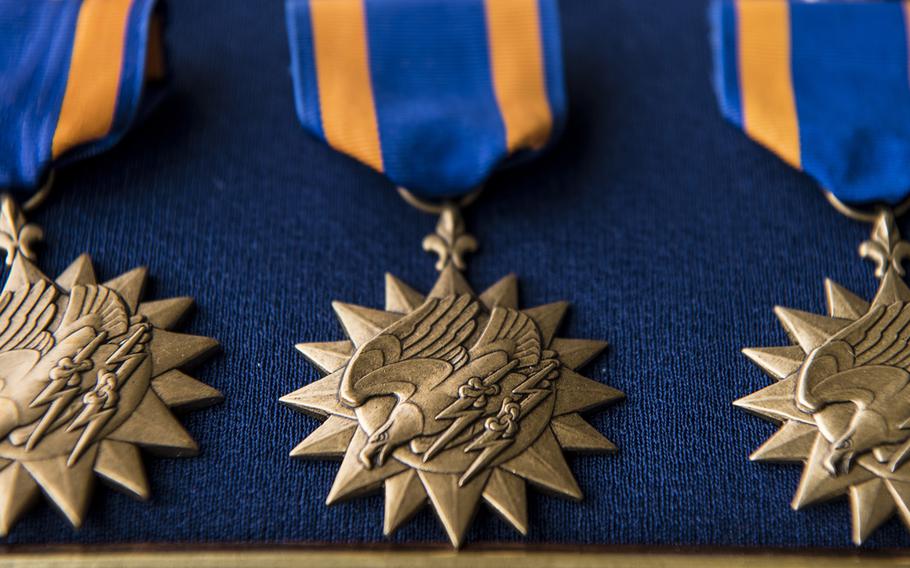 Crew members of a U.S. gunship that kept Islamic State fighters at bay during a medical evacuation in Afghanistan last spring were awarded medals Monday, including two Distinguished Flying Crosses with a designation for "exceptionally meritorious" actions in combat.
The gunship suppressed enemy fire for an hourlong evacuation of 15 patients onto three hovering medevac helicopters.
Aircraft commander Capt. Neils Aberhalden and navigator Capt. John Crandall Jr., with the 4th Special Operations Squadron based at Hurlburt Field, Fla., were awarded Distinguished Flying Crosses with "C" device, the Air Force said in a statement Monday.
An additional 12 airmen with 4th SOS were presented with single event Air Medals with "C" device by Air Force Lt. Gen. Jim Slife, commander of Air Force Special Operations Command, during a ceremony at Hurlburt Field.
"The most lethal part of any gunship is not the 25 mm, the 40 mm or the 105 mm [weapons] sticking out of the side of this big beautiful airplane," Slife told those attending. "The most lethal part of the gunship is the crew."
The crew of Spooky 41 — flying an AC-130U, which the Air Force uses for close air support and armed reconnaissance — was called in on the night of April 3 to assist a group of joint American and Afghan special operations forces under fire with mounting casualties after an improvised explosive device attack on a mountainside in Nangarhar province.
The ground force was entrenched in an assault on a heavily fortified stronghold manned by fighters with Islamic State-Khorasan, an ISIS branch in the region.
"In my 20-plus years of training and experience in the art of attacking and defending ground objectives, I have seen few more formidable defensive positions — or ones more daunting to attack," Maj. Jeffrey Wright, 24th Special Operations Wing, who led a seven-man special tactics team in the assault, said in an Air Force statement.
"I would have to reach for examples like Normandy, Iwo Jima or Hamburger Hill to appropriately convey the degree to which the enemy were prepared and ready for our assault."
The enemy had stayed hidden as the assault force closed in, then surprised coalition forces with fire from all directions — including from ceilings above and floors below, he said.
"By using networks of subterranean passageways, the enemy would reappear behind our forces even after they'd cleared buildings," Wright said.
Reaching a "dire" crossroads with mounting wounded, the assault force called for help from the air. "In short order, I heard the bark of the AC-130U's guns," Wright said. "I distinctly remember wondering whether they were shooting at the right target, given the speed of their reaction — in 10 years as a [joint terminal attack controller], I'd never seen any kind of fire support as responsive. Sure enough, the first rounds were right on target — a good thing, because the enemy was so close to the assault force."
The terrain prevented the three medevac helicopters from landing, so the wounded were hoisted to them in the air.
"This entailed coming to a hover within machine gun range of dozens, if not hundreds, of enemy fighters keen to press home their advantage," Wright said. Yet the enemy did not get off a single shot as the patients were evacuated, he said.
"The reason there will be no memorials for three separate medical evacuation aircrews is because Spooky 41's fires were so responsive and so precise that the enemy was effectively neutralized."
Army Capt. Benjamin Carnell, a Special Operations Force team member and one of the casualties evacuated, thanked the Spooky crew during the ceremony for "rising to the occasion."
"Without any of that I would not have been hoisted out of there and I wouldn't be standing here in front of you today, so I am indebted to you in a way that I can't describe."
Airmen awarded the Air Medal were Capt. Micah T. Uvegas, Capt. Brian K. Yee, 1st Lt. Nicholas J. Maiolo, Tech. Sgt. Ryan A. Estes, Tech. Sgt. Jacob B. Griffen, Tech. Sgt. Austin L. Parrent, Staff Sgt. Samuel Mayfield, Staff Sgt. Michael S. Martinez, Staff Sgt. Omar J. Diaz, Staff Sgt. Jonathon M. Friesz, Senior Airman Jacob C. Bateman, Senior Airman Zadok N. Dean III.
olson.wyatt@stripes.com Twitter: @WyattWOlson
---
---
---
---