Event capsules for the Sochi Olympics
---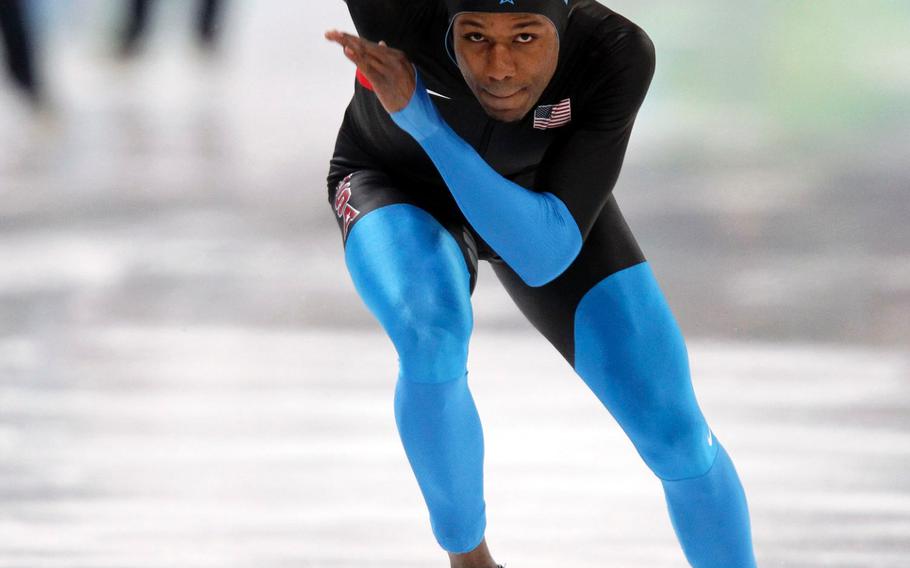 SOCHI, Russia — A look at the sports for the Sochi Olympics:
Alpine skiingTHE BASICS
After missing the first three Winter Olympics, Alpine skiing joined the program in 1936. Ten gold medals will be awarded in Sochi, five for men and five for women — downhill, slalom, giant slalom, super giant slalom (usually called super-G) and super combined.
STARS TO WATCH
With Lindsey Vonn out injured, the 18-year-old American many call "The Next Lindsey Vonn," Mikaela Shiffrin, will attract plenty of attention as the favorite to win the slalom. Maria Hoefl-Riesch of Germany, a double gold medalist at the 2010 Vancouver Games, and Lara Gut of Switzerland, who'll be making her Olympic debut, could dominate other races. Aksel Lund Svindal of Norway already enjoys rock-star status in Europe, while 36-year-old Bode Miller, owner of five Olympic medals, and Ted Ligety, who won three titles at last year's world championships, will also be ones to watch from the U.S. team.
DID YOU KNOW?
Austria has won a record 105 Alpine skiing medals at the Olympics, nearly twice as many as any other country. Switzerland ranks second with 56, followed by France with 43 and the United States with 39.
BiathlonTHE BASICS:
Like several other sports, biathlon has military origins with the combination of cross-country skiing and rifle shooting first becoming a common exercise for winter troops in northern countries during the second half of the 19th century. That also helps explain why countries like Norway, Russia and Sweden are still dominant. Biathlon has one of the busiest schedules on the Olympic program, with four individual events for both men and women, along with a relay. New for this year is a mixed relay.
STARS TO WATCH
Martin Fourcade of France has been the top men's biathlete in the last two years, winning three world championship titles in 2012 and the overall World Cup last season, and he is expected to add his first Olympic gold in Sochi. Emil Hegle Svendsen of Norway could well add to his two golds from Vancouver, as well. On the women's side, expect Tora Berger of Norway and Darya Domracheva of Belarus to grab at least a couple of medals each.
DID YOU KNOW?
One of the all-time greats will be competing in the biathlon events in Sochi as Ole Einar Bjoerndalen aims to cap his storied career by making Olympic history. The 40-year-old Norwegian has six Olympic golds from previous games and needs two more to equal the Winter Games record. While Bjoerndalen hasn't won an individual World Cup race in two years, Norway is one of the favorites in both the men's and mixed relay — meaning he could well get there.
BobsledTHE BASICS
It looks simple, but it's incredibly intricate to get a sled going and keep it upright for the ride down the track. Everyone sprints while pushing the sled on ice, then hops inside, at which point the driver is typically the only one with his or her head up for the rest of the trip. One wrong move, and that sled could tumble on its side easily.
STARS TO WATCH
Steven Holcomb of the United States was the top driver on the men's World Cup circuit this winter, while Kaillie Humphries of Canada took the women's overall title. Both won gold at the 2010 Vancouver Games and might again this year. The U.S. has two Olympic track athletes on the women's team, with gold medalist Lauryn Williams and Lolo Jones qualifying as push athletes.
DID YOU KNOW?
BMW doesn't just make fast cars. Their sled-building business will be on full display in Sochi, with Germans, Americans and Canadians — all medal favorites — among the nations racing in their sleds. And while those sleds bear the same logo, there's some significant set-up and technological differences depending on which nation's flag is affixed.
Cross-country skiingTHE BASICS:
Cross-country skiing is one of the original Winter Olympic sports, on the program since the 1924 Chamonix Games. Only two men's events were held then, though; now it's a total of 10 men's and women's races — ranging from the explosive individual sprint to the grueling endurance test of the men's 50-kilometer race. Events are held in either the classical style or freestyle depending on the format, with the skiathlon a combination of both.
STARS TO WATCH
Norway usually dominates the cross-country skiing events, and its two biggest stars are Petter Northug and Marit Bjoergen. Northug has struggled with illness this season, however, and his form is in question. Bjoergen won three golds in Vancouver in 2010 and could well repeat that feat in Sochi if she again gets the better of main rival Justyna Kowalczyk of Poland. Three-time overall World Cup winner Dario Cologna has only recently returned from an ankle injury but should still be a contender.
DID YOU KNOW?
The most successful Winter Olympian of all time was a cross-country skier. Bjoern Daehlie of Norway won eight Olympic gold medals between 1992 and 1998, along with four silvers. He nearly won a ninth gold, but surprisingly lost a sprint finish to Silvio Fauner of Italy in the men's 4x10-kilometer relay at the 1994 Lillehammer Games, stunning the home crowd.
CurlingTHE BASICS
Two gold medals will be awarded, one for men and one for women. Ten teams are in both tournaments. They all play each other once in the round-robin stage, with four advancing to the semifinals.
STARS TO WATCH
Margaretha Sigfridsson of Sweden and Eve Muirhead of Britain have been engaged in a battle for supremacy in women's curling for the past 12 months. Muirhead is the world champion and Sigfridsson the European champion — and the Olympics can be viewed as the decider. Brad Jacobs is the star attraction in men's curling, although the spotlight is often stolen by the Norwegian team, with its funky wardrobe.
DID YOU KNOW?
Canada, the stronghold of world curling, has won a medal in every men's and women's tournament since the sport returned to the Olympic program in 1998.
Figure skatingTHE BASICS
To the familiar medal events of men's and women's singles, pairs and ice dance, the IOC is adding a team competition. Ten countries will take part, combining the scores of their entries in the four disciplines.
STARS TO WATCH
Yuna Kim of South Korea seeks to repeat — she'd be only the third woman to win two straight gold medals. A foot injury forced her out of the Grand Prix series, though. Three-time world champion Patrick Chan is the favorite on the men's side, but was upset by Yuzuru Hanyu of Japan at the Grand Prix Final.
DID YOU KNOW?
Russian or Soviet skaters have won seven of the 10 gold medals in the event, but Canadian ice dancers Tessa Virtue and Scott Moir will be on hand to defend their titles.
Freestyle skiingTHE BASICS
There are the old-school events — moguls and aerials — and the newcomers — halfpipe and slopestyle. There's also skicross. Moguls are judged on a skier's ability to get down the bumps quickly and smoothly, while also taking off for two jumps that each count for 12.5 percent of the score. Aerials skiers pack multiple flips and twists into a jump that sends them soaring up to 50 feet off a steeply angled ramp. Ski halfpipe and slopestyle are new events, though they'll look very much like the snowboard version.
STARS TO WATCH
Defending moguls champion Alex Bilodeau's toughest competition could come from Canadian teammate Mikael Kingsbury. Hannah Kearney of the United States is the defending women's champion. Victor Oehling Norberg of Sweden is a consistent top-10 finisher in skicross but still looking for that first victory of the season.
DID YOU KNOW?
Freestyle skiing dates back more than 100 years with records of skiers performing somersaults on skis at the start of the 20th century in Norway, Italy and Austria. The first professional competitions were in 1971, and it entered the Olympic program in 1992.
Men's hockeyTHE BASICS
About 150 jetlagged NHL players join their European counterparts in a frenetic 12-team, 12-day tournament for hockey supremacy. Nobody has time for practice or team-building with three quick opening-round games before the knockout portion begins, but Canada, Russia, Sweden, Finland and the United States all have their eyes on gold.
STARS TO WATCH
Reigning NHL MVP Alex Ovechkin and fellow stars Evgeni Malkin and Pavel Datsyuk are under extraordinary home-country pressure to lead the Russians to their first gold medals since the Unified Team's 1992 win in Albertville. Pittsburgh's Sidney Crosby also is back for more Olympic magic after scoring the gold-winning overtime goal in Vancouver.
DID YOU KNOW?
The NHL stars are back for their fifth consecutive Olympics since Nagano, but this might be your last chance to see them on the podium for a while. NHL owners are making serious noise about keeping the league in session in 2018 during the Pyeongchang Olympics, citing the time difference to South Korea and lost revenue.
Women's hockeyTHE BASICS
In order to boost competition in a sport that has been dominated by Canada and the United States, the Olympic women's hockey format was changed this year. The round-robin features a guaranteed grudge match between the North Americans, and a chance for them to earn a bye through to the semifinals. The preliminary round will be played at the puck-shaped Shayba Arena, and the medal round at the larger Bolshoy Ice Dome.
STARS TO WATCH
Finland goalie Noora Raty was 41-0 at the University of Minnesota, leading her team to a second straight college championship. Hayley Wickenheiser of Canada is going for her fourth gold medal, and she is already the leading scorer in Olympic women's hockey history with 16 goals and 29 assists; she also won a silver medal when the Americans won the gold in the sport's inaugural Winter Games in 1998.
DID YOU KNOW?
U.S. forward Amanda Kessel is the sister of Toronto Maple Leafs star Phil Kessel, who will be in Sochi for the American men's team.
LugeTHE BASICS
Sliders race feet-first down the track, sometimes going as fast as 90 mph, though the speeds should be a bit lower at the Sochi Olympics. Steering is done by subtle shifts of the body, and the start is critical. Lugers wear gloves with tiny spikes attached to the finger pads, using them to dig into the ice to gain momentum, before settling into position for the ride.
STARS TO WATCH
Germany, Germany, Germany. Felix Loch is the reigning Olympic champion and is favored to repeat in the men's race, and teammate Natalie Geisenberger has been nearly unbeatable on the World Cup circuit to earn her Sochi-favorite status. The Germans also dominate in doubles luge.
DID YOU KNOW?
The Olympic luge program is growing in Sochi with the addition of a team relay. One man, one woman and one doubles team will compose each nation's team, and they'll go one after another — with one slider slapping a pad to trigger the clock and tell the next teammate it's time to start their run.
Nordic combinedTHE BASICS
With ski jumping and cross-country skiing, it's the sole male-only sport left at the Winter Olympics. Three gold medals will be awarded, off the normal and large hills with 10-kilometer ski races for each, and a team event from the large hill which includes a 4x5-kilometer cross-country race.
STARS TO WATCH
Eric Frenzel of Germany comes into Sochi with a big lead in the World Cup standings, having also won the Nordic Combined Triple in January, a new format that added the results of three competitions on one weekend. The Americans have a strong team, with 2010 individual large hill gold medalist and team silver medalist Billy Demong back, and 37-year-old Todd Lodwick competing in his sixth Olympics.
DID YOU KNOW?
The starting places in the cross-country race are determined by the finishes in the ski jump competition, with generally a 10-point lead in jumping providing a one-minute start in the ski race. That format is known as the Gundersen Method.
SkeletonTHE BASICS
Sometimes called "headfirst luge," but it really has hardly anything in common with the feet-first racing sport. The sleds are simple, with racers usually grabbing a handle with one arm as they take off running at the start. They then flop onto the sled — it sort of looks like an oversized cookie sheet — and have their chin just barely off the surface of the ice as they speed down the chute.
STARS TO WATCH
Martins Dukurs of Latvia is a huge favorite to win the men's title. In the women's race, the gold-medal battle figures to come down to Noelle Pikus-Pace of the United States and Lizzy Yarnold of Britain. Dukurs' top competition might be his own brother, Tomass. Pikus-Pace was fourth in Vancouver, and Yarnold rents a flat nowadays from Amy Williams — who won skeleton gold for Britain four years ago.
DID YOU KNOW?
The sport has roots in the 1800s and was in the Olympic program in 1928, then again in 1948. But it wasn't back as a medal sport until 2002, and now attracts sliders from nations that don't even have home tracks on which to train.
Ski jumpingTHE BASICS
Women will compete for the first time in a sport the men have had to themselves since 1924. Four gold medals will be awarded overall, the large hill, the normal hill and a team event for the men. The women will compete only on the normal hill.
STARS TO WATCH
"Kid Ballerina" Sara Takahashi of Japan, who says her ballet training helps her maintain balance during jumps, is the women's favorite. Her biggest competitors are American teenager Sarah Hendrickson, the world champion who is coming off right knee surgery in August, and Lindsey Van, the sport's first world champion and Hendrickson's teammate.
DID YOU KNOW?
The International Olympic Committee fought for years to keep women from ski jumping at the Olympics, with suggestions their event wasn't competitive enough and that their bodies weren't strong enough to take the strain of jumps, affecting their ability to have children.
SnowboardingTHE BASICS
Five events: Halfpipe, snowboardcross, parallel giant slalom and two new ones — slopestyle and parallel slalom. Slopestyle is a ride down a hill with steeply angled jumps, rails and little bumps called "jibs." Parallel slalom is racing — a shortened version of parallel giant slalom event that's been on the program since snowboarding was introduced in 1998.
STARS TO WATCH
A certain rider named Shaun White, who is going for his third straight halfpipe gold and trying to win in slopestyle, as well. Another rider to watch will be Torah Bright of Australia, the defending Olympic halfpipe champion who will compete in halfpipe, slopestyle and snowboardcross.
DID YOU KNOW?
Mark McMorris of Canada is largely considered White's top challenger in slopestyle but he broke a rib competing in the Winter X Games. He's expected to be OK in time for Sochi.
Long track speedskatingTHE BASICS
All races are held in pairs using two lanes on the track. At the back straightaway, the skaters switch lanes, allowing them both to cover the same distance per lap. When both skaters emerge from the corner at the same time, the skater in the inside lane has to let the outer lane pass in front of them. The men and women each compete in five individual events, and the team pursuit.
STARS TO WATCH
Shani Davis of the United States will try to become the first male skater to win the same event at three straight Olympics in the 1,000 meters. Sven Kramer of the Netherlands is looking for redemption in the 10,000, having lost a gold medal four years ago in Vancouver after being disqualified when his coach directed him to the wrong lane during the race. On the women's side, Ireen Wust of the Netherlands is a favorite to medal in the 1,500 and 3,000. Claudia Pechstein of Germany will turn 42 during the Olympics, her sixth. She owns nine career medals and will try for a 10th in the 5,000.
DID YOU KNOW?
The clap skate revolutionized the sport in the mid-1990s, helping lower world records considerably. The skates are hinged to the front of the boot and detach from the heel, allowing a more natural range of movement. The blades are about 1 millimeter thick and come in lengths from 13 to 18 centimeters.
Short track speedskatingTHE BASICS
Usually between four and six skaters compete on an oval ice rink using a mass start. Men and women compete in the same events: 500 meters, 1,000, 1,500, and the relays (3,000 for women and 5,000 for men). It's often called roller derby on ice and there are several rules that, if broken, result in disqualification.
STARS TO WATCH
Viktor Ahn is a medal favorite in all three individual men's events. Born Ahn Hyun-soo in South Korea, Ahn became a Russian citizen in 2011. Wang Meng, China's most decorated Winter Olympian, is out with a broken ankle on the women's side. South Korea's women's team could dominate, led by Shim Suk-hee.
DID YOU KNOW?
The most common reason for disqualification is impeding, which involves pushing, blocking or otherwise causing an impediment for another skater.
---
---
---
---