Army's new multi-domain unit is featured at AUSA conference
---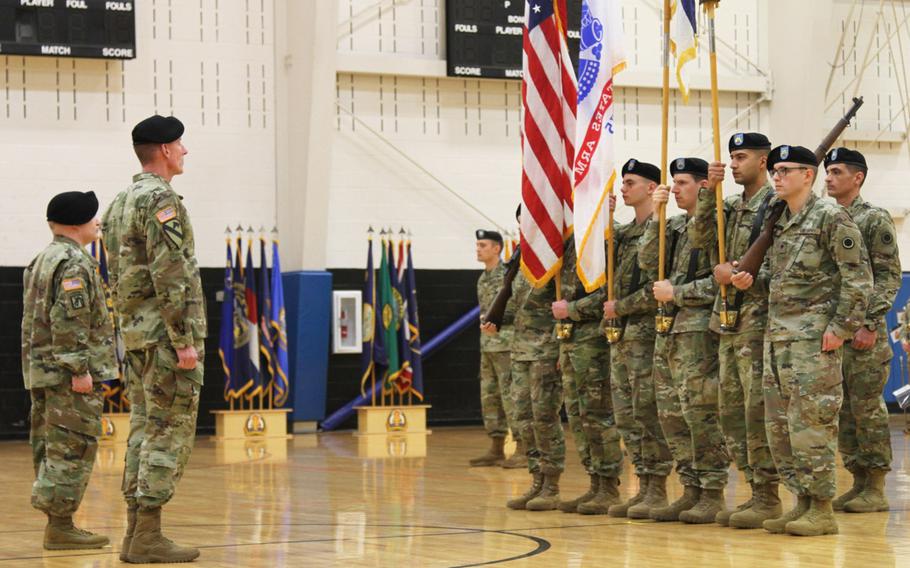 A new Army unit is reshaping the way soldiers plan and operate on battlefields.
The Information, Intelligence, Cyber, Electronic Warfare and Space Battalion, which was activated in January at Joint Base Lewis-McChord, Wash., is the first unit of its kind. It pulls together the nonlethal, information-based Army specialties listed in its name to coordinate with lethal Army specialties such as missile defense.
Called multi-domain operations, the new battalion has showcased its capabilities well enough that a second is already planned, said Lt. Col. Derek Bothern, battalion commander.
The unit will be discussed at the annual conference of the Association of the U.S Army in Washington, which opens Monday.
Known as the I2CEWS battalion, the unit falls within I Corps, because of its alignment with U.S. Army Pacific—the region chosen to test it.
Along with the new unit came a pilot program for a Multi-Domain Task Force.
"Right now, that's the purpose of the pilot program — to figure out how all of that works," Bothern said. Leaders from Army Pacific and I Corps will discuss the unit at AUSA's 2019 Annual Meeting and Exposition, a three-day event that brings together more than 30,000 attendees to discuss the military and national security. They will talk about how they put this new multi-domain operations theory into practice this year and how they see it adapting to move forward.
"What we're actually doing is sitting right next to our lethal counterparts, for lack of a better term, whether on the operations floor or in planning rooms. We're no longer relegated to a little room off to the side. We are participating in the same actions together," Bothern said.
To better describe how I2CEWS assets coordinate in operations, he provided an example of how an adversary's communication networks coordinate to give them stronger capabilities. His unit can "disintegrate" that network within the cyber realm and better allow a unit with weapons or missiles to disintegrate the physical location and pieces of the network.
Maj. Gen. Pete Johnson, deputy commander of U.S. Army Pacific, Col. Tony Crawford, chief of strategy and innovation with Army Pacific, and Col. Joe Roller, an operations advisor in I Corp, will present I2CEWS and multi-domain information to conference goers at 10:55 a.m. Wednesday in the Warriors Corner.
Thayer.rose@stripes.com Twitter: @Rose_Lori
---
---
---
---