Navy says USS Nimitz' water is 'safe,' no sailors sickened by jet fuel contamination
By
Stars and Stripes
September 23, 2022
---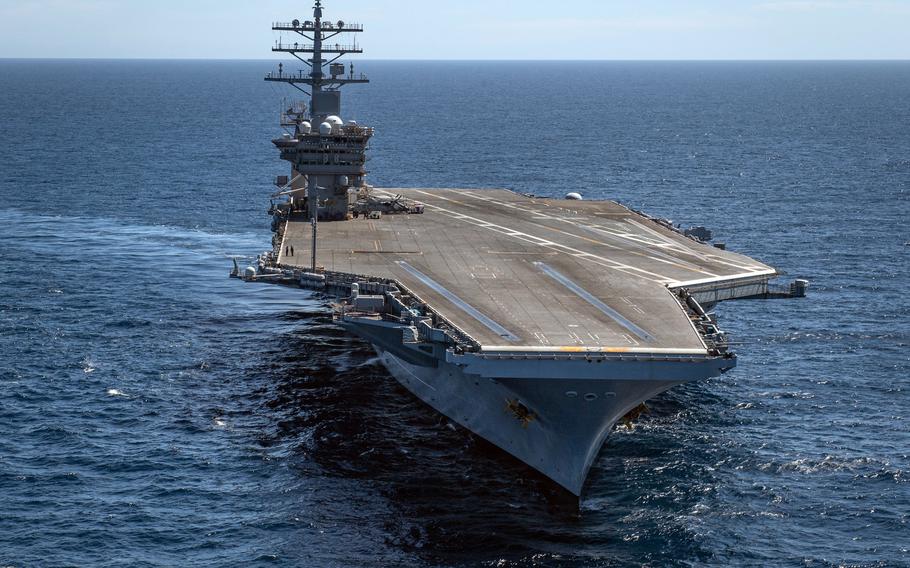 Sailors aboard the USS Nimitz recently found "irregularities" in the aircraft carrier's potable water supply, leading to the discovery that it had been tainted with jet fuel, according to the Navy.
The crew detected "trace amounts" of Jet Propellant-5, a kerosene-based fuel primarily used by military aircraft on aircraft carriers, in the Nimitz' water supply while the ship was off Southern California on Sept. 16, according to Naval Air Forces spokesman Cmdr. Zach Harrell.
"Irregularities were noticed by some of the Nimitz crewmembers and reported to their leadership," he told Stars and Stripes by email Thursday. "After the potable water system was secured, the commanding officer made an announcement on the ship's PA system to inform the crew on the status of the potable water supply."
The Nimitz, which is homeported at Naval Base Kitsap, Wash., has since docked in San Diego. A system flush completed Sept. 19 restored fresh water to the carrier that is now safe for use, Harrell said.
The water system is also undergoing a full inspection to "ensure the highest quality water is provided to the crew," he added.
The Nimitz was still in San Diego as of Thursday evening, where it is preparing for a pre-deployment exercise.
Several crewmembers either got sick from consuming the water or were injured after exposure to it, according to users on social media platforms such as Twitter and Reddit's r/Navy forum.
"Multiple sources claim that sailors on board have chemical burn/rashes from showering in the contaminated water," Twitter user @Terminalcwo wrote on Tuesday.
A Reddit user, kineticstar, wrote on Thursday that "the crew wasn't warned to secure potable water use until after people got sick from the contaminated water."
Harrell dismissed these claims, saying that the crew was notified "as soon as leadership was made aware of the contamination" and that the crew was immediately provided bottled water for free.
"Understandably, there have been some complaints about the water from the crew, but there have been no confirmed cases of illness nor injury related to contaminated water aboard the ship," Harrell wrote in his email. "The Nimitz medical department continues to monitor our Sailors for any potential symptoms. The water onboard the ship is safe for use and the health and wellbeing of all our Sailors is a top priority."
While little is known about the effects of JP-5 on human health, people who've accidentally ingested kerosene have suffered effects on their respiratory, gastrointestinal and nervous systems, according to a 2017 report from the Department of Health and Human Services' Agency for Toxic Substances and Disease Registry.
Kerosene is similar in composition to JP-5, according to the report.
The Nimitz' water contamination comes just over a year after a jet fuel leak sickened thousands of military family members at Joint Base Pearl Harbor-Hickam in Hawaii. Around 20,000 gallons of petroleum product leaked into a nearby well that supplies water to 40,000 service members and their families.
Families exposed to the contaminated water, either through consumption or bathing, reported a range of maladies with known links to toxic exposure, including severe nausea and gastrointestinal complications, skin rashes and memory loss.
---
---
---
---