Army National Guard launches free child care for soldiers during drill weekends
By
Stars and Stripes
September 9, 2022
---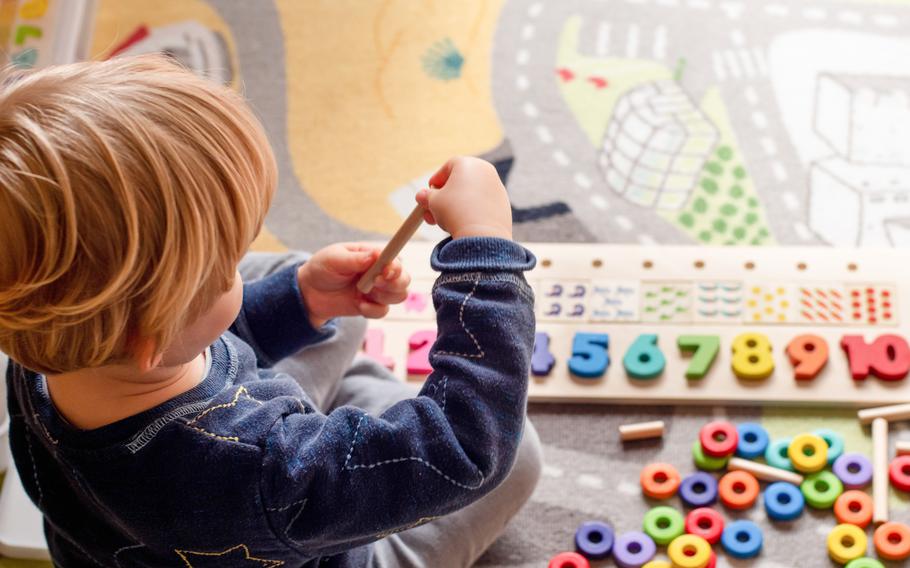 The National Guard Bureau launched a $3.6 million pilot program this month that provides free child care to eligible Guard soldiers in six states during drill weekends to help retain single parents in the service.
"It's a challenge," Maj. Gen. Eric Little, the Guard's director of manpower and personnel, said Friday during a call with reporters. "This has been a constant concern for the families over the last several years."
The bureau chose to test the program in six states — Massachusetts, New Hampshire, New Mexico, Ohio, Virginia and Washington — that already have a statewide licensing program to ensure that safety requirements are met. The nonprofit organization Childcare Aware of America, which already contracts with the Defense Department for community-based child care, will oversee the program and offer space in traditional and in-home day cares, Little said.
The idea for the pilot came from service-wide surveys that have continually shown that finding child care during drill weekends is a barrier for many parents who would like to remain in the National Guard, Little said. Parents using the new program have no out-of-pocket costs for the child care and all funding is coming from appropriated federal dollars, not state funding, he said.
About 35% of Army National Guard troops, or roughly 118,000 soldiers, have children and about 9% are single parents. They account for 36,000 children younger than age 12, according to the bureau.
To use the free child care, soldiers must be in good standing with their unit and affirm that no other adult within the household is available to provide care. Children going to care must be registered with the military as a dependent and be between 6 weeks and 12 years old.
"We expect that during September drills soldiers will largely get educated about the existence of the pilot, and the process by which they can apply from their commanders," said Nadine Moore, family readiness branch chief for the bureau.
As word spreads, she anticipates application packets will increase.
The bureau will review how soldiers are using the program in six months and determine whether they should expand to other states.
"We're hoping this program is successful," Little said. "We're hoping to learn a lot from this pilot. We do think it's important that we can at least offer this because families are a stressor if you don't know your family's good while you're away."
To learn more about program eligibility, go to https://www.childcareaware.org/fee-assistancerespite/military-families/army/arngwdcc/.
---
---
---
---