National Defense Service Medal will go back on the shelf in January
By
Stars and Stripes
September 9, 2022
---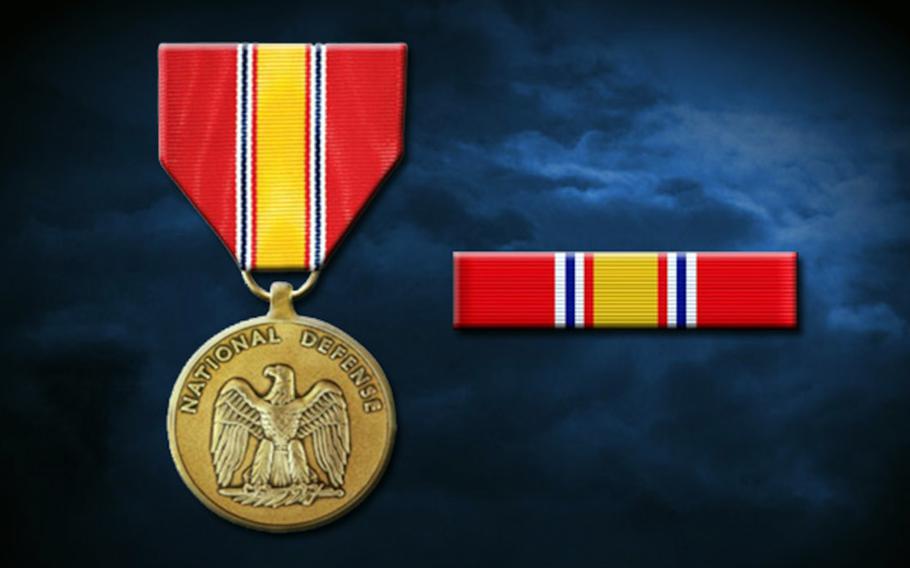 The National Defense Service Medal, most recently available to service members to signify duty during the war on terrorism, is heading once again for retirement.
Defense Secretary Lloyd Austin signed a memo terminating eligibility for the National Defense Service Medal on Aug. 30, the first anniversary of the last U.S. troops leaving Afghanistan.
The U.S. is no longer conducting large-scale combat operations rooted in the response to the 9/11 terror attacks on New York City, in Pennsylvania and at the Pentagon, according to the memo.
Any active-duty member was eligible for the award if they served in the conflict between Sept. 11, 2001, and Dec. 31, according to federal regulations.
The medal's history starts in April 1953, when it was authorized for service members who saw duty from June 1950 to July 1954, the Korean War era. It was revived for the Vietnam era from 1961 to 1974, and Operations Desert Shield and Desert Storm in the early 1990s.
Its retirement may signal an end to the war on terrorism, but the Pentagon chief spokesman declined to frame it as such when asked at a briefing Sept. 6.
"Well, certainly, we want to recognize those who have supported and engaged in this operation," said Air Force Brig. Gen. Pat Ryder. "Certainly, over the last 20 years, a lot of men and women in the U.S. military have worked very hard to counter terrorism…"
The war on terrorism was the longest period for which service members were eligible for the medal.
---
---
---
---