Trump tells Pa. broadcaster if he becomes president he'll pardon Jan. 6 rioters
By
Tribune-Review, Greensburg, Pa.
September 2, 2022
---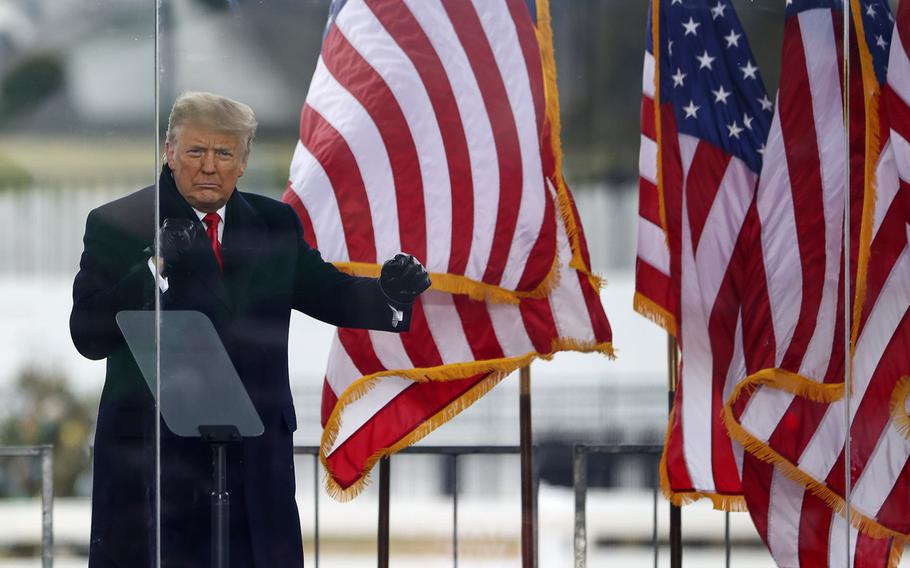 (Tribune News Service) — Pittsburgh broadcaster Wendy Bell spoke with former President Donald Trump on Thursday. He told her — if he becomes president again — he would issue full pardons and an apology to rioters involved in the Jan. 6, 2021, riot at the U.S. Capitol.
"We'll be looking very, very seriously at full pardons because we can't let that happen," Trump told Bell. "And I mean full pardons. To many, an apology. They've been so badly treated."
During the interview, Trump continued to state that he won the election.
"The election was a disgrace," Trump said. "We won the election by a lot. You understand it. Everybody understands it, except people who don't want to say it, especially Democrats. They cheated, and it was a horrible thing. We ran the election like a third-world country."
Trump also said that he is now financially supporting some of the Jan. 6 defendants.
"I met with and I'm financially supporting people that are incredible," Trump said, suggesting that those involved with the riots are mostly firemen, policemen and military members. "They were in my office two days ago. It's very much on my mind." Trump did not elaborate on how exactly he is financially supporting them.
According to The Washington Post, about 370 rioters have pleaded guilty to federal charges or been convicted, and more than 220 have been sentenced. More than 800 defendants have been arrested and federally charged from nearly all 50 states and the District of Columbia.
That includes Robert Morss, a former Shaler substitute teacher who was accused of attacking a police line during the riot. Morss, 29, of Glenshaw was convicted by a federal judge last month for felony charges. He was charged in a case involving eight other defendants.
Morss and Geoffrey William Sills, 31, of Mechanicsville, Va., were found guilty of assaulting, resisting or impeding officers with a dangerous weapons and of robbery.
"We're working on it very hard, we're working with legal," Trump said. "You know this radical left system, these people are sick, there's something wrong with them. Nobody's ever seen anything like it. ... They're the most coldhearted people. They don't care about families, they don't care about anything."
On Jan. 6, 2021, supporters of the former president stormed the Capitol armed with flagpoles, baseball bats, stun guns, bear spray and pepper spray in an attempt to stop Congress from confirming President Joe Biden's electoral college win in the 2020 election. Congressional members, including former Vice President Mike Pence, were forced to flee the building.
The riot left four people dead and about 140 members of law enforcement injured, The Washington Post reported. An officer, Brian D. Sicknick, who had been sprayed with a powerful chemical irritant, suffered a stroke and died the next day.
Trump was later impeached by the House for inciting the riot.
The incident is now being investigated by a House panel, which has brought in witnesses to testify over Trump's actions that day as well as others with knowledge of events leading up to Jan. 6.
Pennsylvania's Republican nominee for governor, Doug Mastriano, last month cut short a closed-door interview with the panel without answering questions from committee members. He is now suing the congressional committee, contesting its legal ability to force him to answer questions about it, The Associated Press reported.
Mastriano, a state senator and retired U.S. Army colonel, was in regular communication with Trump as he sought to stay in power despite losing the 2020 election.
(c)2022 Tribune-Review (Greensburg, Pa.)
Visit Tribune-Review at www.triblive.com
Distributed by Tribune Content Agency, LLC.
---
---
---
---