Age to buy AR-15s can't be raised from 18 to 21, Texas Gov. Greg Abbott says
By
The Dallas Morning News
September 1, 2022
---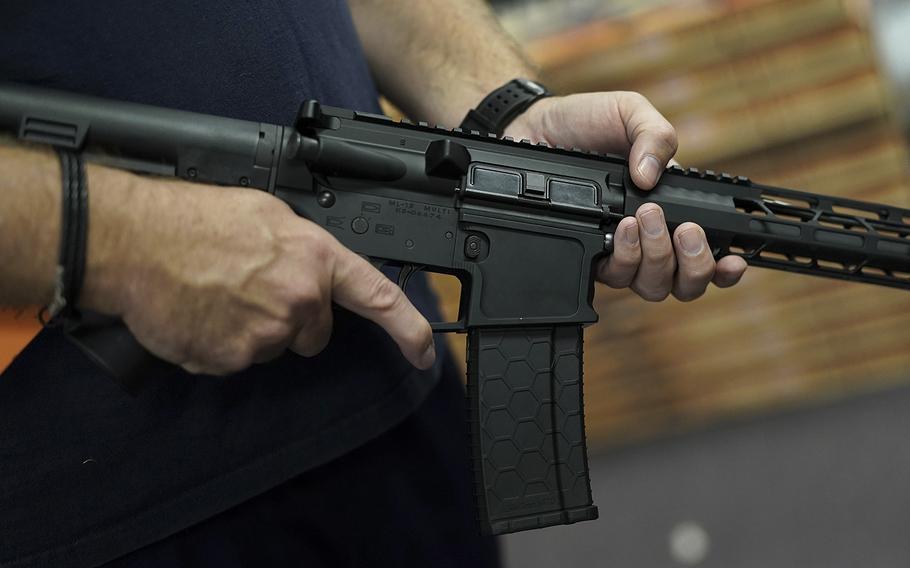 ALLEN, Texas (Tribune News Service) — Gov. Greg Abbott said Wednesday that a Texas law raising the age to buy assault-style weapons would be unconstitutional.
"There have been three court rulings since May that have made it clear that it is unconstitutional to ban someone between the ages of 18 and 21 from being able to buy (AR-15s)," Abbott said.
One of those decisions came last week, when a federal judge in Fort Worth struck down a Texas law that limited adults under 21 from carrying handguns, on the grounds that the Second Amendment doesn't specify an age.
Gun control advocates have been urging Abbott to take action to curb mass shootings since an 18-year-old gunman killed 19 students and two teachers at Robb Elementary School in Uvalde. The gunman bought two AR-15-style assault rifles days after his 18th birthday. Since that May 24 shooting, Abbott has not embraced major gun control measures, even though polls show most Texans want such action.
Results from a Dallas Morning News-University of Texas at Tyler poll, which surveyed 1,384 registered voters across the state Aug. 1-7, indicate that 75% of Texans would support raising the minimum age to buy an assault-style rifle to 21.
"It's clear that the gun control law that they are seeking in Uvalde, as much as they want it, has been ruled unconstitutional," Abbott said.
State Sen. Roland Gutierrez, a lawyer and San Antonio Democrat whose district includes Uvalde, said the legal cases Abbott cites are "completely factually distinguishable from the Supreme Court decision. He added that the Texas case would be overturned.
"He doesn't have the fortitude and the political will to do what's right," Gutierrez said. "He lied to these families to their faces."
Several states, including Florida, have banned residents under 21 from buying assault weapons. Abbott said those laws are susceptible to legal challenges.
Chris Evans, a spokesperson for the Democratic nominee for governor, Beto O'Rourke, said Abbott was failing to protect Texans "as gun violence has become the leading cause of death among children and teens in Texas."
"The families who had their children taken from them in Uvalde have led the call for this state to raise the minimum age for purchasing an assault weapon to 21," Evans said. "An overwhelming 75% of Texas voters — including 72% of Republicans — agree with this popular, bipartisan and commonsense response."
Since 2017, there have been five mass shootings in Texas in which at least 20 people combined were killed or injured.
Last week, U.S. District Judge Mark Pittman in Fort Worth said the Texas restriction on "law-abiding 18-to-20-year-olds" is inconsistent with the Constitution because the Second Amendment itself does not state an age restriction, and minors were part of state militias that existed in the formative years of American history.
The decision follows a landmark Supreme Court ruling in June that is expected to lead to states allowing more people to legally carry guns on the streets of the nation's largest cities.
The Supreme Court has ordered lower courts to reexamine several other cases, including laws in California and New Jersey that limit the amount of ammunition a gun magazine can hold and a 2013 ban on "assault weapons" in Maryland. Gun rights groups are also challenging similar bans in California, New York, New Jersey and Delaware.
State Rep. Chris Turner, a Grand Prairie Democrat and chairman House Democratic Caucus, said Abbott is "unwilling to unable to show the leadership necessary to get a bipartisan effort" to raise the age to buy assault-style weapons. He pointed out that several other states have such bans.
"The governor is making a weak excuse for why he refuses to take action," Turner said, adding that Abbott and state Attorney General Ken Paxton have fought against the Affordable Care Act, which the Supreme Court ruled constitutional.
"This is not a governor that concerns himself on what's constitutional or not," Turner said.
Abbott made his comments on gun control during a news conference in Allen, where he joined volunteers to knock on the 2 millionth door of his campaign.
Maggie Pitka, a retired administrative assistant who lives in Allen, answered the door, telling Abbott he had her vote.
"He didn't have to come all the way out here for that," she said afterward.
Abbott also signed a compact at a Republican club in Fairview to protect Texas senior residents.
©2022 The Dallas Morning News.
Visit dallasnews.com.
Distributed by Tribune Content Agency, LLC.
---
---
---
---