Eastern KY flood relief bill could be $277 million. Area legislators hope it's just first step.
By
Lexington Herald-Leader
August 24, 2022
---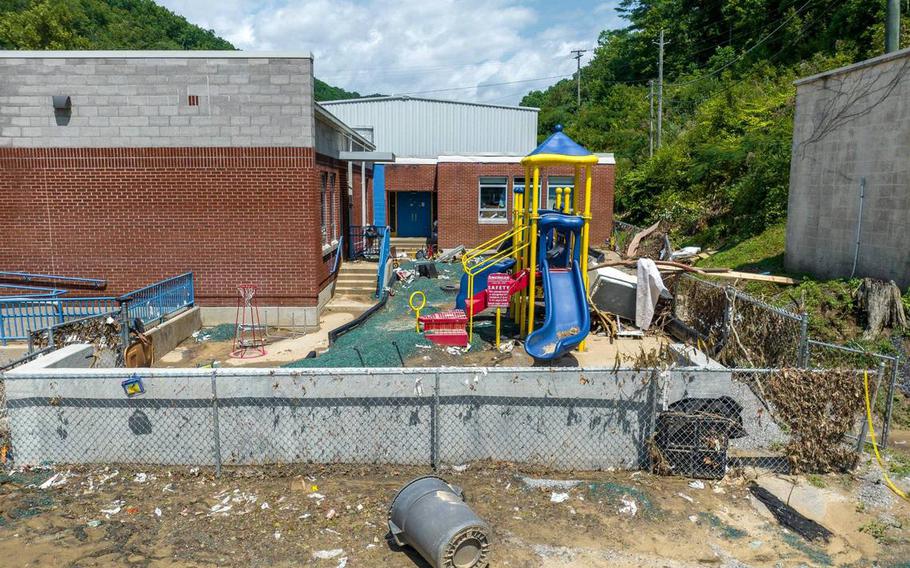 (Tribune News Service) — Eastern Kentucky will get a first glimpse on Wednesday at a state aid package aimed at helping the region recover from recent deadly and devastating flooding.
The legislature meets for a special session starting Wednesday and is largely expected to pass a single bill appropriating money to impacted counties in Eastern Kentucky by Friday.
What will the package include?
A copy of the draft bill, which has not been publicly posted, indicates that the legislature could appropriate nearly $277 million to aid relief efforts in Eastern Kentucky. Because the actual bill has not been posted yet, the details are subject to change before initial posting and final passage.
Topics addressed include schools, local government funding, infrastructure, housing, and more.
What could be in the bill?
The copy of the bill states that a $200 million fund will be established, similar to one in Western Kentucky created in the wake of devastating Dec. 2021 tornadoes. Entities eligible for assistance from that fund include local governments, nonprofit or public utility providers, state agencies, school districts and some qualified lenders. They must have disaster-related needs and must be located in the 18 counties designated by FEMA.
The $200 million will come from the Budget Reserve Trust Fund (BRTF), also known as the Rainy Day Fund. That reserve recently grew to a record $2.7 billion because of back-to-back historic surpluses.
$125 million will go to the Military Affairs budget unit to be used by the state Division of Emergency Management and disbursed to the above eligible entities.
$75 million of that fund is earmarked for schools. Eligible expenses include, but aren't limited to, school repairs and rebuilding and additional transportation costs due to student displacement.
A list of information about disbursements from the fund will be submitted by the state budget director and the Kentucky Department of Education (KDE) to the Appropriations & Revenue Committee each month.
An additional $45 million will be allocated from the BRTF to help state road and bridge repair projects in the region, according to the copy of the bill.
Water and sewer systems, many of which were damaged in the floods, would get an appropriation of $16,836,900 from the State Fiscal Recovery Fund of the American Rescue Plan Act, which was passed by Congress last year.
$15 million from the BRTF will also go to the Affordable Housing Trust Fund for use in the affected areas.
The legislation also moves $25 million from the West Kentucky State Aid Funding for Emergencies (SAFE) Fund to a new Kentucky Risk Assistance Fund, which could cover some costs incurred from both the tornadoes and the flooding.
In the version of the bill obtained by the Herald-Leader, a section is carved out for private bridges, but no text had been added.
What are the needs moving forward?
Top of mind for Breathitt County Judge-Executive Jeff Noble is where displaced residents will live. 460 homes in the county are destroyed or unable to be rebuilt, he said, and the number could easily grow.
"It's gonna have to be housing, housing, housing," Noble said of the needs in Breathitt County.
He's afraid that if the government or private investment doesn't step in and provide for folks without a home, the county is "going to lose some people."
Roads, sewer and water, and bridges are also a primary concern for Noble. About 75% of the county that had water previously now has it back online, but the other 25% may be "a long time coming," he said, estimating six months to a year to get water service back to where it was.
Rep. Angie Hatton, D- Whitesburg, said that Letcher County Judge-Executive Terry Adams has estimated that two-thirds of county roads were either damaged or destroyed.
Four schools in the county were heavily damaged, she said, and two libraries were wrecked in the flooding.
Hatton said that she's thinking about the appropriation as money that will get the region through the next four months until the regular session of the General Assembly convenes.
"We're supposed to just appropriate enough money to get us through till January. And a lot of the city and county governments are gonna need to be propped up," Hatton said. "They've spent everything they have just trying to get bridges, roads, and water and sewer systems back up."
Rep. John Blanton, R- Salyersville, represents Knott County, which saw the highest number of fatalities in the flood. He struck a similar tone to Hatton when asked if whatever is appropriated in the special session would be all.
"I don't anticipate what we pass being the final, end-all 'this is it.' We're still in a phase of cleaning up, digging up mud and debris. And we still don't know a true cost estimate on all this, so there will have to be further discussions that will take place," Blanton said.
Blanton mentioned a couple different issues he would look at addressing in the next regular session: figuring out what's next for school districts that have lost school sites and looking at ways to provide individual assistance to people affected by the floods who didn't have flood insurance.
Hatton added that she's heard estimates that just 2.5% of people in the area had flood insurance. She added that she's interested in pursuing legislation that might encourage housing built in the region that's more flood-proof and further away from creek banks.
Though all parties have said communications around the special session have been positive, Hatton said she wouldn't be surprised to see Democrats, eager to hold onto the governorship, and Republicans engage in a debate about how to best serve Eastern Kentucky come January.
"As for next session, I would be shocked if it wasn't very contentious because it's a gubernatorial election year… I hope they just compete with each other to see who can do more for Eastern Kentucky every day," Hatton said.
©2022 Lexington Herald-Leader.
Visit kentucky.com.
Distributed by Tribune Content Agency, LLC.
---
---
---
---