Ski and sports shops see impact of Russia-Ukraine war on equipment supplies
By
The Sacramento Bee
August 18, 2022
---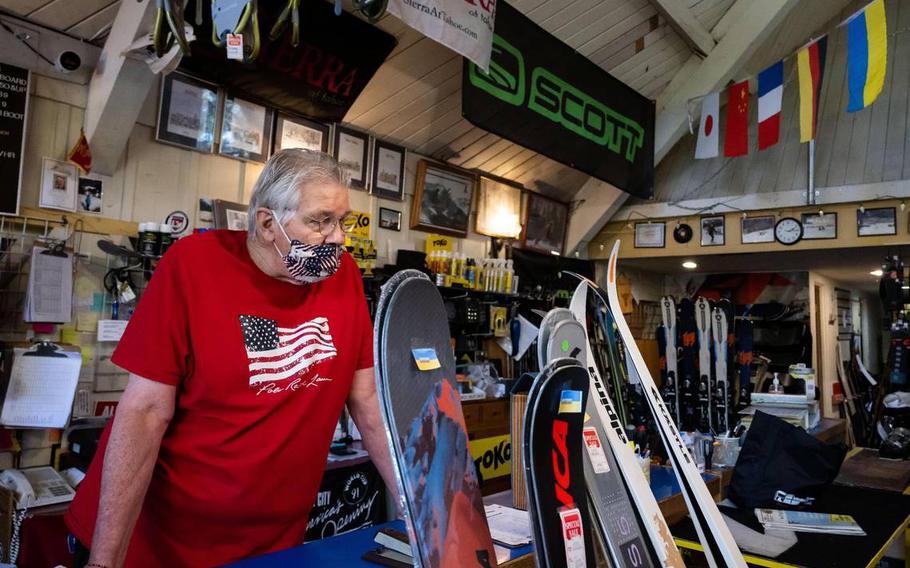 (Tribune News Service) — After a year of late shipments and no-shows during the early pandemic, Bill Proffit, owner of Land Park Ski & Sports in Sacramento, called suppliers to see if their ski equipment from besieged Ukraine would arrive on time.
Luckily, suppliers assured him they would, and the boxes arrived shortly after, in early August, just as expected.
Although the ski shop's first round of equipment made it, putting in a new order will be difficult. Besides wheat and grain, Ukraine is one of the biggest producers of winter sports equipment in Europe, producing hundreds of thousands of skis and snowboards each year. Certain brands may be hard to come by this snow season as disruptions in ski production from the Russia- Ukraine war could rupture the supply chain.
"We wound up not getting in any of our cross-country equipment from Alpina," Proffit said, referring to a brand of skis. "We re-ordered for this year, and they're already sold out."
Ukraine manufactures 60% of products for Fischer Sports, a major sports equipment company, as well as many other brands' skis and snowboards. The 50-acre Fischer factory in Mukachevo produces up to 60% of all skis and boards sold in Europe each year, according to BNE Intellinews.
A majority of the equipment sold at Land Park Ski & Sports is imported from Europe.
"It's a dilemma that our industry has faced. Some of it's a knee-jerk reaction to the war," Proffit added.
Impact of Russia-Ukraine war on factories
When Russia invaded Ukraine in late February, the Fischer factory shut down for nearly a month and a half before re-opening. Out of about 500 factory workers, only a small percentage left to join the war, according to Brian Landrigan, Fischer's director of marketing for the U.S.
Since Russia has focused its war efforts on Ukraine's east, most factories near the western border were able to resume production. However, winter sport manufacturer Rossignol's factory, which is near a military base outside Lviv, remains closed indefinitely. The factory was the target of a Russian missile strike in March and though left unscathed, some infrastructure and utilities surrounding it were destroyed.
Besides Fischer, brands like Technica and Amer Sports, which owns Salomon and Atomic, also have ski and board factories in Ukraine.
Reese Brown, executive director of the Cross Country Ski Association, spoke with main suppliers in the U.S. and they told him that they feel confident about what they ordered for the upcoming year and that the inventory should come in on time.
Brown said that the war slowed down getting products out of Ukraine. Fortunately, about 95% of Rossingol's equipment was already in the U.S. warehouses by the time the war began.
Most items have been sold out, however, in terms of preorders. Manufactures have put an informal cap on how much product retailers can order this year. In other words, retailers can't double or triple their orders to offset potential supply issues in the future.
Still, Brown recommends retailers to order early and to not wait too long as they may not be able to get the items they need later.
Ukrainian supply chain primed by pandemic demand
The COVID-19 pandemic caused major supply chain issues. Many items came in late, in the middle of December rather than August, or never arrived at all.
Ironically, the only skis Proffit was able to get in last year were Blizzard skis made in Ukraine.
Despite this, the shop had one of its biggest sale years in 2020 since more people began doing outdoor activities during the pandemic lockdown.
Brown said this created an issue in the supply chain because the industry had been stagnant for the past 10 to 15 years just to be met with a huge spike in demand. As a result, retailers were more prepared this year.
"This year, you still may not be able to get exactly what you're looking for, but you're likely to be able to get something, whereas two years ago you were likely not going to be able to get anything if you waited too long," Brown said.
He added that although the war in Ukraine does have some effect on the supply chain issue, the industry was already dealing with this during the pandemic when production time was lost due to shutdowns.
Although Proffit normally places orders in March or April, he ordered the first round of inventory before the first of February. Russia launched the invasion on Ukraine on Feb. 24. He believes that the reason retailers were given the fortuitous recommendation to order earlier this year was to avoid potential delays related to the pandemic. Also, typically, the earlier you order, the more of a discount you receive, Proffit said.
Earlier disruption to Ukrainian ski manufacturing
This isn't the first time Ukraine's ski factories have experienced hurdles.
In October 2020, a fire nearly burned half of the Fischer factory in Ukraine. After the fire, Fischer moved some of its production to a factory at the company's headquarters in Austria. The Ukrainian factory was out of commission for a few months following the disaster, according to Brown.
He added that when the factory was rebuilt, they brought in more technical machines, meaning that the workers that Fischer ended up losing to the war were well-trained employees.
Tom Gwinn, an employee at Land Park Ski & Sports shop, recalled that the fire had a big impact on shipments.
Rise in price of winter sports equipment
Proffit also noticed that ski prices have gone up about 10% this year across the board, not just Ukrainian products. He said he generally follows the pricing guidelines sent from manufacturers.
He noted that the Ukrainian-produced equipment is one of the most popular items in his shop since they cost less than other brands made in Italy or Germany.
Gwinn had someone get a Ukrainian flag to hang outside the door. He also stuck several "Support Ukraine" stickers on the Ukrainian skis.
The shop has proven that it can weather upheaval in the industry. The 43-year-old shop, which closes for the summer and reopens in August as it specializes in winter sports, has remained in operation while dozens of sports equipment shops in the area have closed.
"We never know what we're really facing," Gwinn said.
©2022 The Sacramento Bee.
Visit sacbee.com.
Distributed by Tribune Content Agency, LLC.
---
---
---
---