Massachusetts National Guard chopper dumps water on Gloucester fire
By
Gloucester Daily Times
August 4, 2022
---
GLOUCESTER, Mass. (Tribune News Service) — A Massachusetts Army National Guard Black Hawk helicopter Wednesday looped over Gloucester dumping 600-gallon buckets of water scooped from the Babson Reservoir onto the stubborn Poles Hill brush fire which, along with controlled "burn outs," has charred almost 20 acres, the seaport's fire chief said.
The brush fire flared up again overnight Tuesday into Wednesday. Since Monday, firefighters have been battling a brush fire on half of Poles Hill, a 60-acre conservation area on Wheeler's Point bisected by the fire road portion of Sunset Hill Road.
Just after 3:15 p.m. Wednesday, onlookers, Gloucester Fire Department and Massachusetts Forest Fire Control firefighters were greeted with the sight of the massive helicopter touching down in a landing zone on the field at O'Maley Innovation Middle School on Cherry Street. Within minutes the crew unloaded a red Bambi Bucket and took off for the reservoir about a half mile away.
The helicopter then circled back flying over the middle school's parking lot heading to Poles Hill where it dumped its load and then circled back for another scoop. Firefighters who had been battling the brush fire had been pulled out of the woods and looked on from the middle school's parking lot.
"Part of today is to get up there and just make mud," Fire Chief Eric Smith said of the water drops. "They were supposed to be training with this thing and the state fire warden is aware of what their operations are and when they are and his first thought was, 'No, no, no. Instead of spending that fuel just to train, let's actually have you train on a real target.'"
Around the time the helicopter arrived, the city announced that the Fire Department and state Forestry Services would be "conducting aerial water drops via helicopter in the area."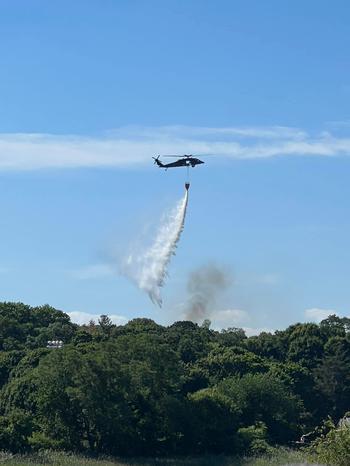 The city asked people to avoid the area and not to fly drones under any circumstances as the water drops were scheduled to take place for three hours. There would be limited road closures and access in the area.
"These air drops will result in additional smoke in the surrounding neighborhood. Gloucester Fire Department will be monitoring the situation to ensure the safety of the area," the city announced. Around 6 p.m., the city posted an update that read the Fire Department was "assessing the work of the aerial drop thus far. We expect an additional 2 hours of activity tonight. Thank you for your continued cooperation."
Assistant Fire Chief Robert Rivas said before the Black Hawk arrived that he goal was to drop water to form a C-shaped curtain between the homes on Ferry Street, Washington Street and Riverview Road and the foliage.
Smith said police assisted some residents to get out of their house when there were flare-ups Tuesday to Wednesday, but he said the Fire Department had not evacuated any homes.
"We haven't seen the need to do that yet," Smith said. "Our time is spent just putting fires out and they are not huge fires. They are impressive because they are outdoors and they are free burning and they get big and they get ugly quickly and sometimes they will move through whatever fuel that they were in and they hit kind of dry patch or a dead patch or a burnt-out area, and then they are done."
Rivas also said the Fire Department did not evacuate any homes but he said police may have when residents got nervous with the fire coming down the hill.
"There was another today that came down the hill," Rivas said. "Might be another one tomorrow."
(c)2022 the Gloucester Daily Times (Gloucester, Mass.)
Visit at www.gloucestertimes.com
Distributed by Tribune Content Agency, LLC.
---
---
---
---