Report recommends testing for those exposed to 'forever chemicals' often found at military sites
By
Stars and Stripes
July 29, 2022
---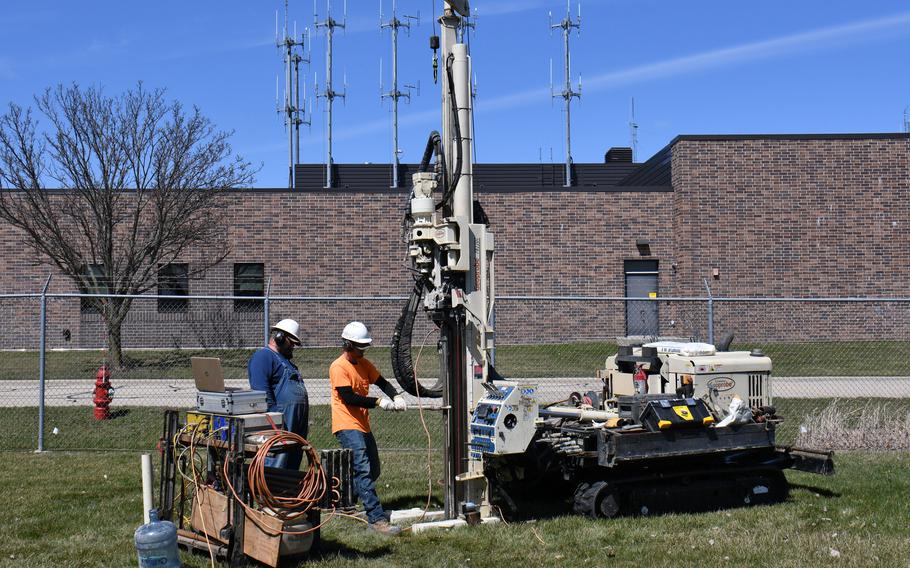 Individuals living near sites contaminated by manufacturing chemicals known as PFAS should be regularly tested, the National Academies of Sciences, Engineering and Medicine recommended in a report released Thursday.
PFAS, or perfluoroalkyl and polyfluoroalkyl substances, are a class of chemicals that have been widely used in manufacturing processes since the 1950s. They have been used in thousands of products to aid in repelling water or oil and to reduce friction.
PFAS do not break down into their harmless elements over time after escaping from the original product. They have earned the moniker "forever chemicals" because they "persist in the human body and the environment," the report said.
Roughly 2,854 locations in the United States are contaminated to some degree by PFAS, and about a quarter of those sites are linked to military installations, according to the 300-page report, which was commissioned by the Centers for Disease Control and Prevention.
The National Academies study cites data collected by the Environmental Working Group that found 678 U.S. military sites are contaminated by PFAS to varying degrees.
The Environmental Working Group, a nonprofit advocacy group that promotes the use of fewer chemicals in agriculture, said in a 2020 report that tap water or groundwater at 328 military installations showed the presence of PFAS, based on records it obtained through the Freedom of Information Act.
"Although not all of the contamination represents exceedances of health advisories, the pervasiveness of the contamination is alarming," the National Academies report said. "Furthermore, almost 100 percent of the U.S. population is exposed to at least one PFAS."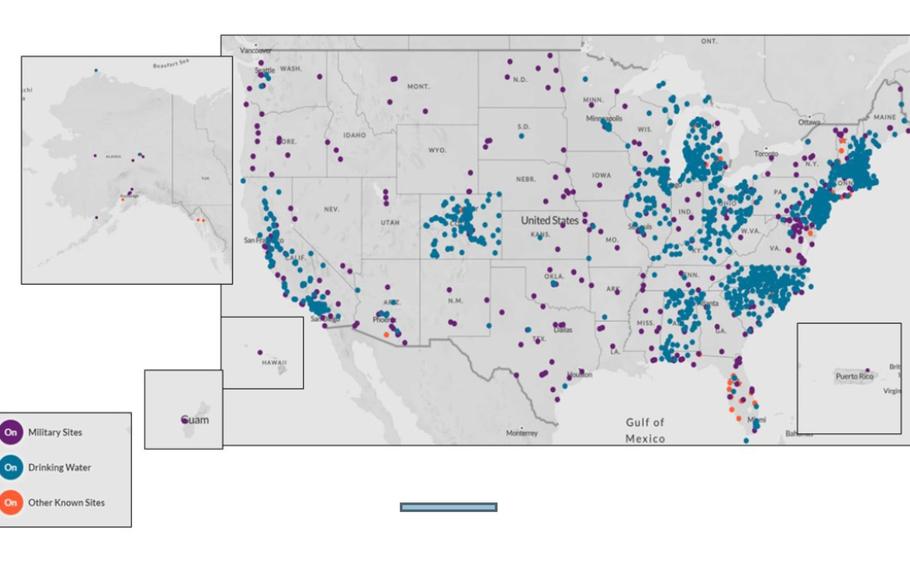 The health risks posed by PFAS are not entirely understood, but the National Academies report concluded there is sufficient evidence that four diseases or conditions were associated with PFAS exposure.
They were decreased antibody response in children and adults, a cholesterol imbalance called dyslipidemia found in children and adults, decreased growth in fetuses and infants and increased risk of kidney cancer in adults.
There is limited but "suggestive" evidence that the chemicals are linked to increased risk of breast cancer, pregnancy-induced hypertension, testicular cancer and an inflammatory bowel disease.
The report recommends that doctors offer testing to patients likely to have a history of elevated exposure to PFAS, which would seem to include a large swath of the population.
Among them are those who have had occupational exposure, such as individuals who worked with fluorochemicals and firefighters.
Also, at elevated risk of exposure are those who have lived near "facilities that use or have used fluorochemicals, commercial airports, military bases, wastewater treatment plants, farms where sewage sludge may have been used, or landfills or incinerators that have received PFAS-containing waste," the report said.
The report includes input collected from citizens around the U.S. during a series of town hall meetings, some of whom have been grappling with PFAS contamination from military bases.
Cathy Wusterbarth co-founded Need Our Water, a community group in Oscoda, Mich., in response to contamination left by the nearby former Wurtsmith Air Force Base.
The area's groundwater was contaminated by PFAS found in firefighting foam used at the air base. Aqueous film forming foam, or AFFF, accounts for much of the PFAS contamination found at military installations.
Wusterbarth said during the town hall that improved access to PFAS blood testing was crucial to understanding the links between exposure and poor health outcomes as experienced by many living in Oscoda.
"We've tested the fish. We've tested the deer. We've tested the groundwater, the waterways and the foam," Wusterbarth said at the town hall. "When are we going to test the people?"
---
---
---
---