Judge in Bannon's trial wants to hear more on dismissal request — even after conviction
By
Bloomberg News 
July 28, 2022
---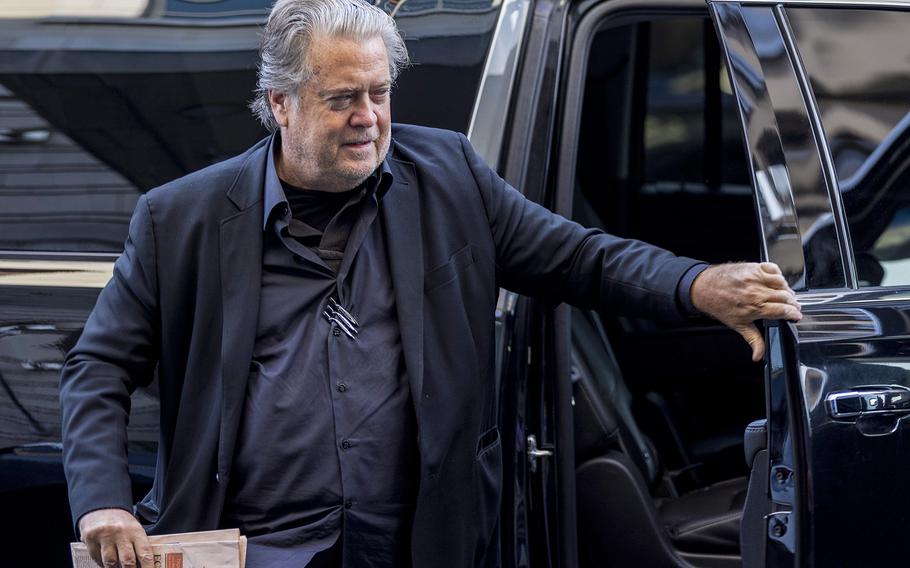 WASHINGTON (Tribune News Service) — The judge who presided over Steve Bannon's criminal contempt trial asked defense lawyers for further arguments on an earlier request to dismiss the case, even after their client's conviction.
The order, issued Wednesday, came after a federal jury in Washington on July 22 found the longtime Donald Trump adviser guilty of two counts of contempt of Congress. The charges were based on Bannon's defiance of a subpoena from the congressional committee investigating the Jan. 6 attack on the Capitol.
U.S. District Judge Carl Nichols directed Bannon to file a brief in support of his dismissal request by Aug. 5 and said prosecutors may respond to it by Aug. 12.
Even as the the trial was underway, Bannon's lawyers sought to dismiss the case after Nichols quashed its attempt to subpoena senior members of the House committee probing the January 2021 assault, including Speaker Nancy Pelosi. They argued that the ruling infringed on his constitutional rights to put on a defense.
Nichols held that most of the testimony Bannon would have sought, such as the motivations or personal views of committee members, was barred by the "speech and debate" clause of the U.S. Constitution, which prohibits questioning of members of Congress in court.
The defense team's motion to dismiss the case raised "very serious issues directly related to the defendant's Fifth and Sixth Amendment rights," David Schoen, a lawyer for Bannon, said in an email.
Bill Miller, a spokesman for the U.S. attorney's office in Washington, declined to comment on Wednesday's order.
The order's impact on the outcome of the case wasn't immediately clear.
Separately, Nichols denied Bannon's motion for a judgment of acquittal, because "the evidence presented in the government's case was sufficient to sustain a conviction."
The case is US v. Bannon, 21-cr-00670, US District Court, District of Columbia (Washington).
___
©2022 Bloomberg L.P.
Visit bloomberg.com.
Distributed by Tribune Content Agency, LLC.
---
---
---
---