Texas Guard soldier died Thursday while deployed to US-Mexico border
By
Stars and Stripes
July 15, 2022
---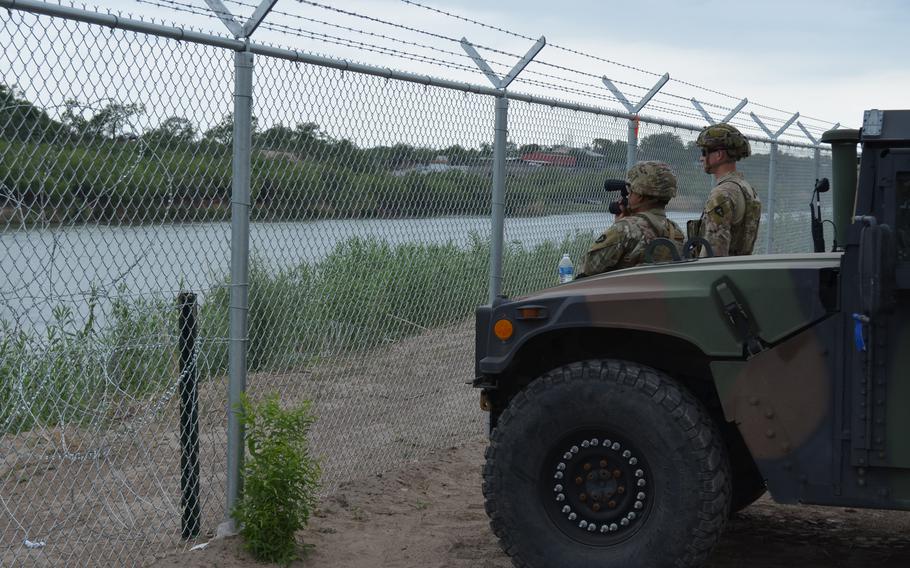 AUSTIN, Texas – A Texas Army National Guard soldier assigned to a state-sponsored mission at the border with Mexico died Thursday in an incident not related to the deployment, state military officials said.
The soldier's death is under investigation and the name of the deceased is being withheld until 24 hours after next-of-kin notification.
Officials for the Texas Military Department did not respond to questions about where the death occurred or the circumstances. They also did not say what agency is investigating the soldier's death.
Nearly 6,000 troops are deployed on the state mission known as Operation Lone Star, Maj. Gen. Thomas Suelzer, commander of the Texas National Guard, told state lawmakers this week. The mission is under the command of Gov. Greg Abbott and began in March 2021. At its peak earlier this year, 10,000 troops were assigned to the mission.
The troops work alongside state police to patrol the border for illegal activity such as trespassing, drug smuggling or human trafficking. Troops are also building fences along the border.
The Texas National Guard has confirmed the deaths of two other soldiers this year – one was related to the mission and the other was not.
Spc. Dajuan Lester Townes, 19, died in February in the town of Brackettville after being accidentally shot with a personally owned firearm.
Sgt. Bishop Evans, 22, died in April while on duty along the Rio Grande in the city of Eagle Pass. The soldier jumped into the river to rescue a migrant who was struggling to swim and he was swept away too. Guard officials later confirmed Evans did not have access to water safety equipment or a flotation device because it was on back order.
---
---
---
---