Kansas farmer drove around with potentially explosive WWII round in trunk for months
By
The Wichita Eagle
July 13, 2022
---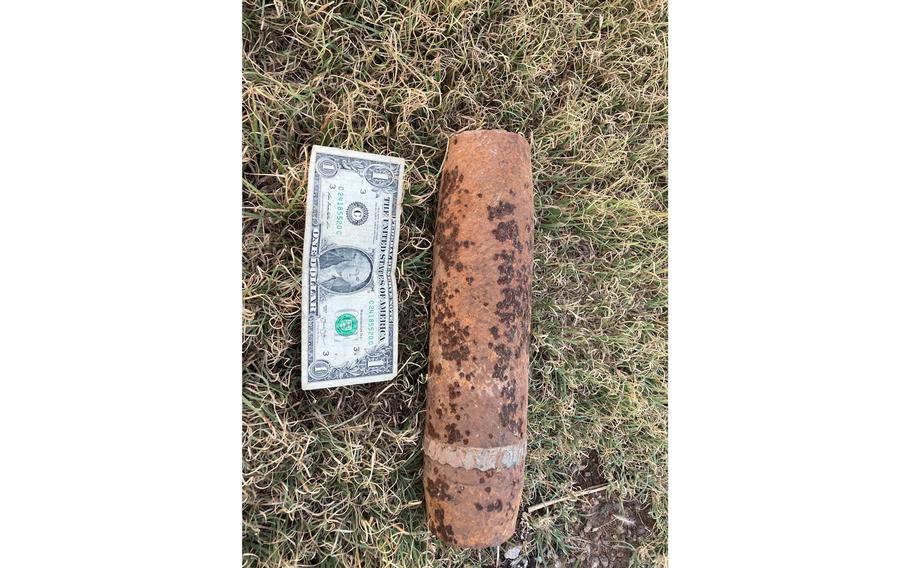 (Tribune News Service) — Some Kansas farmers haying last year found a potentially explosive World War II shell, and one rode around with it in their truck for months, Barton County Sheriff Brian Bellendir said Wednesday.
The farmer had forgotten about the round until Monday, when they called their brother-in-law who told them to call 911.
"Which is good advice," Bellendir said.
Officers went to the home near Great Bend and found the 75 mm round, which used to be fired from a WWII-era M20 recoilless rifle. The large rounds were loaded from the rear of the gun. The gun sat on a tripod. The rifle could use different rounds, including explosive ones.
The round that was found had no fuse, but it was filled with a substance that could be an explosive charge. The round appeared to be sealed.
Bellendir said the round appears to have been fired.
The round had been brought to the sheriff's office gun range, where a member of the Wichita Police Department bomb squad picked it up Tuesday. The round is still being examined to find out what it contained.
Local historians told Bellendir the round likely came from training at the former Great Bend Army Air Field, now the Great Bend Municipal Airport. The base was used for training during World War II and closed in 1946.
Bellendir said it wasn't uncommon in the 1950s, '60s, and '70s to find rounds and explosives in that area, but it's become rarer lately. He said a grenade shell was found five years ago, and before that it had been about 15 years.
"I suspect there are many more laying around that area," he said. "Hard telling if they will ever be found."
He said people used to find belts of 50 caliber ammo around Cheyenne Bottoms, where pilots would drop bombs for practice. Bellendir said in the '90s he asked an elderly neighbor who had been an instructor at the base about the belts of ammo. The man told him that pilots would dump the ammo so that they didn't have to clean the machine guns on their planes.
Bellendir said sometimes in the past, explosives were also left behind by oil companies.
"If people find that stuff, call us, and we will deal with it," he said.
(c)2022 The Wichita Eagle (Wichita, Kan.)
Visit The Wichita Eagle (Wichita, Kan.) at www.kansas.com
Distributed by Tribune Content Agency, LLC.
---
---
---
---