Trump tried to call committee witness, an effort referred to Justice Department, Cheney says
By
John Wagner, Eugene Scott, Amy B Wang, Isaac Arnsdorf and Mariana Alfaro
The Washington Post
July 12, 2022
---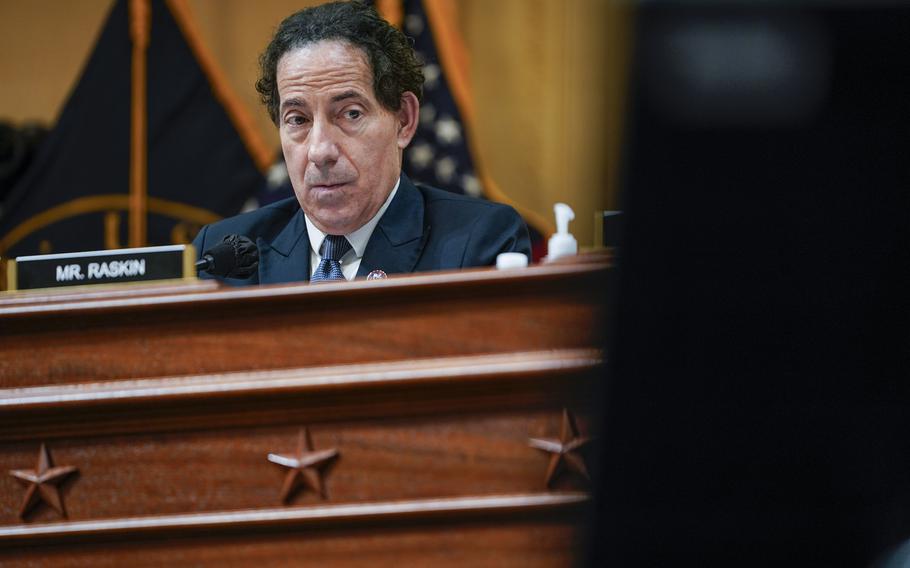 WASHINGTON — President Donald Trump recently tried to call an unnamed witness in the investigation of the House select committee probing the Jan. 6, 2021, Capitol riot — an effort that the panel has since referred to the Department of Justice, Rep. Liz Cheney, R-Wyo., its vice chairwoman, said Tuesday.
The revelation came toward the end of a hearing in which the committee zeroed in on the violent rhetoric and planning that flowed from a tweet by Trump weeks before Jan. 6 promising a "wild" protest. Rep. Jamie Raskin, D-Md., one of the panel members leading Tuesday's hearing, said what transpired was "openly homicidal."
Raskin did not mince his words about Trump as he wrapped up Tuesday's hearing.
"American carnage: That's Donald Trump's true legacy," Raskin said. "His desire to overthrow the people's election and seize the presidency interrupted the counting of electoral college votes for the first time in American history, nearly toppled the constitutional order and brutalized hundreds and hundreds of people."
"The Watergate break-in was like a Cub Scout meeting compared to this assault on our people and our institutions," the Maryland Democrat added.
Trump had vowed to end "American carnage" at his presidential inauguration in 2017.
The Founders, Raskin said, "actually warned everyone about Donald Trump. Not by name, of course, but in the course of advising about the certain process that ambitious politicians would try to mobilize violent mobs to tear down our institutions."
"A violent insurrection to overturn an election is not an abstract thing," Raskin said "As we've heard, hundreds of people were bloodied, injured and wounded in the process."
Raskin appeared to wipe away tears as he revealed that Capitol Police Officer Aquilino Gonell, who fought insurrectionists on Jan. 6, 2021, suffered injuries so critical that he will no longer be able to serve as a police officer.
Gonell, an Army veteran who has spoken to the committee about the insurrection, told the panel that nothing he saw during his time in Iraq prepared him for the Jan. 6 attack.
"He was savagely beaten, punched, pushed, kicked, shoved, stomped and sprayed with chemical irritants along with other officers by members of a mob carrying hammers, knives, batons and police shields taken by force and wielding the American flag against police officers is a dangerous weapon," Raskin said.
Now Gonell "must leave policing for good and figure out the rest of his life," Raskin said.
Stephen Ayres, who marched on the Capitol on Jan. 6, testified Tuesday that he genuinely believed the election had been stolen because of everything Trump said.
"I was very upset, as were most of his supporters. You know, that's basically what got me to come down here," Ayres said, referring to the Capitol on the day of the attack. He added that he now does "not so much" believe the election was stolen, after deleting his social media and "doing my own research" after the insurrection.
Asked whether it would have made a difference if he had known the extent to which Trump himself had been told by his advisers that the election wasn't stolen, Ayres said, "Definitely."
"Who knows? I may not have come down here then," he said.
Ayres said that when he was in Washington on the morning of Jan. 6, he originally planned to just see the "Stop the Steal" rally but had no intention of marching to the Capitol.
"The president, you know, got everybody riled up, told everybody, 'Head on down,'" he said. "So we basically just were following what he said. … I was already worked up, and so were most of the people there."
Ayres said he thought Trump would be marching to the Capitol with them. When asked what made him decide to leave the Capitol, Ayres said it was after Trump tweeted a video at 4:17 p.m. on Jan. 6 asking the crowd to leave.
"Basically, when President Trump put his tweet out, we literally left right after that," he said. "If he would have done that earlier in the day … maybe we wouldn't be in this bad of a situation."
Another Twitter post, a dead-of-night tweet by Trump on Dec. 19, 2020, followed what was described as an "unhinged" meeting in which White House lawyers and Trump allies advocating conspiracy theories about the election — including that the vote had been stolen via Nest thermostats — shouted at one another for hours.
Rep. Stephanie Murphy, D-Fla., one of the panel members leading Tuesday's hearing, said the Dec. 19 tweet "served as a call to action and, in some cases, as a call to arms for many of President Trump's most loyal supporters."
"He lied to his supporters that the election was stolen. He stoked their anger," Murphy said. "He called for them to fight for him. He directed them to the U.S. Capitol. He told them he would join them, and his supporters believed him."
"And many headed towards the Capitol," she added. "As a result, people died, people were injured. Many of his supporters' lives will never be the same."
On Dec. 18, 2020, an outside group showed up at the White House to meet with Trump to push conspiracy theories about the election and figure out ways to keep him in power. The meeting lasted more than six hours and was characterized by the Jan. 6 committee as "a heated and profane clash" between the group and White House advisers, according to testimony from six meeting participants and former White House staffers who said they could hear screaming from outside the Oval Office.
The outside group included Sidney Powell, former national security adviser Michael Flynn and former Overstock.com CEO Patrick Byrne. ("I looked at him and I said, 'Who are you?'" former White House counsel Pat Cipollone testified he asked Byrne.) The outside group pushed outlandish theories, including that Venezuela was meddling with the 2020 election and that Nest thermostats hooked up to the internet were somehow changing votes.
The group demonstrated "a general disregard for the importance of actually backing up, say, facts," Cipollone told the committee.
Throughout the meeting, the outside group accused Trump's White House advisers of lacking the courage to continue contesting the election results.
"I would categorically describe it as: You guys are not tough enough," former Trump attorney Rudy Giuliani said in taped testimony. "Or maybe I put it another way. You're a bunch of p------. Excuse the expression, but … I'm almost certain the word was used."
Jason Van Tatenhove, a former Oath Keepers spokesman who for years served as a close aide to founder Stewart Rhodes, portrayed the group as a "violent militia" that dreamed of and trained for a seminal event such as the storming of the U.S. Capitol to trigger a wider extremist revolt. He left the group years ago and didn't offer insight into Jan. 6 events, instead describing the general ideology and goals of the anti-government group.
About 140 law enforcement officers were injured during the insurrection, including members of U.S. Capitol Police and D.C. police. Rioters attacked law enforcement officers as they broke into the Capitol, set bonfires outside the building and protested efforts to officially declare Joe Biden the winner of the 2020 election.
One post on the site instructed people on how to get to lawmakers whom they viewed as threats to keep Trump in office. Discussions of the tunnels beneath the Capitol complex that could be used to find Trump critics in Congress grew more aggressive online as the former president riled up his supporters on Twitter.
During the wild, six-hour White House meeting Dec. 18, 2020, described in Tuesday's hearing, Flynn — asked repeatedly to provide evidence that the election was fraudulent — brought up smart thermostats. He made "some comment about, like, Nest thermostats being hooked up to the internet," White House lawyer Eric Herschmann recalled in recorded testimony played at the hearing.
The notion that smart thermostats somehow helped Biden win might be one of the lesser-known conspiracy theories that made the rounds after Nov. 3, 2020, but it reached into the highest levels of government. Not only was it invoked during the Dec. 18 meeting, but Justice Department official Jeffrey Clark referenced it as he tried to pressure his superiors into taking action to overtusrn the election outcome.
"If you have not seen it, white hat hackers have evidence (in the public domain) that a Dominion machine accessed the internet through a smart thermostat with a net connection trail leading back to China," Clark wrote Dec. 28, 2020, in an email released last year by the Senate Judiciary Committee.
Salty Cracker, a pro-Trump YouTube streamer, said a "red wedding" would be carried out in D.C. on Jan. 6, 2021.
A "red wedding" is, in pop culture, a reference to a massacre.
The reference comes from the "Game of Thrones" series by author George R.R. Martin, which was adapted for television by HBO. The "red wedding" in the series refers to a gruesome massacre carried out during a wedding celebration that resulted in the deaths of multiple main characters. The phrase has come to signify violence and mass murder in popular culture.
The panel used the clip to show how some of Trump's supporters interpreted his messages and actions as invitations to come to Washington and commit acts of violence against Congress and Vice President Mike Pence.
The committee played a montage of right-wing influencers such as Alex Jones and Tim Pool seizing on Trump's tweet summoning people to Washington for Jan. 6.
"One of the most historic events in American history has just taken place," Jones said in the first clip. "He is now calling on we, the people, to take action to show our numbers."
"We're going to only be saved by millions of Americans moving to Washington, occupying the entire area, if necessary, storming right into the Capitol," commentator Matt Bracken said. "If you have enough people, you can push down any kind of a fence or a wall."
"This could be Trump's last stand," Pool said in another clip. "Trump supporters need to say this is it, it's now or never."
While the Jan. 6 committee has provided shocking information from inside and around the Trump White House, it has not revealed as much about the armed groups that supported him.
Testimony on Tuesday about the role of the Oath Keepers and Proud Boys in the Capitol attack largely echoed public court filings describing how the two groups coordinated in advance and worked with Trump associate Roger Stone on the day of the riot. Messages indicating Florida Oath Keeper Kelly Meggs led those efforts were produced in court months ago.
Raskin noted that he was relying on a recent filing from prosecutors for the allegation that the Oath Keepers brought not just guns but explosives to the U.S. Capitol that day. While several members of both groups have pleaded guilty to conspiracy charges, Meggs and other leaders are planning to go to trial and have refused to cooperate with investigators.
The Washington Post's Emma Brown, Hannah Allam, Tom Jackman and Rachel Weiner contributed to this report.
---
---
---
---