Former Army doctor offers free abortions at his clinic for enlisted women
By
Stars and Stripes
July 8, 2022
---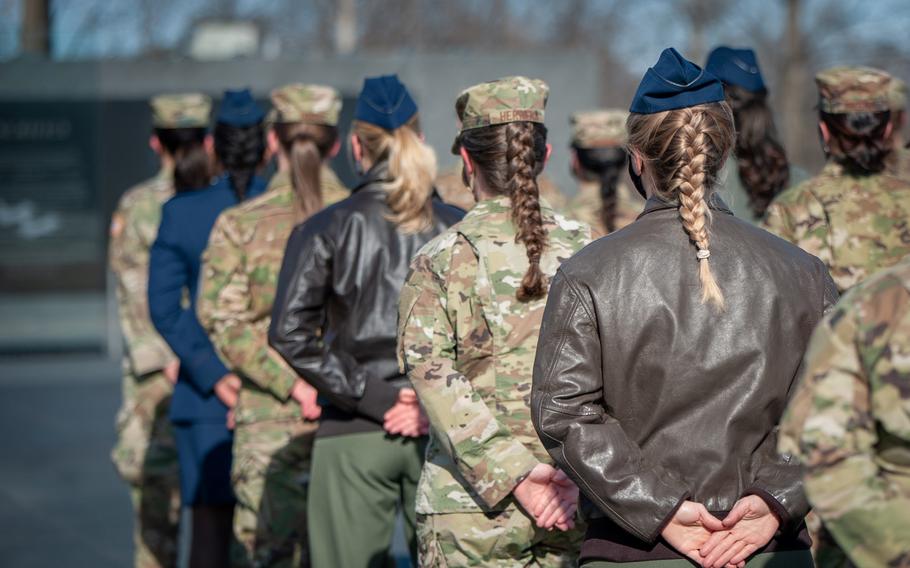 SANTA TERESA, N.M. – Women in the military have always been patients at Dr. Franz Theard's abortion clinic in New Mexico, a roughly 30-minute drive from Fort Bliss, Texas.
"Even before all these laws [restricting abortions], we had Army people," the 73-year-old former Army doctor said.
When Texas enacted a law in September that halted all abortions after six weeks, Theard said he began seeing more service women traveling to his clinic from Fort Hood and Joint Base San Antonio – both nearly 600 miles away. Then came reports that the Supreme Court could overturn its 1973 decision in Roe v. Wade, which guaranteed women access to a safe, legal abortion.
He said he read a news story in which Rep. Debbie Wasserman Schultz, D-Fla., discussed the impact the decision could have on military readiness and wanted to do something to help.
So Thread decided to begin offering abortions to enlisted service women free of charge, though they would still have to make their own travel arrangements.
In the last two months, he said he has given a full refund to nine military women who've come to his clinic.
The Supreme Court ruling in June to overturn Roe v. Wade has allowed states to ban abortions, though it hasn't changed the Defense Department's policy on the procedure. Federal law only allows abortions at military facilities in cases of rape, incest or where the mother's life is at risk. However, the ruling could mean women in the military seeking an abortion while stationed in one of the 26 states that either have banned or are expected to ban abortions will need to take medical leave and travel.
"There's already a very negative stigma around women's health care in the military broadly," said Kyleanne Hunter, a Marine Corps veteran and a senior political scientist at the RAND Corp. "How are commanders going to work to prevent backlash against women who seek abortions and who require aftercare?"
Hunter recently wrote for Lawfare, a blog published in cooperation with the Brookings Institution, a left-leaning think tank in Washington, D.C., that overturning Roe v. Wade could "have an outsized effect on women in the military."
Women in the service are nearly twice as likely as civilian women to have an unintended pregnancy, according to research from Ibis Reproductive Health, a global nonprofit organization with a mission to improve women's reproductive autonomy, choices and health worldwide. There are about 13,860 unintended pregnancies in the military each year, according to the group's research.
However, data on how many women in the military seek abortions is "scarce" because they must do it on their own, Hunter wrote.
Deployments and overseas assignments contribute to service women's increased chance of unintended pregnancy because it can often cause disruptions in prescribed contraceptives, said Lory Manning, a retired Navy captain and director of government relations for the advocacy group Service Women's Action Network. Training events, rotational shift work and just a lack of knowledge on what's available to them can also have an effect, she said.
"Contraception may be new to them, or they don't know who to ask to find out what's available. Maybe they're embarrassed about asking about it. We need to do a better job of educating them. I mean, the military basically supplies just about [any contraception] you want for free," Manning said.
When Manning was a commander in Panama in the early 1980s, she said she had enlisted women working for her who found themselves pregnant and couldn't afford to fly back to the U.S. to have an abortion, but the officers could.
"That's where I first began to notice that the officers can afford this, but the junior enlisted women just have the baby," Manning said. "It impacts the command, too. The women who I dealt with at least were first-time mothers. They had no family in Panama to help."
At Theard's clinic in New Mexico, where Gov. Michelle Lujan Grisham signed an executive order June 27 to protect abortion access in the state, the physician typically charges $700 to see women and provide medication for them to take once they leave the clinic that will terminate their pregnancy.
"[It's] a fairly hefty figure," Theard said of the cost. "I'm offering a solution."
He said he is focusing his offer for free services to enlisted women traveling from surrounding states where abortion is banned or is expected to be soon, including Texas, Oklahoma, Louisiana and Arizona. Service women in other states likely have a closer option, he said.
"The Army was good to me, and I'm trying to be good to them," Theard said. "What I would like to do is have all the clinics follow my lead."
Drafted just after the end of the Vietnam War, Theard spent seven years as an Army surgeon. He arrived in Germany in 1976, commissioned directly to major, and spent three years with the 97th General Hospital in Frankfurt.
He served under a program known as the Berry Plan, which allowed him to finish his medical school and residency training before fulfilling his military obligation.
While serving in Germany, Theard performed surgical abortions on women who were flown into the hospital from around the globe, he said. It was a time when the military's policies on abortions were rapidly changing to adapt to new executive orders and mandates from Congress.
Before the Supreme Court ruled on Roe v. Wade in 1973, the military allowed for abortions to occur at its facilities. The military health insurance at the time even covered the procedure.
Between 1976 and 1980, the military was able to allow women to have abortions at its facilities if they paid out-of-pocket for the procedure, Hunter said. In 1980, a law known as the Hyde Amendment, which bans federal money from being used toward an abortion, was extended to the military.
Former President Bill Clinton tried in the 1990s to codify private-payment access, but ultimately failed, she said.
As Congress debates the defense budget and policy legislation for fiscal 2023, Hunter said the recent Supreme Court decision has already sparked new proposals about what the military can offer women.
"Access to abortion is once again a hot-button issue," she said. "What is the role of [Defense Department] doctors and/or [military health insurance] in any follow-up care?"
As those issues are sorted out in Washington, Theard said he is looking at ways to make certain that he can continue to offer free services to enlisted women and has begun to set up a fund for donations.
For those women in the military who can pay something — no matter how much less than the $700 fee — he asks they contribute to the fund to help him pay for the pills for the next enlisted woman who might want an abortion.
"I would like to keep the fund going, so this doesn't die out," Theard said.
---
---
---
---