US Sen. Graham meets with Ukraine president, declares Russia is state sponsor of terrorism
By
The State
July 7, 2022
---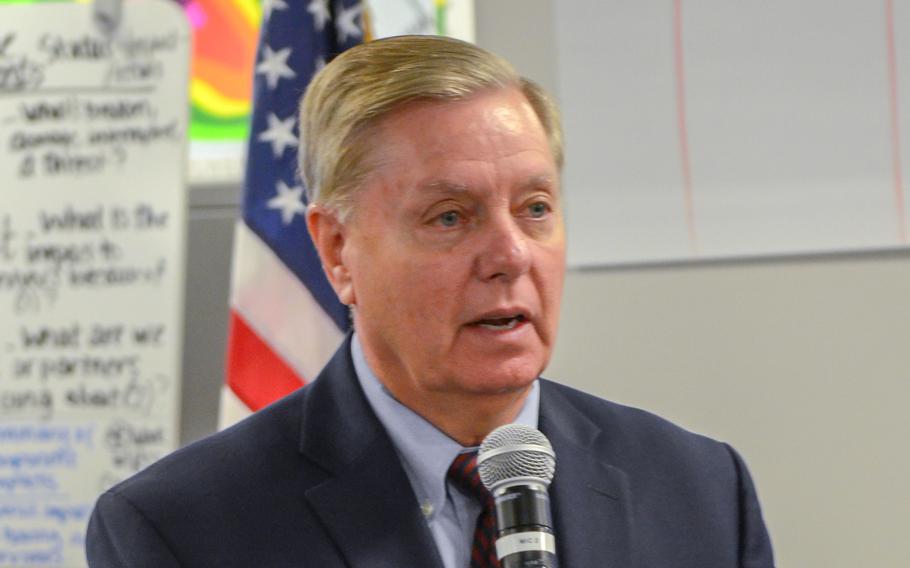 (Tribune News Service) — South Carolina Republican U.S. Sen. Lindsey Graham met with the Ukrainian President Volodymyr Zelensky in Kyiv, the Ukrainian capital, Thursday to talk about the country's ongoing war with Russia.
Graham, with Sen. Richard Blumenthal, D- Connecticut, presented Zelensky with his resolution that would designate Russia as a state sponsor of terrorism.
Currently there are four countries designated by the U.S. as state sponsors of terrorism: Cuba, North Korea, Iran and Syria, according to the U.S. Department of State.
Graham and Blumenthal discussed increasing sanctions pressure on Russia, according to a news release from Zelensky's office. They have also urged Washington to accelerate the pace of weapons deliveries to Kyiv.
During the trip, the two senators visited two suburbs of the capital that have been affected by the war, Bucha and Borodyanka. Bucha was the scene of suspected Russian war crimes against civilians when in May, retreating Russian forces left behind multiple dead bodies in the city's streets.
Zelensky thanked the senators for their visit and emphasized Ukraine's readiness for further close coordination of activities with partners on the sanctions track, according to the news release from Zelensky's office.
Zelensky called on the senators to back a decision to provide Ukraine with modern air defense systems.
"First of all, we appeal to you so that the Congress supports Ukraine in the matter of supplying modern air defense systems. We must ensure such a level of sky security that our people are not afraid to live in Ukraine," Zelensky said in the release.
This effort is an attempt to create necessary security conditions to allow schools to reopen in September, something Zelensky made clear was a top priority as the country tries to return to normal from the months-long Russian invasion.
"The number one task for us today is for women with children to be able to return to Ukraine by September 1, so that children can go to school, so that students do not leave and can go to universities. It is very important for us to do two things - to repair schools, universities, and also to have a powerful air defense," Zelensky said.
Graham has visited Ukraine before, in April.
In January, before the war officially began with Russia's attacks against Ukraine, Graham called for immediate sanctions against Russia for provoking Ukraine and its NATO allies. Graham also called for the U.S. to help to better arm the Ukrainian military so they could better defend themselves.
Graham is also part of a bipartisan group of senators to introduce a resolution calling on international bodies to investigate reports of war crimes and crimes against humanity perpetrated by Russia in the Eastern European country.
Russia invaded Ukraine on Feb. 24, leading to now nearly five months of war and destruction in Ukraine.
©2022 The State.
Visit thestate.com.
Distributed by Tribune Content Agency, LLC.
---
---
---
---