Military women say DOD reproductive health care far from 'seamless' in post-Roe era 
By
Stars and Stripes
July 6, 2022
---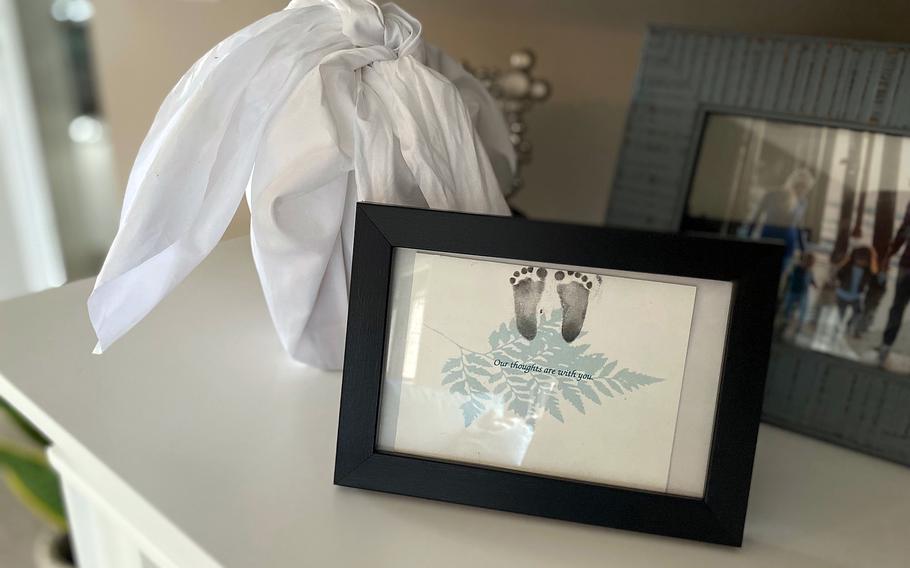 Bari Wald kept it simple when asked about her pregnancy: "We lost the baby."
The full diagnosis involved severe fetal birth defects 19 weeks into Wald's first pregnancy, a baby she and her husband desperately wanted but couldn't imagine bringing into the world to suffer.
And because the military and its insurer, Tricare, will not perform or cover abortions for fetal anomalies, even lethal conditions, it involved a terrifying, failed abortion in a foreign country that almost killed her.
The two-week wait for definitive test results was torture, said Wald, an Air Force reserve officer and Marine's wife who at the time was stationed in Okinawa, Japan.
"I remember feeling my son kick ... and I didn't know if I could survive it," she said of the uncertainty during the wait for the test results and the possibility that her fetus wasn't healthy.
By federal law, the military provides for abortions only in cases of rape, incest and danger to the mother's life.
The Defense Department has paid for only 91 abortions since 2016, according to a Defense Health Agency spokesman.
Now, with abortion bans going into effect in many states following the Supreme Court's reversal of Roe v. Wade, the Pentagon has scrambled to respond.
"The department is examining this decision closely and evaluating our policies to ensure we continue to provide seamless access to reproductive health care as permitted by federal law," Defense Secretary Lloyd Austin said June 22.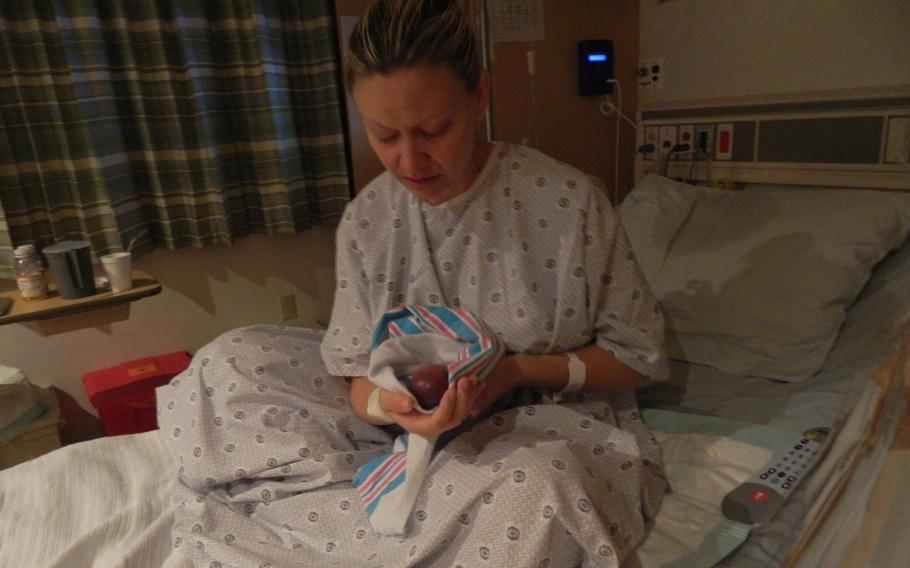 But Wald and other military women who told their stories to Stars and Stripes said it's disingenuous to call Defense Department reproductive health care "seamless."
They spoke of having to get their care without military support, even in cases when intended, longed-for pregnancies went terribly wrong.
And they said that far from feeling cared for, they felt abandoned by the military at their most vulnerable moments.
"It is the most isolating feeling in the world," said Kali, an Army officer's wife who asked that only her first name be used to protect her privacy.
Her delight about carrying a child turned to horror and grief during an ultrasound in April.
"Someone said the words 'not compatible with life,' " she said. "I said, 'What do you mean? We just saw her moving!' "
Kali's 12-week-old fetus had anencephaly, meaning major parts of the brain and skull were missing. The baby would most likely die in utero or if delivered would certainly die soon after being born.
"She wasn't going to make it, and I thought the longer she stays in, maybe the more she would develop, and I didn't want her to suffer," Kali said.
"And I couldn't imagine walking around and people saying, 'Oh, when are you due?' "
A week later, Kali stepped inside a clinic in Baltimore alongside some 20 other women seeking abortions. Her husband, who had written "the sweetest, saddest letter" to their lost daughter, waited in the car because of coronavirus protocols.
Kali and her husband have since made several donations to the clinic, whose $950 fee she paid with her credit card. "They were so, so nice. They took such good care of me," she said of the clinic staff.
Their grief still runs deep.
"No one expects it will ever happen to them. If it does, they should have a choice," she said. "I've always been pro-choice. But now I'm 12 times more pro-choice."
She said the Supreme Court's decision to overturn the landmark abortion rights ruling made her angry, sad and scared.
"We live in a blue state now, but who knows where they'll send us?" she said.
In 1976, three years after Roe v. Wade legalized abortion up to fetal viability, the Hyde Amendment banned the use of federal funds for most abortions in the United States.
For years, the only abortions the military would facilitate were those for pregnancies that posed a threat to the mother's life. Rape and incest exceptions were added in 2013.
Severe and fatal abnormalities of the fetus were never covered. For Wald and her Marine husband, that led to a nightmarish experience in Japan.
After amniocentesis tests came back positive for severe fetal abnormalities, Wald was handed a pamphlet for a Japanese hospital. When they got there, they were told the procedure would take place overnight and cost $5,000 cash up front.
The doctor examined her roughly, she said, using a glove from his pocket that reeked of cigarettes. As the procedure began, the pain was unbearable and she started bleeding profusely.
She called her best friend, an ICU nurse in Arizona, to describe what was happening. The friend conferred with an obstetrician then told her, "You need to leave that place. It's not safe."
At home early the following morning, Wald awoke weak with a 105-degree temperature. The Navy hospital emergency room diagnosed her with a lacerated cervix and blood poisoning and started her on intravenous antibiotics, she said.
Later that day, doctors decided to induce labor. Her newborn son weighed less than 13 ounces, she said.
"I ended up having a compassionate birth after being in a situation nobody wants to be in," she said, lauding the empathy the Navy doctors and nurses showed her.
Seven years passed before Wald could talk about the ordeal with anyone other than the thousands of women she found in a private Facebook group who had undergone similar tragedies.
Now the mother of two, Wald said her trauma had broadened her support for abortion rights.
"It definitely made me more empathetic to the whole spectrum of why women get abortions," she said. "Now I'm loud and proud. It's not about me. It's about my daughter."
Lauren Bryar said she and her husband, a veteran, were blindsided several years ago when they learned at 23 weeks' gestation that the fetus she was carrying had several genetic abnormalities that would have rendered their child profoundly disabled.
Bryar has multiple sclerosis; her husband has diabetes. They agonized but they knew they couldn't care for a child with needs so great.
"It was never a decision I thought I'd make or that I wanted to make," she said. "I was at a point in my life where I'd say, 'Of course I'm pro-choice, but I would never have an abortion.' Now I cringe when I think of it."
Tricare wouldn't pay for the abortion, but her private insurance did. The military's refusal to cover abortion for fatal fetal abnormalities has been upheld in at least two federal court cases. 
Federal judges ruled in separate cases in 2002 that the military was required to pay for the abortion of anencephalic fetuses, according to a 2013 Congressional Research Service report. Both rulings were reversed on appeal.
According to the ruling of one of those appellate courts, the Supreme Court had decided in a 5-4 ruling that the right to abortion does not include "a constitutional entitlement to the financial resources" necessary to exercise that right.
Continuing such high-risk pregnancies can endanger a woman's health even more than an uncomplicated pregnancy in the U.S., which has a far higher maternal mortality rate than other high-income nations, according to the Centers for Disease Control and Prevention.
Carrying a dying fetus to term is potentially lethal and can also severely harm a woman's mental health, doctors say.
Five states with abortion bans — South Carolina, Louisiana, Utah, Mississippi and Georgia — allow some exceptions for severe fetal defects, according to the Guttmacher Institute, a research group that supports abortion rights.
Only two abortion-banning states, Utah and South Carolina, make exceptions for rape or incest, cases in which the military has vowed to provide access.
Correction
A previous version of this story should have said the husband of a woman quoted in the story is a veteran. It should not have said her son is autistic.
---
---
---
---