Army's top enlisted leaders develop strategies to eliminate dangerous behavior among soldiers
By
Stars and Stripes
July 1, 2022
---
EL PASO, Texas – Sgt. Maj. of the Army Michael Grinston on Thursday approved a plan to develop seven new initiatives meant to improve working and living conditions for soldiers, increase retention in the force and curb harmful behavior such as binge drinking, suicide and sexual assault and harassment.
Grinston brought together about 150 of the Army's top enlisted leaders to spend three days at a hotel conference center discussing innovative approaches that were low-cost and quick to test in a unit or base to gauge effectiveness. From there, the initiatives would have to be approved by Army leadership to move forward.
"I'm not shying away from trying to make a difference in the Army and neither are all the senior sergeants major in the Army," he said Thursday after hearing the noncommissioned officers pitch initiatives developed during the week in small groups.
The selected initiatives include additional incentives such as performance-based bonuses or time off as part of reenlistment packages, removing limits on the amount of alcohol soldiers can keep in their barracks room while increasing examples of safe or positive alcohol use, and develop a plan to better support soldiers as they are discharged from in-patient mental health treatment programs.
"The goal of all this, even though you didn't hear a lot about it, is still to eliminate sexual assault and eliminate suicides and how are we going to do that? We're going to do it through a different lens of leader development, junior leader development, counseling [and] mentorship," Grinston said.
By finding specific actions to take and then measuring the outcomes, all those harmful behaviors will begin to dissipate, he said.
The sergeants major at the conference included those who advise general officers in the active Army, the National Guard and the Reserve. Some work for training commands and schools or combat divisions, while others work in functional components such as public affairs and human resources.
Command Sgt. Maj. Shade Munday of the 1st Cavalry Division at Fort Hood, Texas, worked on a group looking to retain soldiers in the Army, which landed on the idea to consider offering more valuable incentives when they reenlist.
"How do we get after the mid-careerist?" he said. "How do we incentivize the soldier who's actually performing at a higher standard?"
Before finalizing their pitch, Munday said he called for feedback online and immediately heard from soldiers. One said there are two things that soldiers always want – more money and time off.
This week's conference in El Paso expanded on a monthly call that the Army's top enlisted leaders hold with Grinston and was geared toward sharing ideas that could work.
Munday said those connections allowed him to release a cell phone policy in his division earlier this month that is modeled from one at Fort Drum, N.Y. The policy states leaders should not text soldiers after 6 p.m. or before 5 a.m., unless there is an emergency. Instead, leaders should share information in person during the workday.
"We're really just trying to relieve some of the stress that the cell phones cause. They vibrate nonstop all day," Munday said. "We want to get after predictability. … We know when we're going to the field, but we don't know what time we're getting off."
During the conference, Grinston included two presentations of past initiatives set to be implemented in the Army to spark ideas, as well as a discussion on suicide and prevention from Craig Bryan, a clinical psychologist and director of the suicide prevention program at The Ohio State University College of Medicine.
Based on Bryan's statistic that someone's risk of suicide is 100 to 300 times higher during their first month released from an in-patient treatment program, Grinston called for an initiative to review how the Army could improve its support for soldiers during that time.
"We put them right back in the environment," he said. "No single soldier coming from in-patient care should be thrown back in the barracks on their own on the weekend. … I think we fundamentally have to change that."
In many cases of suicide, as well as instances of sexual assault, alcohol is present, according to the discussion at the conference. For that reason, Grinston asked two groups to review the culture and use of alcohol among soldiers.
The policy now allows base commanders to determine how much alcohol soldiers can keep in their barracks room. While lifting it sounds counter-intuitive, it could reduce some discipline problems, including drunken driving, said Command Sgt. Maj. Raymond Quitugua Jr. of the Army Chemical Corps at Fort Leavenworth, Kan.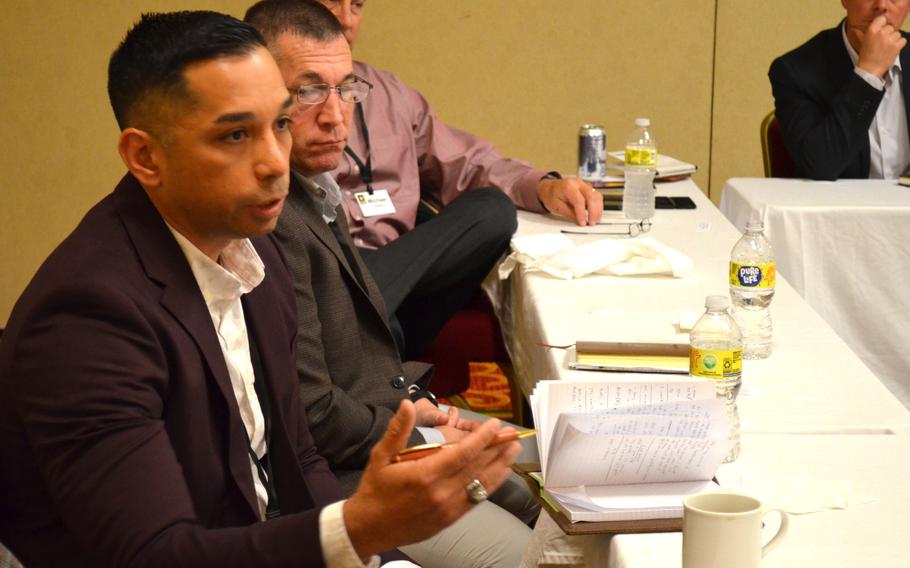 "Soldiers are saying, 'Because I know I can only keep this amount of alcohol in my barracks, when I'm at the bar I will drink as much as I can as fast as I can because I can't continue to drink at my barracks because you just don't want me to have enough in there,'" he said.
The rule also creates a double standard because married soldiers can move off base and have no limits on the alcohol in their home, Quitugua said. The soldiers are still likely in their early 20s and part of a vulnerable demographic.
"The only change is somebody has a dependent, which allows them to live off post, while others don't," he said.
His group's initiative would couple the changes with life-skills classes available through the Army's single-soldier program to educate soldiers on how to have a healthy, safe relationship with alcohol through appreciation, tastings or educational tours.
After accepting alcohol-related initiatives for development, Grinston reminded the leaders that all the ideas are still just recommendations.
"We need to track them and see what we can really do about it," he said. "I want your feedback. If we just keep doing the same things over and over again, it may not make a difference. We have to evolve, and I think that's extremely important."
---
---
---
---